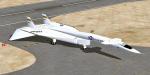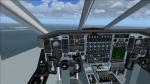 6.01Mb (5540 downloads)
Want to fly mach 3? Try this bird. The XB70 was a hight speed, hight alitude and long range bomber designed during the sixties. Only 2 prototypes were built and one was destroyed during an exhibition. Original aircraft by Massimo Altieri. VC modification, panels and gauges for wide and standard screen by Philippe Wallaert. See instructions in the readme.txt file. Credit Massimo Altieri for the original and very nice model.
Posted Feb 18, 2015 03:38 by Philippe Wallaert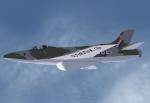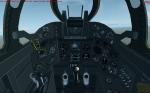 3.93Mb (1801 downloads)
FSX/FSX Acceleration Supermarine Swift The Supermarine Swift was a British single-seat jet fighter of the Royal Air Force (RAF), built by Supermarine during the 1950s. The Swift was a somewhat unsuccessful early British jet designed as an interceptor and then as a low-level recon plane, but due to numerous mechanical issues never really reached its potential. Just 197 were built before production was discontinued in favor of the Hawker Hunter. Alpha freeware,airfile and effects by Bob Chicilo, upgraded to FSX/FSXacceleration by A.F.Scrub , tested in Window7 and 8.1.
Posted Feb 17, 2015 02:47 by A.F.Scrub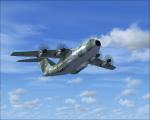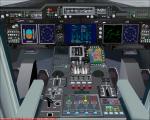 60.30Mb (14285 downloads)
At the beginning it only should be an update of the new gauge but it became more and more. . . So, I have reworked the symetric and some scripts of the new gauge, added a tank selector and a new 2D panel for it! That's why I had to add a few things to the aircraft.cfg like two additional tanks, a second tank selector, entries for contrails and the electrical system! I have added also the new RAF Camo texture by Stephen Browning, contrails for high altitude (At least they did not appear in my sim!), have added new messages for the new tank system to the EICAS and replaced the old 2D main panel with a new one! Original main panel came from Marco Spada and updated by Chris Evans, but I have reworked it a bit! Also included is of course all from the first version inclusive Bob Chicilo flight dynamics update! I have left also entries in the panel.cfg under [Vcockpit08], if someone want to use Captn Sims Weather Radar in the VC! Tested in FSX + Acceleration! Many thanks to Patrick Le Luyer for his great A400M model and original textures, Dietmar Loleit, Philippe Wallaert, FS France Team and Garrett Smith for all the gauges I could use, Stephen Browning for the RAF and RAF Camo textures, Erwin Welker for the "Luftwaffe" texture, Randolph Windler for the "Luftwaffe_54+01" texture, Bob Chicilo for his important flight dynamics update and Marco Spada for the original 2D main panel! Without these guys would this update not be possible!
Posted Feb 8, 2015 02:23 by Andiroto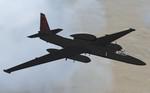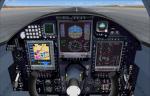 16.87Mb (6774 downloads)
The Lockheed U-2, nicknamed "Dragon Lady", is a single-engine, ultra-high altitude reconnaissance aircraft operated by the United States Air Force (USAF) and previously flown by the Central Intelligence Agency (CIA). It provides day and night, very high-altitude (70,000 feet / 21,000 m), all-weather intelligence gathering. The U-2 has also been used for electronic sensor research, satellite calibration, and communications purposes. This is the Alphasim Lockheed U2 with updated and enhanced panels and FSX compatible PFD and Eicas. Other missing gauges have also been added. The panels are, for the most part, authentic to the real U2 panel. The package also features new smoke effect. Original model by Alphasim, new configuration and re-modelling of the VC by Michael Pook.
Posted Feb 5, 2015 05:37 by Michael Pook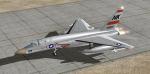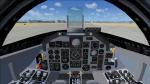 6.04Mb (2021 downloads)
The North American RA5C was a supersonic bomber. It was mainly used during Vietnam war in a reconaissance role. Original aircraft design by Massimo Altieri. New gauges, VC modification, 2D panels for standard and wide screen by Philippe Wallaert. See instructions in the readme.txt file. Credit: Massimo Altieri for the very nice original aircraft.
Posted Feb 1, 2015 02:22 by Philippe Wallaert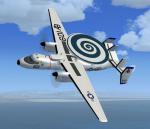 9.35Mb (4859 downloads)
Grumman E-2C 2000. AB-601; USS ENTERPRISE. MODEL & SOUND by Pierre Marchadier & Gmax Academy. Texture & FSX 2D panel by Enrique Medal. (This panel only uses fsx default gauges. I do not know if it can be used in fs2004)
Posted Jan 27, 2015 03:20 by Enrique Medal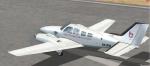 4.34Mb (1660 downloads)
Textures for the Airbus A400m Atlas by Patrick LE LUYER in Camouflage Livery, I've used Maximilian Stanchly freeware textures and adapted them to fit this model, but due to the painting limitaions of this model I had to repaint a lot of the textures myself to make them fit. I have removed the mip maps for a sharper looking aircraft. Adapted by Stephen Browning
Posted Jan 24, 2015 06:46 by Stephen Browning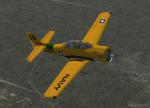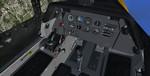 20.90Mb (1627 downloads)
This is Tim Conrad's T-28 Trojan Modified For FSX. The T-28 was the primary trainer for many Air Force and Navy pilots. This model is painted in United States Navy Yellow/Orange . New flight Dynamics, a new modern VC cockpit using default gauges and VT-5 textures with Exhaust flames effect complete instructions for use on your own project by Mark Rooks of RDG Aircraft. Aircraft has a 2D and 3D panel. Includes Pictures and History of the T-28 Trojan
Posted Jan 20, 2015 20:15 by Mark Rooks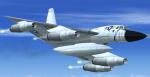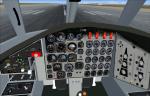 18.59Mb (3702 downloads)
This package includes a panel update of my earlier FSX update of the Convair B-58 Hustler. The VC and the 2D panel now match each other and are authentic to the real B-58 panel. Whole model included. New panel configuration by Michael Pook.
Posted Jan 19, 2015 11:28 by Michael Pook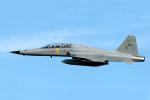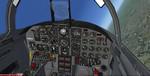 11.16Mb (3085 downloads)
Northrop F5E Royal Malaysian Air Force (RMAF). Model by Iris and FSX updates by Danny Garnier. RMAF textures by Abd Mu'iz
Posted Jan 18, 2015 04:28 by Abd Mu'iz