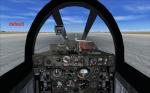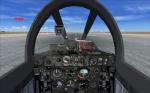 0.47Mb (727 downloads)
This is a small update for the F84F Thunderstreak VC recently posted. It replaces the pitch-black VC cockpit framing and gives it more detailed contours. Just copy the bitmap into the texture folder and overwrite.
Posted Mar 26, 2017 04:39 by Michael Pook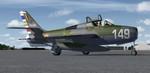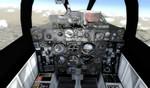 52.04Mb (3087 downloads)
Alphasim Republic F-84F Thunderstreak, RF-84F Thunderflash Thunderpig, lead sled, hole sucking air, iron ground hog...Widely utilized by USAF and NATO, this second generation fighter-bomber was renowned for long, laborious take-off runs and landing like a washtub full of hot rocks. Once it got off the ground, it was a predictable and competent aircraft that gave excellent service until 1972 with the USAF, and 1991 with Greece. 3.428 aircraft were produced. 2017 update to FSX native, MDL X materials and animations. Drop tanks on payload visibility conditions, updated pilot figure. F-84F features a second model (set as default) with Mk-7 tactical nuclear bomb on #2 stores position.The Mk-7 is fitted for the LABS system. The weapon displays on droppable object condition, and will thus only display from a saved flight(inc) with MK-7 loaded. The Mk-7 has a folding fin which deploys when gear retracted, stows when gear extended. An updated Mk-7 LABS variant included. This has a FDE massaged to allow LABS (Low Altitude Bombing System) delivery of the store in low and high angle toss, as well as over the shoulder delivery. My thanks to the usual crew of bandito's; Scrubby and Michael for the panel work, Henk for animation work, Arno for the tools, Phil at www.virtavia.com for allowing their stuff to be butchered about, Manuele Villa, Frank Safranek, Globalhobo's-skins. Pilot by Tim 'Piglet' Conrad, Mk-7 and LABS FDE, X conversion by Y.T. F-84F/RF-84F by Alphasim.
Posted Mar 25, 2017 15:03 by LLS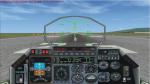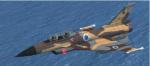 5.45Mb (658 downloads)
This is an update for FSX of the update of the Israel Lavi by JR Lucariny and updated by Michael Pook. I have changed the sounds as the ones with it hurt my ears. I have simplified the 2D panel background and used almost all default gauges on the 2D panel. I also added some gauges to the VC so it might be a bit easier to fly for those who like VC flying. I have updated the flight dynamics; and changed the afterburner effects as well as the smoke and touchdown effects. Missing gauge now included.
Posted Mar 24, 2017 18:20 by Bob Chicilo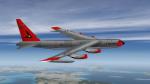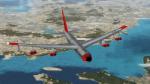 2.04Mb (846 downloads)
This is a repaint of the legendary NB-52A Stratofortress "The High and Mighty One", which launched the first 93 X-15 flights of NASA's program. The aircraft is currently located at the Pima Air and Space Museum, Tucson, Arizona. You need the KBT B-52 package for this repaint. If you have FSX, you need to get the KBT B-52 which was upgraded to FSX by Michael E. Roberts. This repaint should be good to go on FS2004. The repaint was tested on FSX and P3D v3.4. The textures are DXT3.
Posted Mar 20, 2017 08:46 by Ted Giana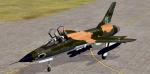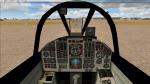 5.38Mb (1655 downloads)
The Thud was one of the first supersonic fighters and had a very long career. Original design by ALPHASIM. Adaptation to FSX, VC modification, 2D panels for wide and standard screen, new gauges, GPWS callout by Philippe Wallaert. See instructions in the readme.txt file. Enjoy!
Posted Mar 19, 2017 12:38 by Philippe Wallaert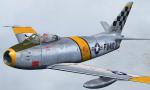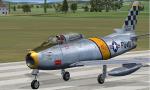 5.37Mb (1332 downloads)
Textures only for the SECTIONF8 F-86 Sabre. This is painted to resemble the F-86 flown in the 1958 movie "The Hunters" which starred Robert Mitchum. The aircraft was flown by the main character in the movie, Major Cleve "the Iceman" Saville. Requires Simviation file: "sf86ef.zip". Repainted by R.E. Wyman.
Posted Mar 13, 2017 23:40 by R.E. Wyman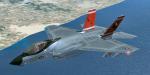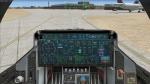 50.71Mb (5911 downloads)
The Lockheed-Martin F-35C is a fifth generation stealth multirole fighter and one of the most expensive program. Original design by Dino Cattaneo. Flight dynamics modifications, VC adaptations, 2D panels for wide and standard screen, new gauges including GPWS callout by Philippe Wallaert. See instructions in the readme.txt file for installation and configuration. Nice flights!
Posted Mar 10, 2017 12:06 by Philippe Wallaert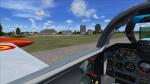 2.74Mb (648 downloads)
FSX/Acceleration/FS2004 Gauges Fix for Saeta HA-200. Just replace the panel.cfg to correct the one wrong positioned gauge and add one more gauge. By Erwin Welker
Posted Mar 8, 2017 05:03 by Erwin Welker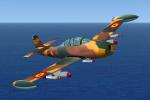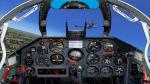 12.95Mb (1293 downloads)
FSX/Acceleration/FS2004 Spanish jetfighter Saeta HA-200 from the 50th in two versions. The HA-200 Saeta (Arrow) was the first Spanish turbojet aircraft, used by the spanish and egypt airforces. It was designed by Willy Messerschmitt and was eqipped with 2 relativly small jet engines. The first flight was 1955, entered service 1962. As FS-model you can fly a clean version in bare matal and an armed version in camo. The models has a photorealistic 2D panel and a VC with animated stick- and throttle arms. FSDS 3.5 model by Erwin Welker
Posted Mar 5, 2017 04:33 by Erwin Welker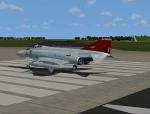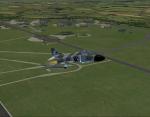 112.34Mb (3554 downloads)
Using Freeware IRIS Phantom downloads, i have been able to create a stand alone RAF Phantom Pack complete with correct Spey Engine Cowlings within the textures as opposed by the F4J Cowlings in the "Super Pack" and "Mega Pack".
Posted Mar 3, 2017 13:32 by Ash Oxley