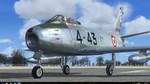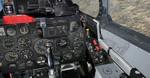 42.31Mb (3272 downloads)
North American/Fiat F-86 Sabre Italian Package. Aeronautica Militare Italiana 4 Aerobrigata. On 22 May 1955, the first Italian-built F-86K took to the skies over Turin. Italy flew a total of 96 F-86K. Complex and very high quality model created by SectionF8 team. This repaint represents a Canadair Sabre MK.6 of No.1 Sqdn, SAAF. It was formed in February 1920 with the motto Prima (First) and, following its final role as an attack aircraft squadron, was disbanded on 25 November 1997. Thank you to Grant MacLean for the great textures set. Fixed missing cockpit texture and improved the look of the gunsight. IMPORTANT: You should read the manual to fly and use this wonderful aircraft properly! REMEMBER to retract gear immediately after takeoff otherwise it won't work! Custom packaged by Chris Evans.
Posted Feb 5, 2016 06:41 by chris evans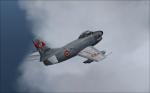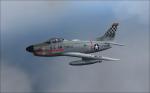 41.45Mb (3360 downloads)
Kazunori Ito's sweet F-86D in FSX standard MDLX. The F-86D was a night and all-weather interceptor development of the F-86. First flying in 1949, The D was radar and afterburner equipped, armed only with a battery of 2.75 inch FFAR's. The machine had only 25% commonality with the diurnal Sabers, and was briefly called the YF-95. 6 different models were produced by North American and Fiat, equipping 18 air forces around the world between 1949 and the 1970's. This important and over looked type has been beautifully modeled by FS master Kazunori Ito some years ago. Most of the FSX conversion work was done by Henk, with some corrections and the VC converted by Y.T. The gorgeous textures really transform this little gem, these are lovingly created by L'Iguane and Manuele Villa, based on SF8/Jan Visser's metal textures, adapted by L'Iguane.
Posted Jan 30, 2016 03:55 by LLS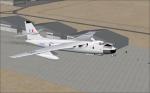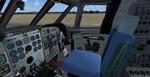 47.07Mb (2797 downloads)
Alphasim Vickers Valiant in MDLX standard, for FSX only The often overlooked Valiant was ordered as 'insurance' against more advanced Vulcan and Victor. Designed and developed very quickly, the Valiant's were delivered on time and on budget, a rarity in military aircraft development. B.1's dropped live H-bombs on tests out of Christmas island, dropped conventional warloads on Egyptian airfields from Cyprus during the '56 Suez war, provided NATO's nuclear punch, and served as AAR tankers. Cockpit/interior model is from the Simshed 2010 Nimrod, see readme for instructions. Model by Alphasim(virtavia) http://www.virtavia.com, with Phil's kind permission and encouragement.
Posted Jan 28, 2016 12:18 by LLS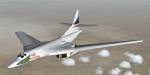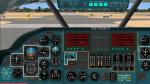 63.05Mb (4586 downloads)
The Tupolev 160 "Blackjack" is a hight speed, long range bomber (mach 2.10). Original model by Alexander Vishnyakov. Panel for wide screen (no VC) and gauges by Philippe Wallaert. See instructions in the readme.txt file. Nice flights!
Posted Jan 28, 2016 11:44 by Philippe Wallaert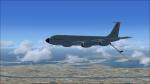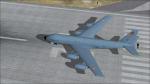 1.09Mb (705 downloads)
Textures only for the KC-135 RG No. 497 93-CM of Groupe de Ravitaillement en Vol of the French Air Force. Add these textures to the PAD KC-135 available on simviation
Posted Jan 28, 2016 02:34 by Fabien RAOUL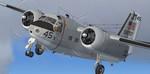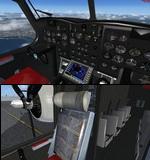 78.80Mb (7720 downloads)
Functional VC model included; Package includes one aircraft with three beautifully crafted exterior liveries, a great flight model, authentic custom radial sounds, and custom panels with aircraft specific gauges, and easy-to-read clickable virtual cockpits. FSX native upgrade by Eagle Rotorcraft Simulations. This aircraft release is one of 7 aircraft in a series that will be released. FSX/P3D. By Eagle Rotorcraft Simulations
Posted Jan 26, 2016 02:43 by George A.Arana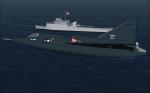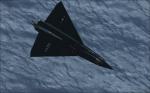 28.68Mb (1624 downloads)
Sensi Ito's Convair XF2Y SeaDart, for FSX only. Conversion to FSX native material and animation definitions. One happy side-effect of this is the model now has impeccable sea manners. Cockpit aliased to the FSX native CF-105 Arrow, installation of which is required for the VC to display. See readme file. Also includes some AICarriers2 toys handy for sea-basing operations and seaplane fun.
Posted Jan 24, 2016 20:47 by LLS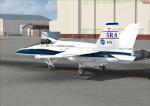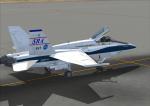 10.73Mb (1552 downloads)
Four repaints of the default FSX Gold Acceleration F-18 Hornet in NASA liveries. Must have Acceleration in order to work.
Posted Jan 14, 2016 17:17 by David Robles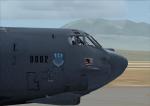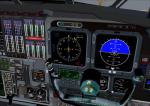 36.85Mb (12744 downloads)
B52H CONECT Package. The CONECT Platform is so new it has no real History, entered service in late 2014, early 2015 and is still being updated: B-52s are periodically refurbished at USAF maintenance depots such as Tinker Air Force Base, Oklahoma. The Buff is expected to remain in service at least until 2045, nearly 90 years after the first B-52 entered service. The USAF continues to rely on the B-52 because it remains an effective and economical heavy bomber, particularly in the type of missions that have been conducted since the end of the Cold War against nations that have limited air defense capabilities. This is a FSX/P3D only conversion and will not work with FS2004. Original Model created by AlphaSim Ltd for FS2004. FSX updated to the CONECT series B-52H by David Robles.
Posted Jan 3, 2016 02:48 by David Robles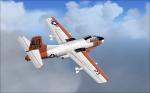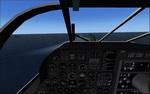 12.21Mb (2779 downloads)
FSX native conversion of the full original Alphasim Skyknight with VC. All functions and animations correct in sense and direction, per original FS2004 release. Conversion facilitated by a terrific set of freeware tools; Arno's MDLX with a breakthrough set of new XML definitions by Henk-BRAVO ZULU! Textures in DDS DXT3 format with Martin Wright's DXTBMP, file structure in FSX format. Skullsweat and conversion by LLS. While the model comes in a bit heavier, the frames are buttery, the glass is c'est bon. Note: The VC was modeled without interior glass at the factory, no cure for that. While bump and spec textures cam be assigned to the model now via MDLX to take advantage of all those FSX goodies. Made possible with the kind support and encouragemant of Phil at Virtavia. http://www.virtavia.com
Posted Dec 26, 2015 03:48 by LLS