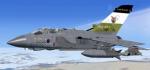 0.75Mb (650 downloads)
FSX Royal Airforce Tornado GR4 12 Sqn disbandment Textures This pack includes textures for ZA395 of 12 SQN RAF Lossiemouth. Requires the freeware Tornado GR4 from UKMil. Textures by UKMIL [http://WWW.UKMIL.ORG.UK]
Posted May 5, 2014 04:38 by UKMIL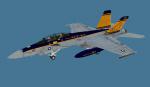 3.52Mb (947 downloads)
Texture for the F-18F US Navy VFA-132_100AC CAG USs Harry S. Trumman CVN-75 You need the model of "Team FS KBT". Model design by Daisuke Yamamoto.
Posted May 3, 2014 04:43 by uploader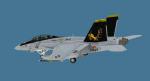 3.63Mb (700 downloads)
Texture for the F-18F US Navy VFA-103_203AG Line USs Dwight D. Einsenhower CVN-69 You need the model of "Team FS KBT". Model design by Daisuke Yamamoto.
Posted May 3, 2014 04:42 by uploader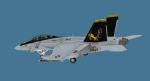 3.56Mb (534 downloads)
Texture for the F-18F US Navy VFA-132_200AC CAG USs Harry S. Trumman CVN-75 You need the model of "Team FS KBT". Model design by Daisuke Yamamoto.
Posted May 3, 2014 04:40 by uploader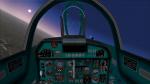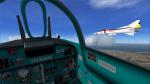 5.80Mb (2792 downloads)
FSX 2D-Panel upgrade for the IRIS Mig-27 Flogger. Utilizing Danny Garniers Addon with FSX-compatible gauges I have added a matching 2D-panel plus nine cameras including wingman views. Requirements: IRIS payware/freeware Mig-27 (IrisMig27FS9)and Danny Garniers FSX-Upgrade (IrisMig27FSXUPD.zip). New panel bitmaps and configuration by Erwin Welker
Posted May 2, 2014 02:36 by Erwin Welker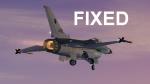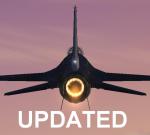 0.17Mb (2673 downloads)
F-16 Afterburner Effects (Fixed). This is an fixed version, of my previous Afteburner file. The flame in the engine did not show up. Fixeed with apologies. Everything works. From the pro IRIS Mig-29. Adapted for any F-16 by Mees Jansen
Posted Apr 29, 2014 16:24 by Mees Jansen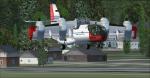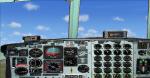 27.55Mb (4367 downloads)
This is an update to the R. Alexander van Hien LTV-Ryan XC-142 VTOL. Includes a modified C-130 panel, turboprop sounds, updated CFG, and texture thumbnail. 2D panel only, no VC panel.
Posted Apr 29, 2014 08:57 by Michael E. Roberts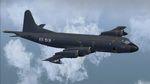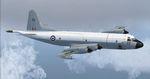 41.76Mb (5034 downloads)
Lockheed P-3B Orion V1 (April 2014) for FSX. This package includes a new P-3B Orion model by KBT and textures. Requires P-3C_ORION_FSX_V32.ZIP. Short information about the P-3B Orion The arrival of powerful central computers with brought with them vast improvements in data processing capability from manual systems was from the beginning seen as essential to the P-3 Orion ASW capabilities. While waiting for the complete system to be ready, the P-3B was the second 'interim' model which made it possible to bring the current available technology into service pending the arrival of the complete system. The P-3B had a production run from 1965 to 1969, totaling 144 aircraft. It has two major sub models; P-3B Light Weight and P-3B Heavy Weight. The Heavy Weight version has a strengthened structure and can carry a heavier payload. Model by Team FS KBT
Posted Apr 29, 2014 07:59 by Team FS KBT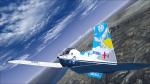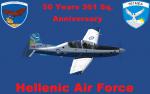 9.15Mb (538 downloads)
This is an extra texture addon for the freeware IRIS T-6 model,containing the Hellenic Air Force's T-6A of the 361 Squadron, painted to celebrate the 50 years of the specific Squadron.
Posted Apr 28, 2014 02:44 by Theofilos HAF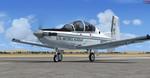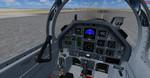 84.36Mb (10061 downloads)
The IRIS Pro Series T-6/A Texan II has been designed from the ground up based on the Joint Primary Aircraft Training System (JPATS) Student Guide Our main criticism in the past has been performance related and as such, we have paid special attention to frame rates over a variety of different systems. The FSX version of the T-6/A Texan II is our first 'Built for FSX' product which features, self-shadowing, normal mapping and reflective bloom. Furthermore, designing the FSX version using the FSX exporter has resulted in the ability to provide much higher levels of detail in the virtual cockpit than obtained in Microsoft Flight Simulator 2004 products. Features: A choice of high quality 32 bit textures or medium quality DXT3 Textures for improved frame rates in high detail environments. Backlit canopy gauges for accuate night-time flying. Interactive Virtual Cockpit including a wide variety of custom interactive objects. Appearing warning labels, prop restraints and intake covers plus more from a pre-boarding checklist. Custom Soundpack designed by Christoffer Petersen from Turbine Sound Studios. Custom designed simulation systems including the Trim Aid Device. Enhanced flight dynamics from flight dynamics modeller Rick Piper complete with spin ability in both FS9 and FSX. Two external models covering the Texan II and the Texan II NTA with external fuel tanks. Authentic new 2D panel with VFR and popup windows, all with custom programmed XML gauges throughout. Ex payware stock from Iris Simulations.
Posted Apr 27, 2014 14:04 by irisfan