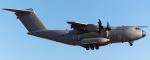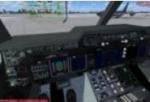 33.03Mb (8470 downloads)
Airbus Military A400 M in RAF Livery, I've added lots more detail in this repaint, removed the mip maps for a sharper looking aircraft. Model for fsx sp2 with virtual cockpit. Special thank's to Dietmar Loleit for the radar, maps, hud and tcas gauges. Updated to fix cockpit errors and non showing gauges. Fixes by Chris Evans. Original upload by Patrick LE LUYER. Repaint by Stephen Browning
Posted Jan 1, 2015 10:29 by Stephen Browning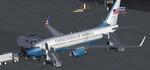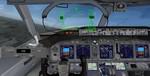 115.73Mb (8342 downloads)
FSX/P3d TDS Boeing 737-700 C-40 B/C USAF Package with Enhanced VC and HUD. The C-40 B/C is based upon the commercial Boeing 737-700 Business Jet. The body of the C-40 is identical to that of the Boeing 737- 700, but has winglets. Both models have state of the art avionics equipment, integrated GPS and flight management system/electronic flight instrument system and a heads up display. Model by TDS/ Tenkuu Developers Studio with advanced 737-800 VC added. Includes utility for ground services, Passenger bus, cargo, stairs, refuelling truck etc (find it under - Views - Instrument panel - Util) The wonderful new Boeing 737-700 from TDS will be enjoyed by many more people who do not know how to install a VC into a FSX native model. The VC is the Alejandro Rojas Lucena/FSND fantastic revised Boeing 737-800 VC model. This VC model includes Working wipers (right mouse click on switch) with rain effect. Switches for LCD Screens, EICAS, PFD, MFT. Autobrake switch. Opening pilots window. Cabin Lights switch. Realistic FMC. Ground Proximity Warning System (GPWS), More Realistic night VC textures. There are custom Boeing sounds included for that extra realism. I have used the textures by Favour Kalu. Included the HUD and TCAS included in the recent Robert Taylor CRJ700. (find it under - Views - Instrument panel - Hgs & TCAS)) Model is not modified in any way. VC added and aircraft.cfg edited to allow correct VC views. TDS wonderful native FSX Boeing 737-700 model. See VC docs to get the best out of the VC and FMC. Zip preview for bigger images. Assembled and prepared for FSX by Chris Evans.
Posted Dec 31, 2014 06:16 by chris evans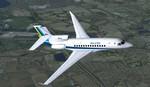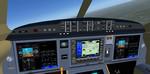 10.04Mb (3217 downloads)
Falcon 7X Royal Malaysian Air Force/ RMAF. FSDS modelling XML Programming CABs Gauge design 2D Panel & VC design by Jean-Pierre Brisard Paint by Bob May Flight dynamics by Bob May and Danny Crance Trijet sound set by kind permission of Aaron Swindle Ground Handling Gauges with permission Rob Barendregt, The Netherlands Garmin GPS Thanks to Don Kuhn. Base textures by Bob May. RMAF textures by Abd Mu'iz. Premier Aircraft Design
Posted Dec 31, 2014 05:15 by Abd Mu'iz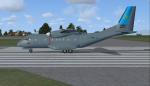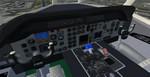 5.71Mb (1802 downloads)
CASA CN235 Royal Malaysian Air Force (RMAF). Original aircraft design by J.E.Narcizo & RanchoJEN Adaptation for FSX, panel and VC by Philippe Wallaert.
Posted Dec 30, 2014 06:16 by Abd Mu'iz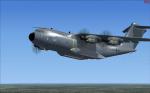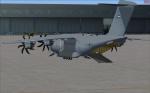 4.54Mb (2568 downloads)
FSX texture repaint in the grey colors of the German Forces "Luftwaffe" for the military transporter Airbus A400M. Requires the original model from Patrick Le Luyer updated by Chris Evans. The new Airbus will be the replacement for the much smaller C-160 Transall. Delivery of the first A400M to German Forces was in Dezember 2014. Required file: A400M-1.zip Repaint by Randolph Windler
Posted Dec 28, 2014 10:03 by Randolph Windler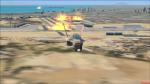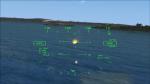 4.07Mb (3998 downloads)
Ever thought of firing weapons in the Acceleration F-18? Now you can do it! Just install this and from a simple FSX aircraft it will a lethal airborne striker. Applicable for any fighter/attack aircraft, but it works best with the F-18. To have it you need to install FSX Acceleration. Happy flights!
Posted Dec 27, 2014 10:31 by David Guerrero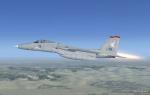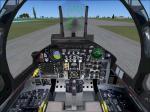 11.33Mb (3797 downloads)
This is a F-15 Eagle of the Coral Flight's V2 F-15 Strike Eagle for Flight Simulator X. The United States Air Force selected McDonnell Douglas' design in 1967 to meet the service's need for a dedicated air superiority fighter. The Eagle first flew in July 1972, and entered service in 1976.This is a Israeli Air Force paint. Package Includes FSX updates by Danny Garnier. Textures and updated flight dynamics by Mark Rooks of RDG Aircraft.
Posted Dec 26, 2014 05:38 by mark rooks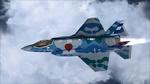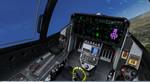 77.25Mb (6479 downloads)
FSX Acceleration Lockheed Martin F-35 Lightning II Cuban Air Force, version 2.30. Fuerza Aerea Revolucionaria de Cuba. The F35 Lightning II is a fifth-generation, single-seat, single-engine stealth multirole fighter that can perform close air support, tactical bombing, and air defense missions. The F-35 has three different models: the F-35A is a conventional takeoff and landing variant, the F-35B is a short take off and vertical-landing variant, and the F-35C is a carrier-based variant. Includes custom HUD by Jivko Rusev and Scott Printz, sound package by Serge Luzin, and conventional flight dynamics by Roberto Leonardo and full STOVL functionality by Rob Baredregt and Mario Motta. Package also contains detailed documentation. Designed by Dino Cattaneo. Cuba textures by J A Lopez R
Posted Dec 22, 2014 10:43 by JALopezR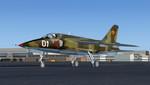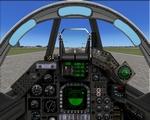 17.20Mb (1579 downloads)
FSX Soko(Avioane) IAR-93 / J-22 Orao Romanian Air Force. The Yugoslavia aviation industry started a program for the design of a replacement for the F-84 Thunderjets which were in the service with the Yugoslavia air force at that time. Romania was also looking for a replacement of it's older Mig-17's. The joint program was given the name YUROM (YUgoslavia-ROMania). The Yugoslavia aircraft was designed as the Orao(Eagle), while in Romania the plane was given the designation IAR-93. This aircraft is a twin-engine, turbojet, high-wing aircraft intended for performing close support, ground attack and tactical reconnaissance missions within the zone of the front and also in the enemy rear and can also be used as low level interceptor. Three kind of models(Early type, Latest type clean and with weapon) and three kind of paint examples are included. Original FS2004 model by Kazunori Ito. 2d panel updated for FSX by uploader. No VC. (press F10 for 2d panel)
Posted Dec 21, 2014 04:01 by uploader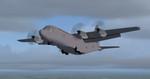 46.50Mb (3033 downloads)
Royal Malaysian Airforce (RMAF) Lockheed C130. Original package and base textures by Premier Aircraft Design.
Posted Dec 19, 2014 03:55 by Abd Mu'iz