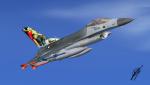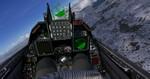 73.67Mb (4571 downloads)
This is the KLu Dirty Diana package for FSX. Uses the kirk Olssen F-16 Viper with an updated FSX VC by Danny Garnier and Transparent window fix by Bob Chicilo. Added Smoke Flares Afterburner and real F-16 sounds. FSX Only. Repaint by: Mees Jansen (LRI)
Posted Feb 14, 2014 05:30 by Mees Jansen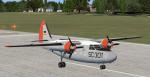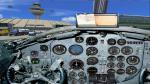 12.52Mb (1753 downloads)
FS2004 & FSX Upgrade For Hunting Percival Pembroke. This is a light transport airplane, mostly used by the military. The FS2004-Model is made by Manfred Jahn. This upgrade includes a photorealistic 2D-panel with views in six directions in FS2004 or very simple virtual cockpit views plus six camera definitions in FSX, a phenomenal sound and four textures sets for the German airforce or navy. This is a complete aircraft. The repaints are made by Hans-Jurgen Kasper. FSX-conversion, panel- and camera configuration by Erwin Welker.
Posted Feb 14, 2014 04:21 by Erwin Welker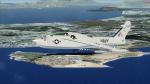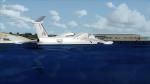 4.66Mb (607 downloads)
Just an artistic representation of how I believe VP-46 out of NAS Whidbey Island would paint their Martin P6M Seamaster if flying these today. Requires seamaster.zip available on Simviation.
Posted Feb 11, 2014 01:30 by Growler Joe Repaints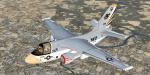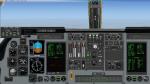 8.10Mb (3732 downloads)
The Lockheed S3 Viking is Anti-submarine aircraft used by the U.S NAVY from 1974 until now. Because of the engines sound, it was nicknamed the "Hoover". Original model by Kazunori Ito. Adaptation to FSX, Basic VC, 2D panels for wide and standard screen with GPWS callout by Philippe Wallaert. See instructions for installation and configuration in the readme.txt file. Credit: Kazunori Ito for the original aircraft.
Posted Jan 27, 2014 03:29 by Philippe Wallaert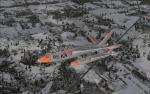 16.15Mb (673 downloads)
This is a texture pack for the Fouga Magister from Restauravia. These are the airbases represented: BA 115 Orange Caritat 5-MD: BA 116 Luxeuil les Bains 4-WC: BA 126 Solenzara 126-126-HA and 126-HB: BA 133 Nancy Ochey 3-KA: GE 312 Salon de Provence. By Steph24/ Virtuader.fr
Posted Jan 26, 2014 15:55 by Christophe LECROC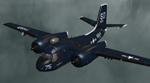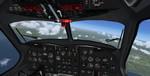 89.85Mb (10305 downloads)
Functional VC model included; Package includes one aircraft with two beautifully crafted exterior liveries, a great flight model, authentic custom radial sounds, and custom panels with aircraft specific gauges, and easy-to-read clickable virtual cockpits. FSX native upgrade by Eagle Rotorcraft Simulations. This aircraft release is one of 7 aircraft in a series that will be released. FSX Only. DirectX 10 compatible.
Posted Jan 25, 2014 17:04 by Milton Shupe, George Arana, Brandon Filer, Sim-Outhouse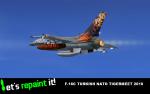 149.22Mb (4556 downloads)
This is the Kirk Ollson F-16 Viper for fsx with cool added effects like: Flares Afterburner, and smoke. Textures from the Turkish Tigermeet 2011: Textures by Mees Jansen. Includes VC.
Posted Jan 19, 2014 07:24 by Mees Jansen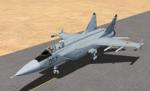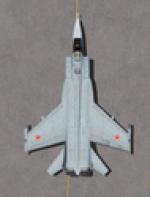 0.11Mb (1290 downloads)
Additionnal views ( defined by camera definitions in the aircraft.cfg file ) for the "FSX Mig-31M Foxhound updated" package. Original model by Kazunori Ito updated by Michael Pook. 2 virtual cockpit views and 10 external cameras pointing at the aircraft. See below for very easy installation procedures. Enjoy !
Posted Jan 1, 2014 14:39 by Marc Renaud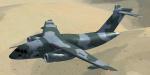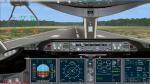 19.83Mb (7172 downloads)
The KC 390 is a military transport aircraft being constructed by Embraer (first flight foreseen in 2014). Performances are between the Airbus A400M and the Lockheed C130 in terms of cargo load and range. Four different liveries: Brazil Air Force, Brazil Air Force Camo, French Air Force and China Air Force. Original aircraft design by JR Lucariny, repaint by Michael E. Roberts, sounds by Adam Murphy and Devyn Silverstein, camera definition by Marc Renaud. 2D panels for wide screen and standard screen (no Vc), gauges and GPWS callout by Philippe Wallaert. See readme.txt file for installation and configuration. Nice flights and happy new year!
Posted Jan 1, 2014 05:35 by Philippe Wallaert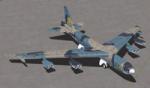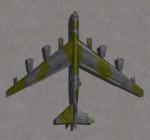 0.35Mb (2437 downloads)
ONE set of camera views ( defined by camera definitions in the aircraft.cfg file ) for use with the "Boeing B-52G and B-52H Stratofortress Package" ex-payware by Alphasim ( now Virtuvia ). Same set of views for both models (G and H ) 13 cameras pointing at the aircraft - including a new "Top-down" zoomable view. 1 new views for the virtual cockpit ( VC ). For more ( and diffirent ) camera views, check out the following package : "FSX Camera definitions for the Alphasim B-52 Package" by Erwin Welker. See below for very easy installation procedures, Available.pdf and Top 20.pdf for informations about my "camera definitions" packages. Enjoy !
Posted Dec 31, 2013 22:48 by Marc Renaud