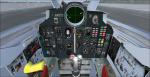 41.47Mb (2714 downloads)
I Updated the Brett Haskins FS2004 - Sukhoi Su-15T -'FLAGON-A' Package and FS2004 Sukhoi Su-15TM 'Flagon-F' Package by replacing non FSX compatable guages with ones from Vladimir Zhyhulskiy's An-12 and adding texture thumbnails. Both have working VC and 2D panels
Posted Mar 11, 2013 02:41 by Michael E. Roberts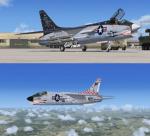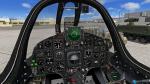 47.50Mb (11643 downloads)
F-8 Vought Crusader FSX. This was the ex payware Alphasim Crusader from Virtavia/Alphasim created back in 2005 and now available for freeware. Slight modifications in VC and 2d panel so that it now work in FSX. (find it under 'Vought' in your FSX menu). The Vought F-8 Crusader was a single-engine, supersonic, carrier-based air superiority jet aircraft built by Vought for the United States Navy and the U.S. Marine Corps, replacing the Vought F7U Cutlass Liveries/models: French Navy, USAF- Death Angel - F8-E, F8-J, F8-Marines, F8U-1E Original model by Alphasim. Also added realistic military jet sounds. See File preview for images. Modified for FSX by Danny Garnier
Posted Mar 7, 2013 07:32 by Garnier D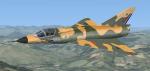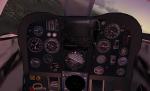 23.84Mb (6813 downloads)
The Mirage III CZ is a fighter aircraft of the South African Air Force. This package includes one model and 3 texture sets, with the choice of multiple weapon configurations, custom sounds, and panel with aircraft specific gauges, and easy-to-read clickable virtual cockpit. It also features a working radar, new nav instruments, drag chute and sound effects. It also includes a normal and wide screen panel. Thinus Pretorius
Posted Mar 7, 2013 02:47 by Thinus Pretorius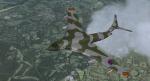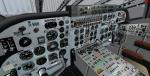 24.71Mb (7580 downloads)
The Handley Page Victor was a British jet bomber aircraft produced by the Handley Page Aircraft Company during the Cold War. It was the third and final of the V-bombers that provided Britain's nuclear deterrent. The other two V-bombers were the Avro Vulcan and the Vickers Valiant. Some aircraft were modified for strategic reconnaissance role using both cameras and radar. After the Royal Navy assumed the nuclear deterrence mission using submarine-launched Polaris missiles in 1969 many surviving bombers were converted into aerial refuelling tankers. The last Victor was retired from service on 15 October 1993. Freeware package by Virtavia.
Posted Mar 4, 2013 04:34 by alphasim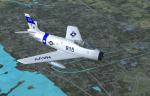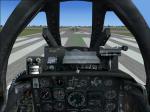 7.90Mb (3280 downloads)
This is Kirk Olsson's F-86 Sabre Jet for Microsoft Flight Simulator X This Aircraft has been updated to the Navy version the FJ-3 Fury. This aircraft is painted in United States Navy Colors. Panel by Bob Chicilo, 2D and 3D Panel (VC). Textures and updates By Mark "Fireball" Rooks of RDG Aircraft.
Posted Mar 2, 2013 18:44 by Mark Fireball Rooks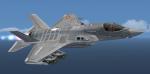 4.91Mb (1575 downloads)
Spanish Navy textures for Dino Cattaneo's F-35B.
Posted Mar 2, 2013 05:37 by Chester L.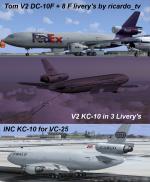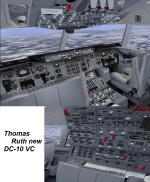 57.95Mb (16427 downloads)
The McDonnell Douglas KC-10 Extender is the military version of the three-engined DC-10 airliner for the United States Air Force (USAF). The KC-10 incorporates military-specific equipment for its primary roles of transport and aerial refueling. This Pack include 8 livery's, from Aeroflot, Arrow, Fedex, World Cargo to the KC Extender from the USAF white and grey, and the Netherlands RNAF. Model and VC by Eric Cantu & Thomas Ruth, textures by ricardo_tv. Enjoy flying this big old girl.
Posted Feb 15, 2013 18:51 by ricardo_tv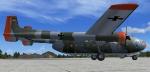 0.88Mb (1052 downloads)
FSX texture-fix for the German Luftwaffe Noratlas textures (Noratlas-Luftwaffe.zip). This fix removes tiny errors of orange parts like left engine and rudders. By Erwin Welker.
Posted Feb 8, 2013 12:18 by Erwin Welker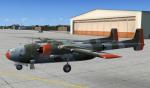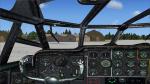 5.16Mb (2685 downloads)
FSX features for the Nordaviation Nord-2501 Noratlas from Jean-Francois Martin and Gilbert Milas (projet_noratlas_base_pack.zip). My features provide a 2D-Panel with 2D-gauges from Philippe Wallaert, photoreal textures in the camo of the German Luftwaffe (LTG 61/Landsberg) and a lot of modified cameras. Features by Erwin Welker.
Posted Feb 7, 2013 05:45 by Erwin Welker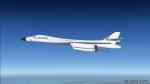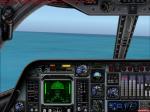 33.27Mb (9295 downloads)
This is a Alpha Sim's 2004 Freeware version of Rockwell B1-B Lancer modified for FSX. Flight Dynamics are correct with the B1-A and Textures match the Pale White B1-A. The B1-A was designed by Rockwell International, the bomber's development was delayed multiple times over its history, as the theory of strategic balance changed from flexible response to massive retaliation and back again. This change in stance repeatedly demanded then ignored the need for manned bombers. The initial B-1A version was developed in the early 1970s, but its production was canceled, and only four prototypes were built. The need for a new platform once again surfaced in the early 1980s, and the aircraft resurfaced as the B-1B version. Aircraft includes New textures and a 2d and 3d cockpit also includes Pictures and History of actual aircraft Modifications and Textures by Mark Rooks
Posted Feb 3, 2013 18:51 by Mark Fireball Rooks