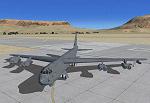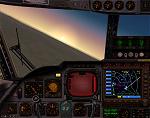 10.30Mb (12041 downloads)
This standalone full package of a modified version of Alphasim's B-52G. It sports the BX tail code of Aeroworks Flight Center IV in Railroad Valley, Nevada. It is a special modified version based loosely on what would become the EB-52 Megafortress of the Dale Brown novels. It represents the pre-Megafortress modifications of a mostly stock B-52, and it's nose art is that of "Old Dog Zero". The package includes one scheme, a new digital autopilot and digital fuel management gauge and various other upgrades and changes. It uses only the advanced flight model. Base model by Alphasim. Updates and new gauges by Jason L. Terry
Posted Oct 26, 2013 05:22 by Jason L. Terry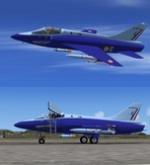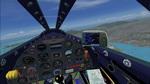 31.26Mb (3037 downloads)
FSX / FS2004 Breguet 1001 Taon, full package with 5 aircraft, by Patrice Grange. The Breguet 1001 Taon was one of the competitors in 1953 for an European/NATO 'LWSF' (Light Weight Strike Fighter) role. The company was contracted to build three prototypes, the first aircraft flying on the 26 July 1957. The aircraft did set an international speed record for a 1,000 km (620 mi) closed circuit, it achieved a speed of 1,046.65 km/h (650.36 mph) at 7,620 m (25,000 ft) on 25 April 1958. On 23 July, the record was broken again with a speed of 1,075 km/h (667.98 mph). Despite these amazing performances, the Breguet 1001 Taon, like several other great aircraft during this period, never went beyond the stage of prototype... This package is complete and stand-alone. The models have full moving parts and animations (control surfaces, gears, spoilers, canopy, pilot ladder, etc.) and a complete virtual cockpit and a custom 2D panel.
Posted Oct 19, 2013 17:31 by Patrice Grange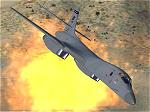 24.64Mb (9092 downloads)
This standalone full package of a modified version of Alphasim's B-1B. It sports the BX tail code of Aeroworks Flight Center IV in Railroad Valley, Nevada. The package includes one scheme, a sound fix for lower volume, updated autopilot, differential brakes and various other upgrades and changes. It uses only the advanced flight model. Base model by Alphasim. Updates by Jason L. Terry
Posted Oct 18, 2013 02:17 by Jason L. Terry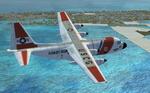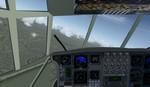 62.30Mb (13831 downloads)
ALPHA Simulation C-130 Hercules originally designed for FS2004 has been reworked for FSX with new sounds, new VC only flight deck, multiple pop up windows, new air file, new flight dynamics, new air configuration, thumbnails, adjustable cargo and fuel weights, new gauges, exhaust effects, all textures converted to DDS format, new camera views, window icons placed within the VC. Textures Include: 314th Air Wing, USAF, USAF, 57th ARR, 47 Sqn. RAF, USCG, Blue Angels, US Navy, AC-130A Hercules Gunship.
Posted Oct 18, 2013 01:39 by David Robles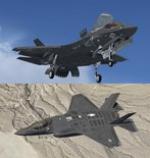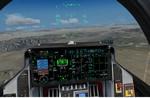 183.75Mb (59434 downloads)
FSX Acceleration/P3D (incl.v4) Lockheed Martin F-35 Lightning II, version 2.30. The F35 Lightning II is a fifth-generation, single-seat, single-engine stealth multirole fighter that can perform close air support, tactical bombing, and air defense missions. The F-35 has three different models: the F-35A is a conventional takeoff and landing variant, the F-35B is a short take off and vertical-landing variant, and the F-35C is a carrier-based variant. Includes custom HUD by Jivko Rusev and Scott Printz, sound package by Serge Luzin, and conventional flight dynamics by Roberto Leonardo and full STOVL functionality by Rob Baredregt and Mario Motta. Package also contains detailed documentation. Designed by Dino Cattaneo (Previous version downloaded 16132 times)
Posted Oct 14, 2013 04:24 by dino cattaneo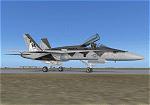 4.38Mb (2140 downloads)
Default repaint (textures only) of the Acceleration F-18. This scheme is based upon the experimental finish devised by aviation artist Keith Ferris in the late 70's and designed to break up the outlines of an aircraft using different shades of grays in a hard edged splinter style. Several aircraft, usually Navy F-14's, F-4's and agressor F-5's took part in the trials, but the scheme has never largely been adopted. By Jason L. Terry
Posted Oct 12, 2013 23:41 by Jason L. Terry


53.10Mb (5672 downloads)
I updated the Dmitry Samborski (samdim)Tu-95 and Tu-142 for FS2004 by relaccing the FS2004 panel with the Tu-126 panel also by Dmitry Samborski and adding texture thumbnails. 2D panel only, no VC panel.
Posted Oct 12, 2013 01:18 by Michael E. Roberts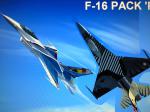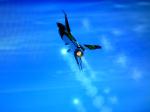 80.61Mb (5936 downloads)
This pack contains three F-16 liveries updated: The BAF solo display jet 2012, Soloturk HD, and an (fictional) monster energy F-16. This pack also contains cool effects like: Flares, afterburner, and smoke. Repaints by Mees Jansen. F-16 model by: Kirk Ollson (INCLUDED)
Posted Oct 6, 2013 08:49 by Mees Jansen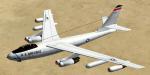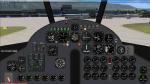 6.20Mb (3479 downloads)
Reworked version of the original model by Bill Holker and Michael Pook. The B47 was the first jet bomber used by the SAC during the cold war. 2D and VC panel for wide screen with GPWS and alarm callout. Credits: Bill Holker for the original aircraft. See instructions for installation in the readme.txt file. Nice flights!
Posted Oct 6, 2013 01:19 by Philippe Wallaert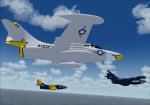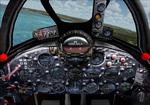 74.85Mb (4946 downloads)
Corrected file: Aeroplane Heavens F9F5 Panther total reworked with new VC only panel, 1950's styled FSX coded gauges, all new sound, all new textures in DDS format, new air configuration file, new flight dynamics and added camera views.
Posted Oct 4, 2013 22:52 by David Robles