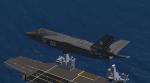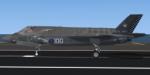 3.47Mb (442 downloads)
A repaint for Dino Cattaneo's F-35B depicting a semi-fictional Lightning II FA.1 in Royal Navy service with 801 Naval Air Squadron, formerly a front-line Sea Harrier squadron based at RNAS Yeovilton in Somerset, prior to that aircraft's retirement in 2006. By Ash Jackson
Posted Aug 19, 2013 06:02 by Ash Jackson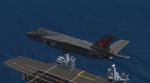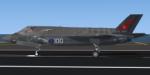 3.48Mb (520 downloads)
A repaint for Dino Cattaneo's F-35B depicting a semi-fictional Lightning II FA.1 in Royal Navy service with 800 Naval Air Squadron, formerly a front-line Sea Harrier squadron based at RNAS Yeovilton in Somerset, prior to that aircraft's retirement in 2006. By Ash Jackson
Posted Aug 19, 2013 05:54 by Ash Jackson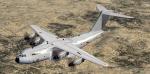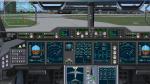 31.05Mb (15856 downloads)
The A400M is a heavy transport aircraft and has been recently delivered to the French Air Force. Original model by Patrick LE LUYER. New panels for wide and standard screen, VC adaptation, GPWS callout by Philippe Wallaert. See instructions for installation and configuration in the readme.txt file. Credits: Patrick LE LUYER for the original and excellent aircraft. Nice flights!
Posted Aug 9, 2013 05:52 by Philippe Wallaert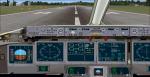 17.59Mb (4087 downloads)
I updated the J.R. Lucariny FS 2004 Embraer EKC-390 by adding the Philippe Wallaert 717 2D panel modified slightly, and the CFM International CFM56-7B sounds created by Adam Murphy and Devyn Silverstein. Includes two Brazilian, one French, and one Chinese texture, 2D panel only, no VC panel.
Posted Aug 8, 2013 14:10 by Michael E. Roberts
26.70Mb (2389 downloads)
Package includes: Full model of the Lockheed C-5A Galaxy in Platinum Airway's new fleet, for FSX only. Platinum is an open-skies virtual airline for FSX, FS9, and X-Plane. Visit us today at platinumairways.org. Model by Kazunori Ito, panel by Philippe Wallaert, sound by Christoffer Peterse, paint by Alwyn Neil, installer by Vic Ayers. 2d panel but no VC.
Posted Jul 27, 2013 13:43 by Harrison B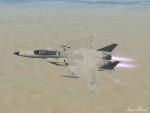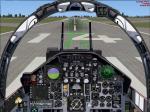 12.59Mb (14033 downloads)
This is a two Eagle livery of the Coral Flight's V2 F-15 Strike Eagle for Flight Simulator X. The United States Air Force selected McDonnell Douglas' design in 1967 to meet the service's need for a dedicated air superiority fighter. The Eagle first flew in July 1972, and entered service in 1976.Eagle #1 is a United States Air force strike Eagle in low visibility desert Camo entitled Desert Dawg Eagle #2 is a member of The 325th Fighter Wing based at Tyndall AFB Painted in a Low Visibility Tactical Gray. Package Includes FSX & VC updates by Danny Garnier. Textures and updated flight dynamics by Mark Rooks of RDG Aircraft.
Posted Jul 22, 2013 02:27 by Mark Fireball Rooks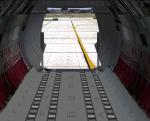 0.27Mb (738 downloads)
FSX/FS2004 Panel-config for extra VC- and internal views for Lockheed C-141B Starlifter from Alphasim 2008. Using the numpad keys you'll get extra views like from the seat of the engineer or navigator and several cargoroom views which allows you to see the animated doors or tailramp from inside. Configuration by Erwin Welker
Posted Jul 18, 2013 04:24 by Erwin Welker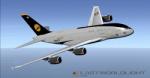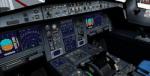 78.12Mb (7231 downloads)
VFA-31 or Strike Fighter Squadron 31 is known as the Tomcatters, callsign "Felix". Airbus A380-800 model by Project Airbus. Virtual Livery A380 this squadron By JALopezR.
Posted Jul 16, 2013 04:49 by JALopezR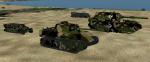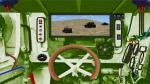 5.58Mb (2213 downloads)
FSX military vehicles. Four drivable German Army vehicles from WW II, all made by Lazarus Starkweather: Two tanks (PzKfwV-Panther and PzKfwrVIII-Maus) and two halftracks. My AddOn is a result of L. Starkweathers ai-vehicles, insertable by using ai-carriers (fsx_maus_trap_ai_tanks). My drivable vehicles provides tank- or truck-cockpits, VC-mode, swivelable maschine guns for the tanks, sounds and special effects. Panels and configuration by Erwin Welker.
Posted Jul 11, 2013 12:51 by Erwin Welker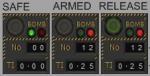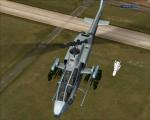 3.47Mb (1901 downloads)
FSX PROGRAMMABLE RIPPLE BOMB RELEASE SWITCH - VERSION 2-ADDED READOUT DISPLAY - For Droppable Objects. ****" Enables multiple bombs to be dropped at a SINGLE click ".**** This version is for Helicopters only, DO NOT use on Fixed wing aircraft. Assign TAILHOOK to a Controller button to maximise useage. (1) Set Number of Missiles/Bombs required, Qty "No" 01 to 99. (2) Set Time Interval required between each bomb ,"TI" 0.00 to 9.99 seconds. (3) then a SINGLE Click of release "Pickle" button sets off the Ripple drop that you have set .Eg; "No 12 - TI 0.01" = concentrated drop zone. While "No 24 - TI 0.50" = strung out drop pattern, it will take 12 seconds for all 24 bombs to drop from your Helicopter.All from a Single click. MUST have the freeware "Weapons Package" by Chris Sykes installed. Has Safe - Armed lights ,Ideal for any military Helicopter Gunship , the Weapons used is totally up to individual preferences , generally it would be missiles like the Maverick or Hellfire , if you chose to drop multiple bombs , then make sure that you have a good forward speed to create separation between the ground impacts.Works for both Bombs and Missiles.Distance interval chart included.Copy Allowed PDF with ID, image and dimensions for all weapons, provided to facilitate rapid copy/paste for weapon changes is included. Pave Tack all aspect/directions in cockpit viewer instrument that enables observation of bombs dropping and exploding from within the cockpit included. This package is "Public Domain" can be used or modified, or included in both free and payware projects without any limitations. **THIS VERSION CONTAINS PYLON xml WITHIN THE MOP FOLDER THIS PYLON xml IS THE COUNT DISPLAY THAT WAS OMMITTED IN PREVIOUS VERSION . IF ALREADY INSTALLED , ONLY ACTION REQUIRED IS TO REPLACE MOP FOLDER WITH THIS ONE.** By Karol Chlebowski.
Posted Jun 29, 2013 06:07 by Karol Chlebowski