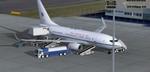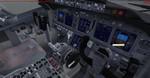 26.62Mb (1951 downloads)
FSX TDS Boeing 737-700 RAAF Boeing Business Jet (BBJ) Package with Enhanced VC Royal Australian Air Force currently operates 2 Boeing BBJ's. Model by TDS/ Tenkuu Developers Studio with advanced 737-800 VC added. Includes utility for ground services, Passenger bus, cargo, stairs, refuelling truck etc (find it under - Views - Instrument panel - Util) The wonderful new Boeing 737-700 from TDS will be enjoyed by many more people who do not know how to install a VC into a FSX native model. The VC is the Alejandro Rojas Lucena/FSND fantastic revised Boeing 737-800 VC model. This VC model includes Working wipers (right mouse click on switch) with rain effect. Switches for LCD Screens, EICAS, PFD, MFT. Autobrake switch. Opening pilots window. Cabin Lights switch. Realistic FMC. Ground Proximity Warning System (GPWS), More Realistic night VC textures. There are custom Boeing sounds included for that extra realism. I have used the beautiful textures by the talented Sean Kneppers. Model is not modified in any way. VC added and aircraft.cfg edited to allow correct VC views. TDS wonderful native FSX Boeing 737-700 model. See VC docs to get the best out of the VC and FMC. Assembled and prepared for FSX by Chris Evans.
Posted Nov 25, 2014 07:28 by chris evans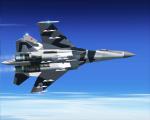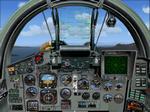 46.49Mb (10290 downloads)
Sukhoi Su-35 Flanker-E for FSX. The Sukhoi Su-35 Also known as Super Flanker, is a designation for two separate, heavily upgraded derivatives of the Su-27 'Flanker'. They are single-seat, twin-engine supermaneuverable multirole fighters. Model by Bill Wolfgren. Great 2d Panel by Braden Peters. (press F10) And included the static (no working gauges) VC by Erwin Welker.
Posted Nov 21, 2014 19:23 by uploader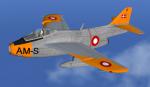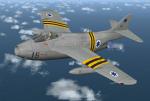 89.03Mb (2679 downloads)
FSX SAAB J-29B and F The Saab J-29 was the first swept wing jet built by Sweden, first flying in 1948. Designed around the Ghost engine and central air intake, the resulting rotund fuselage instantly resulted in the name "Tunnan", Swedish for "barrel". Models A and B were fighters, the model C was a photo recon plane, and the final F introduced an afterburner, and new dogtooth wing leading edges. J-29's served with the Swedish and Austrian air forces, and also served with the UN during the Congo Conflict. Swedish J-29's ended their days as target towing planes, and as"enemy forces" trainers. The complete, original FSX native piglet J-29, With a bunch of 'whatif?' skins added, and Kim B's Flygvappnet target tug skin.
Posted Nov 20, 2014 18:47 by Lazarus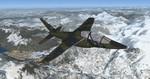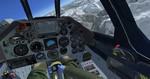 16.29Mb (2022 downloads)
Alphajet JaboG 41 of German Air Force. The Dassault/Dornier Alpha Jet is a light attack jet and advanced trainer aircraft co-manufactured by Dornier of Germany and Dassault-Breguet of France. Model by Jean-Pierre Langer, Jean-Pierre Bourgeois, Benoit Dube. Repaint by Randolph Windler
Posted Nov 17, 2014 03:58 by Randolph Windler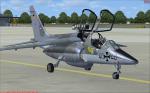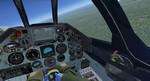 17.78Mb (5938 downloads)
It's a full working Alphajet with German Air Force textures. The Dassault/Dornier Alpha Jet is a light attack jet and advanced trainer aircraft co-manufactured by Dornier of Germany and Dassault-Breguet of France. Model by Jean-Pierre Langer, Jean-Pierre Bourgeois, Benoit Dube. Repaint by Randolph Windler
Posted Nov 16, 2014 04:44 by Randolph Windler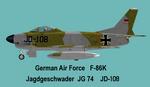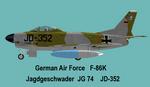 17.42Mb (518 downloads)
Textures only for Kazunori Ito's North American F-86D German Air Force as serviced in 1960th, useable for FS X Flight Simulator. F-86D Model with 4 animated machine cannons on the front of the fuselage to show a F-86K. Contains 5 Repaints of the F-86D (K), means 2 textures in bare metal design (code JD-124 and JE-118) an 3 textures in camouflage design (code JD-108, JD-249 and JD-352). For installation you need the original model of Kazunori Ito's North American F-86D. Updated for FS X by Michael E. Roberts. 5 Repaints by Hans-Juergen Kasper.
Posted Nov 13, 2014 14:40 by Hans-Juergen Kasper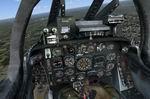 8.04Mb (2539 downloads)
This is Kirk Olsson's F-86 Sabre Jet for Microsoft Flight Simulator X . This is a United States Air Force North American F-86 Sabre.. A fictional Repaint PKG includes a 2D and 3D F-86 Panel by Bob Chicilo for FSX also includes History and pictures of F-86 aircraft. Textures By Mark " Fireball " Rooks of RDG Aircraft.
Posted Nov 2, 2014 01:39 by Mark Fireball Rooks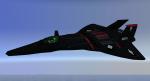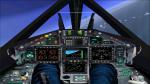 5.26Mb (4584 downloads)
FSX/FS2004 F-19 Concept stealth fighter, 2nd version. This concept is from the 70th and this secret fighter was probably never built. This FSDS 3.5 model is close to the plastic assembling model from Testor and it was Testor's most selling model. My sim version has revolving bomb bays with missiles, has a photorealistic 2D panel and a matching VC with gauges from the freeware Virtavia F-22. Model and panel by Erwin Welker
Posted Nov 1, 2014 22:11 by Erwin Welker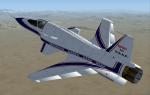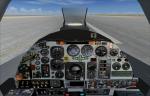 39.62Mb (3384 downloads)
The Grumman X-29 was an American experimental aircraft that tested a forward swept wing, canard control surfaces and other noval aircraft technologies. The X-29 first flew in 1984 and two X-29s were tested over the following decade. The package features a new static VC and a re-configured and enhanced 2D panel. It includes two beautiful models. Original model by Kazunori Ito, new static VC and panel configuration by Michael Pook.
Posted Oct 26, 2014 09:30 by Michael Pook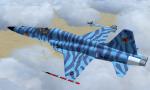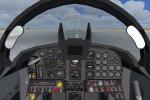 75.43Mb (5460 downloads)
This package is for those who may have had problems with some of the models in the recent upload by Mohammad Faali that displayed a faulty VC. The package also features re-modifications of the VC and the 2D panel as well as a general enhancement for both panels with some new gauges. I removed the models displaying the faulty VC and added a second panel, so now all the models are equipped with a functioning VC. To enhance the appearence of both panels I downsized many of the gauges to fit the respective black frames. Original model by Iris, FSX updates by Danny Garnier and Mohammad Faali, new configuration by Michael Pook.
Posted Oct 26, 2014 06:01 by Michael Pook