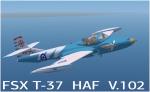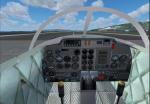 19.59Mb (3270 downloads)
This is the FSX Acceleration Version 1.02 of the HAF T-37 Mistras. The Gauges and configuration will work on FSX Acceleration only so, for Fs2004/FS9, you should download my previous version. This is also a complete package. There is an alternative VC and 2d panel with modified gauges, different sound and a more accurate air file and configuration. Photoreal textures, animated parts and flame effects. Model BY Capt. I. D'Attomo and Capt. G.Quai.Modifications and repaint for FSX by: Hellenic Aircraft/Yiannis Katehis Tsetsas
Posted Dec 3, 2012 04:28 by YIANNIS KATEHIS TSETSAS
0.08Mb (4109 downloads)
This fixes the missing sound for the FS9 Alphasim B-52 converted to FSX.
Posted Dec 1, 2012 09:23 by Steve Hess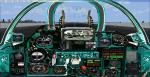 49.53Mb (7173 downloads)
I updated Kazunori Ito's FS2004/2002 Mikoyan MIG-23MF 'Flogger G'. I re gauged the origional panel with Bill Wolfgen's Russian gauges, Brett Hoskin's 3MS gauges, and gauges from Vladimir Zhyhulskiy. I also added the Soviet Mig-21. Soundpackage for FS2002 By Aaron R. Swindle (Skysong/Soundworks), texture thumbnails and I also included Michael Pearson's textures for: NVA Nationale Volksarmee (East Germany), Armada de Mexico (fictional), Romanian Air Force, Belarus Air Force, Cote d' Ivoire Air Force, Egyptian Air Force, Ethiopian Air Force, Hungarian Air Force, Sri Lankan Air Force, Ukraine Air Force, China-Pakistan, Algerian Air Force, Afghan Air Force, Angolan Air Force, Bulgarian Air Force, Cuban Air Force, Czech Air Force, Czech Air Force Tiger Meet, Indian Air Force, Iraqi Air Force, Libyan Air Force, Soviet & Russian Federation Air Force, North Korean Air Force, Polish Air Force, South Yemen Air Force, Syrian Air Force and Vietnamese Air Force (40 Planes total). No VC panel.
Posted Nov 26, 2012 06:26 by Michael E. Roberts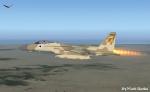 18.73Mb (8513 downloads)
This is a two Eagle livery of the Coral Flight's V2 F-15 Strike Eagle for Flight Simulator X. The United States Air Force selected McDonnell Douglas' design in 1967 to meet the service's need for a dedicated air superiority fighter. The Eagle first flew in July 1972, and entered service in 1976. IAF Eagle #1 is a Israeli Air Force Strike Eagle in low visibility desert Camo. USAF Eagle #2 is a member of The 325th Fighter Wing based at Tyndall AFB Painted in a Low Visibility Tactical Gray. Package Includes FSX VC updates by Danny Garnier. Textures and updated flight dynamics by Mark Rooks of RDG Aircraft. .
Posted Nov 25, 2012 02:18 by Mark Fireball Rooks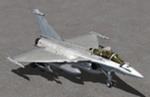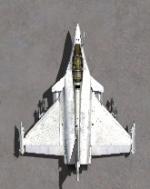 0.70Mb (3569 downloads)
FSX - Views for the Dassault Rafale M beta ( Thor's Hammer ) This package contains 2 sets of camera views ( defined by camera definitions in the aircraft.cfg file ) for the beautiful Rafale M beta models by Bruno "Thor's Hammer" Merelle. See readme.txt of his package for many
Posted Nov 24, 2012 22:43 by Marc Renaud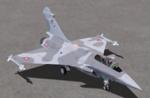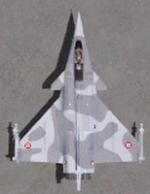 0.40Mb (1971 downloads)
This package contains 2 sets of camera views ( defined by camera definitions in the aircraft.cfg file ) for the beautiful Rafale A, C and M models by Cyril Pioffet. Gauges by Eric Marciano. Updated for FSX By Anthony Douglas and Vladyslav Pavlyuk. Requires the "Dassault Rafale M package". Version 1.1 - Cameras are located at about the same level of the aircraft. Version 2.0 - based on version 1.1 but some of the cameras are placed at a higher level. These two sets fit all three models ( A, C, M ). The 5 folders created when unzipping can be reduced to one with careful planning. 10 cameras pointing at the aircraft - including a new "Top-down" zoomable view. Total of 3 VC cams including 2 new "Over the shoulder" views. See Read me.txt file for very easy installation procedures. Camera definitions sets are included in 2 separate text files. Available.pdf and Top 20.pdf for informations about my "camera definitions" packages. about my "camera definitions" packages. Enjoy !
Posted Nov 24, 2012 00:28 by Marc Renaud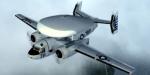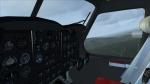 64.80Mb (13209 downloads)
Functional VC model included; Package includes one beautifully crafted exterior livery, a great flight model, authentic custom radial sounds, and custom panels with aircraft specific gauges, and easy-to-read clickable virtual cockpits. FSX native upgrade by Eagle Rotorcraft Simulations This aircraft release is one of 7 aircraft in a series that will be released. FSX Only. DirectX 10 compatible.
Posted Nov 18, 2012 02:04 by Milton Shupe, George Arana, Brandon Filer, Sim-Outhouse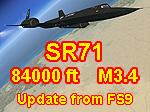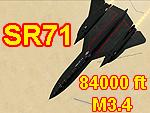 75.83Mb (35056 downloads)
Oh dear not another update! Yes, this one is an overdue update of my FS9 Project previously uploaded in Sept 2009 (26488 downloads in 3 years). As with the FS9 project this FSX update is also based around the experiences of a real SR-71 pilot who spent 4 years and about 500 hours in the cockpit and knew her well. It becomes obvious that the normally quoted maximum of mach 3.2 was indeed the cruising speed and that the Blackbird was flown safely at faster speeds reaching mach 3.4 when out running launched G-A missiles capable of mach 5. It simply begs simulation in that form, so the two flights from the 1980's are updated to FSX. The textures for Robert Barker's FS2000 SR71 61-7978 "Rapid Rabit" will not work in FSX so there is only one of the two aircraft supplied for FSX. The old FS2002 Alphasim 61-7955 textures with RSO's cockpit are used again. There is an alternative modern panel provided which is based on the previous "Rapid Rabbit". It can be used as an alternative to the 2D Pilots panel which uses Kazunori Ito's bitmap from his Lockeed A-12 Blackbird ex FS2000/FS2002. The Flight Dynamics in FS9, originally by Bob Chilico, have been updated for FSX. The SR71 was not a fighter and should not be flown like one in the simulator. It was not a bomber either. It was designed for high altitude photography (80000ft plus) at very high speeds and was capable of out running any surface to air missiles fired at it. It was very slippery indeed. A very different aircraft in the real world and it should be so in the simulator and be flown for purpose. Oblique camera views for taking screen grabs of the terrain from 80000+ft are included. PDF manual. This is a full aircraft packaged by Ross McLennan.
Posted Nov 16, 2012 01:45 by Ross McLennan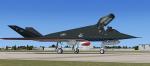 25.09Mb (30244 downloads)
FS2004/FSX F-117A Nighthawk Stealth. Slight mods to allow it to work in FSX. There is still a black square over the HUD in some FSX systems but otherwise it's OK. The F-117A Nighthawk stealth 'fighter' is actually not a fighter at all. Its very modest performance belies its radically futuristic appearance, but it packs its biggest punch in the ability to deliver precision weapons without detection by most radar systems. The Air Force retired the F-117 on 22 April 2008, primarily because of the fielding of the F-22 Raptor and the impending introduction of the F-35 Lightning II. Sixty-four F-117s were built, 59 of which were production versions with five demonstrators/prototypes. Note: Black square at top of VC in FSX but mainly OK. See preview pics. Ex FS2004 payware from Alphasim.
Posted Nov 14, 2012 07:33 by Garnier D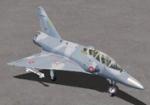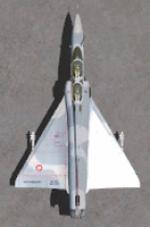 0.12Mb (2661 downloads)
This package contains 2 sets of camera views ( defined by camera definitions in the aircraft.cfg file ) for the beautiful Mirage 2000 C Armee de lAir package ( original model Mirage 2000N ) by Roland Laborie, Jean Pierre Bourgeois, Pierre Marchadier. Repaint 2000C by Timothee Teneur. Version 1.1 - Cameras are located at about the same level of the aircraft. Version 2.0 - based on version 1.1 but some of the cameras are placed at a higher level. 10 cameras pointing at the aircraft - including a new Top-down zoomable view. Total of 5 VC cams including 2 new Over the shoulder views. One view is disabled but I highly suggest disabling a second one for high speed flying in canyons such as in the Alpes or Grand Canyon for example. See Read me.txt file for very easy installation procedures. Camera definitions sets are included in 2 separate text files. Available.pdf and Top 20.pdf for information about my camera definitions package
Posted Nov 11, 2012 21:04 by Marc Renaud