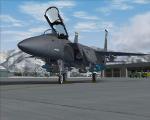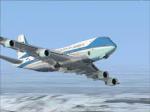 396.57Mb (76325 downloads)
FSX United States Air Force multi-aircraft package. This package contains the full USAF A-10, AC-130, B-52H, B-1B, B-2, Boeing E-3 Sentry, T-6 Texan II, C-12 Huron, C-5 Galaxy, C-130, C-17, C-32, C-37, C-40, F-22 Raptor E3F, F-15, F-16, KC-135, VC-25, Air Force One B747-8i (as a bonus), KC-10, Bell Huey, Northrop T-38A, U-2, RQ-1 & RQ-4 (drones), Lockheed Martin F-35 Lightning II (as a bonus) & the first freeware V-22 Osprey on Simviation. All aircraft are in the USAF livery! Thanks to POSKY, Alphasim, and IRIS for their wonderful and realistic models. Total Uncompressed size: 2.85 GB. Assembled by Alan de Jager (fsx.alandejager.cf)
Posted Oct 5, 2014 04:39 by Alan de Jager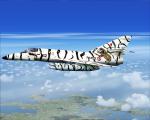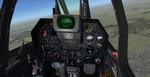 29.10Mb (3896 downloads)
DASSAULT SUPER ETENDARD for FSX Two textures: French & Argentina Carrier-based fighter designed with gmax. Realistic flight dynamics. This package includes panel with radar. Authors: Model by Lucas Romain Textures by Frank Safranek Panel by Marco Spada Radar by Jonathan Koch Hougaard Updated by unknown
Posted Oct 2, 2014 08:18 by uploader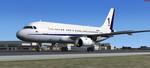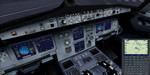 49.82Mb (1880 downloads)
Airbus A319 Malaysia VIP with added custom sound pack and improved VC from the A321 with FMC. FSX fixes by Chris Evans.
Posted Oct 1, 2014 01:14 by Muiz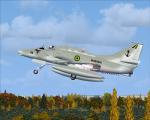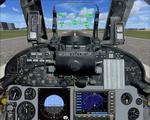 18.06Mb (3588 downloads)
FSX A-4 Skyhawk Brazilian Naval Aviation. The Douglas A-4 Skyhawk is a single seat carrier-capable attack aircraft developed for the United States Navy and United States Marine Corps. The delta winged, single-engined Skyhawk was designed and produced by Douglas Aircraft Company, and later by McDonnell Douglas. Model by Kazunori Ito. Textures by unknown. 2d panel, No VC.
Posted Sep 30, 2014 04:43 by uploader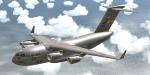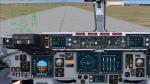 5.06Mb (9779 downloads)
The C17 is replacing the C141 and has short takeoff and landing habilities. Here is the model designed by the talented Mike Stone. Adaptation fo FSX, panels for wide and standard screen (no VC) including GPWS and warning callout by Philippe Wallaert. See instructions in the readme.txt file for installation and configuration. Credit: Mike Stone for the original aircraft.
Posted Sep 28, 2014 05:33 by Philippe Wallaert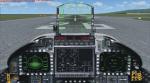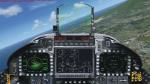 18.02Mb (2164 downloads)
This is an update for FSX of the default FSX Acceleration FA-18 Hornet. I have added a 2D panel and left the VC panel as workable as before. I have redone the flight dynamics, and added the 4th wheel. Included is a carrier tutorial, because the 2D panel is not visually compatible with the original tutorial. BECAUSE THIS IS A DEFAULT AIRCRAFT, BACK UP YOUR HORNET AIR AND AIRCRAFT.CFG FILES AS WELL AS THE PANEL FOLDER BEFORE ATTEMPTING TO APPLY THIS UPDATE
Posted Sep 28, 2014 02:02 by Bob Chicilo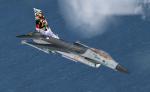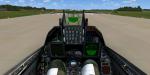 67.69Mb (4239 downloads)
Now Fixed the Aircraft.cfg list. Everything works now. My Apoligies. This package contains: VC, All configs, Flares, smoke, and Afterburner. Model by: Kirk Ollson, Updated VC by: Daniel Garnier, Repaint by: Mees Jansen.
Posted Sep 26, 2014 14:22 by Mees Jansen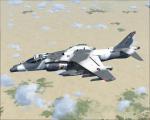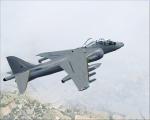 59.26Mb (9161 downloads)
UKMIL FSX Harrier GR.5 / GR.7 / GR.9 and T.10 Package. The British Aerospace Harrier II is a second-generation vertical/short takeoff and landing (V/STOL) jet aircraft. Update HUD and parameters by unknown.
Posted Sep 22, 2014 12:16 by uploader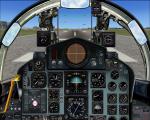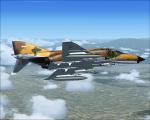 49.56Mb (7450 downloads)
update for FSX of the Virtavia F-4 Phantom II . The McDonnell Douglas F-4 Phantom II is a tandem two-seat, twin-engine, all-weather, long-range supersonic jet interceptor fighter/fighter-bomber originally developed for the United States Navy by McDonnell Aircraft. Aircraft by Virtavia. Update panel and parameters by unknown.
Posted Sep 21, 2014 01:03 by uploader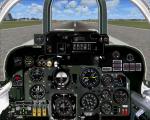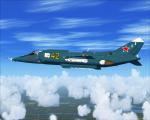 17.96Mb (1847 downloads)
The Yakovlev Yak-38 was Soviet Naval Aviation's only operational VTOL strike fighter aircraft, in addition to being its first operational carrier-based fixed-wing aircraft. It was developed specifically for and served almost exclusively on the Kiev-class aircraft carriers. Update 2D Panel and Parameters by unknown. Original FS2002/2004 model by Kazunori Ito. No VC.
Posted Sep 18, 2014 06:31 by uploader