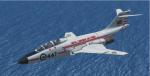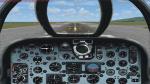 7.34Mb (1599 downloads)
This is an update for FSX of the Alpha CF-101B. I have changed the afterburners, Changed gauges where needed on the panel so it works in FSX, and updated the flight dynamics. This won't work properly in FS9, see my other update for FS9.
Posted Jun 7, 2014 12:51 by Bob Chicilo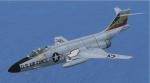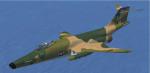 11.42Mb (2719 downloads)
This is an update of the Alpha F-101C Voodoo for FSX. I have changed the afterburner effects, updated the flight dynamics, and changed the gauges on both panels so the panels work in both FS9 and FSX. This is only for FSX as some things, like the smoke, won't work properly in FS9. See my other update for FS9.
Posted Jun 1, 2014 10:04 by Bob Chicilo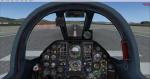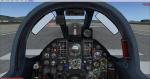 1.36Mb (1427 downloads)
This interior .mdl file has been modified to remove the much-hated, inaccurate and useless rear-view mirrors mounted on the canopy bow of the original model. This overall plane is spectacular and, being easy on frame rates, makes a first rate high performance formation machine in multiplayer - especially for those of us who like to honor the valor of our predecessors by mastering the technology of the 50's and 60's. We hope you enjoy the increase in forward visibility, making it easier to execute rejoins and hold position in formation. As with all things, this mod is a compromise: you'll find that the throttle has also disappeared, an unavoidable consequence. We found we never look down at the throttle in flight, we just move our hand and use the gauge for power. I'm guessing you're probably the same, and will benefit from the mod. To install, navigate to your F-105D folder in the aircraft directory of FSX or P3D, then open the "model" folder within that. Backup your "ALPHA_F-105_interior.mdl" file. You may simply copy this new ALPHA_F-105_interior.mdl file into your F-105 directory now, overwriting the original (assuming you backed it up elsewhere). If you find you like this mod, let me know. If it appears there is a need, we'll post more of our performance mods driven by our real-world fighter guys for planes we've flown. We've benefitted from all the good work of others in the flight sim community, and would enjoy the opportunity to give back.
Posted May 30, 2014 20:34 by Toby Wills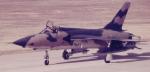 0.01Mb (1599 downloads)
For the AlphaSim/Virtavia freeware F-105D Thunderchief - we are a group of ex-USAF fighter pilots who enjoy the formation and tactical aspects of FSX/P3D in multiplayer mode. Our small group of real-world Thud pilots helped us modify the config and air files to more accurately replicate the real Thud in certain parts of its envelope. Examples: thrust curve now approximates the J75, and speed brakes have correct drag profile. For those of you who appreciate military accuracy, you can now fly the Thud on approach at 190 knots, dirty with boards out, and 96% throttle will hold. Or, execute the dive bombing profile the Thud used over North Vietnam - as those pilots did, boards out in a 45 deg dive from 12K, A/B in all the way (if the Thud was hit, A/B couldn't always be engaged - hence the hedging by engaging A/B early and using boards to maintain correct speed in dive). One piece of tactical advice: the Thud is no dogfighter, but it is The Supreme Drag Racer. Unloaded with burner down low, nothing can catch it. Keep an eye on the fuel gauge, know where your tankers are. We've also removed the clutter in the interior model for better sim forward visibility (who doesn't loath those crazy rear-view mirrors?) - look for that one to be posted soon. "No Guts, No Glory."
Posted May 30, 2014 16:29 by Toby Wills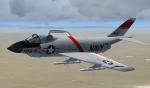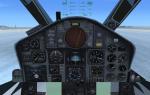 9.12Mb (2435 downloads)
The McDonnell F3H Demon was a Us Navy carrier-based jet fighter aircraft, which served from 1956 until 1964. The package features a completely new- designed VC and 2D panel with FSX compatible Gauges. Original model by James Smith and Bruce Baker (Flightsimdesign), new panel configuration by Michael Pook.
Posted May 26, 2014 02:53 by Michael Pook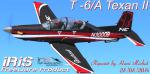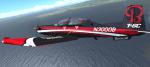 15.87Mb (778 downloads)
Repaint only for the freeware IRIS Pro Series T-6/A Texan II representing the Beechcraft T-6C N3000B. Repaint by Hani Michal using the IRIS Pro Series T-6/A Texan II paintkit by David Brice, IRIS Flight Simulation Software.
Posted May 25, 2014 13:36 by Hani Michal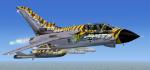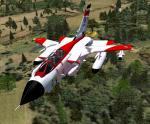 7.81Mb (1151 downloads)
FSX/FS2004 Textures For Two DSB-Tornado Repaints (GAF Tigermeet 2001 and Italian airforce MRCA Prototype). My addon comes with camera- and weapon configuration. Included are VC-views for two different load out models, one for the pilot (the animation of the fuel nozzle can be watched) and one for the RSO at the rear seat. This VCs makes the DSB-Tornado fully FSX-compatibel but they don't have working gauges. Also included are repainted replacement textures (for the repaints Monster & GAF Jever). Normally all those repaints comes with grey fuel nozzles and grey drop tanks. My replacement textures has fuel nozzles and drop tanks in coulors regarding those special paint schemes. Bitmaps and configuration by Erwin Welker
Posted May 23, 2014 04:58 by Erwin Welker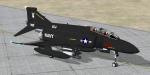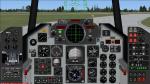 5.60Mb (3900 downloads)
The McDonnell Douglas F4 Phantom was a supersonic jet fighter massively used during the Vietnam war. Original Aircraft by Kazunori Ito. FSX adaptation, 2D panels for wide and standard screen (no VC) and specific gauges including GPWS + Warning callout by Philippe Wallaert. Credit: kazunori Ito for the original and excellent model. See instructions for installation and configuration in the readme.txt file.
Posted May 20, 2014 05:19 by Philippe Wallaert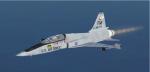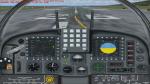 15.12Mb (1373 downloads)
This is an update for FSX of the DSB F-20B. The original file said it was the Iris aircraft, but everything inside the file says it is DSB. I have done all the updating for this model that I did for the F-20A model that it came with. I have separated the A and B models to have smaller files. This is the whole aircraft. This will work in FS9, but not up to specifications. See my other F-20B update for FS9. The virtual cockpit is there but not usable due to a grey section over the front view.
Posted May 16, 2014 10:08 by Bob Chicilo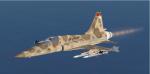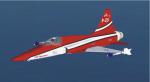 29.33Mb (1092 downloads)
This is an update for FSX of the DSB F-20A. The original file said it was the Iris aircraft, but everything inside the file says it is DSB. I have deleted all the gauges from the panel folder that were not being used and changed 3 or 4 gauges that did not work in FSX. I have added a second autopilot, a GPS, a NAV/GPS switch, an air brake light, gear indicator lights and a pitch trim gauge. I have redone the flight dynamics including fixing any contact points. This is the whole aircraft. There is a VC, but it looks bad compared with how it looks in FS9. This will work in FS9, but not up to specifications. See my other F-20A update for FS9.
Posted May 16, 2014 07:52 by Bob Chicilo