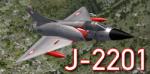 12.47Mb (1142 downloads)
Twextures for the Restauravia Mirage IIIC. Textures representing the first French delivered Mirage 3C for Test and Evaluation in the Swiss Airforce. It is also the only real Swiss Skin for the Mirage 3C. The Rest where Swiss built Mirage 3S with a different Engine.
Posted Jan 10, 2015 00:04 by Wanderfalke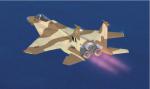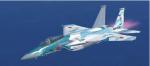 55.39Mb (4523 downloads)
This is an update for FSx of the freeware Iris F-15 C/D/J. I have eliminated all models other than the clean ones, and removed most of the textures so there are only 3 paints left. I have updated the flight dynamics, which included changing all the contact points as well as the positions of the wings, horizontal tail and the vertical tail. I added a trim gauge to the 2D cockpit, also added the gear lights from the VC, a speed brake light, a flaps gauge, and another autopilot because I found the one with the aircraft less than intuitive. This is the whole aircraft, minus the previously mentioned files.
Posted Jan 9, 2015 11:09 by Bob Chicilo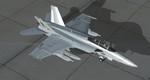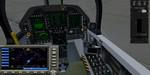 26.71Mb (7362 downloads)
EA-18G Growler V2 Updated This is the beautiful Team KBT EA-18 Growler packaged with all the updates and 2 additional liveries included by Joe Kunzler. So now we have USN VAQ-136 Gauntlets CAG, USN VAQ-136 Gauntlets LINE and the original Vikings. Model by Team KBT. Assembled and packaged for FSX by Chris Evans.
Posted Jan 9, 2015 10:52 by chris evans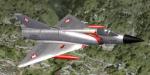 32.96Mb (1408 downloads)
These are 2 Swiss Airforce repainted textures for the Mirage 3C from Restauravia. One with Red and one with Grey Supersonic Tanks! Good for Formation Flying over the Swiss Alps.
Posted Jan 7, 2015 13:43 by Karl Meindl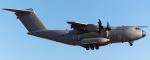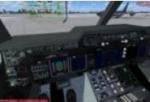 33.03Mb (9076 downloads)
Airbus Military A400 M in RAF Livery, I've added lots more detail in this repaint, removed the mip maps for a sharper looking aircraft. Model for fsx sp2 with virtual cockpit. Special thank's to Dietmar Loleit for the radar, maps, hud and tcas gauges. Updated to fix cockpit errors and non showing gauges. Fixes by Chris Evans. Original upload by Patrick LE LUYER. Repaint by Stephen Browning
Posted Jan 1, 2015 10:29 by Stephen Browning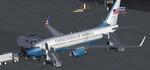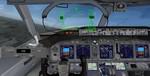 115.73Mb (8569 downloads)
FSX/P3d TDS Boeing 737-700 C-40 B/C USAF Package with Enhanced VC and HUD. The C-40 B/C is based upon the commercial Boeing 737-700 Business Jet. The body of the C-40 is identical to that of the Boeing 737- 700, but has winglets. Both models have state of the art avionics equipment, integrated GPS and flight management system/electronic flight instrument system and a heads up display. Model by TDS/ Tenkuu Developers Studio with advanced 737-800 VC added. Includes utility for ground services, Passenger bus, cargo, stairs, refuelling truck etc (find it under - Views - Instrument panel - Util) The wonderful new Boeing 737-700 from TDS will be enjoyed by many more people who do not know how to install a VC into a FSX native model. The VC is the Alejandro Rojas Lucena/FSND fantastic revised Boeing 737-800 VC model. This VC model includes Working wipers (right mouse click on switch) with rain effect. Switches for LCD Screens, EICAS, PFD, MFT. Autobrake switch. Opening pilots window. Cabin Lights switch. Realistic FMC. Ground Proximity Warning System (GPWS), More Realistic night VC textures. There are custom Boeing sounds included for that extra realism. I have used the textures by Favour Kalu. Included the HUD and TCAS included in the recent Robert Taylor CRJ700. (find it under - Views - Instrument panel - Hgs & TCAS)) Model is not modified in any way. VC added and aircraft.cfg edited to allow correct VC views. TDS wonderful native FSX Boeing 737-700 model. See VC docs to get the best out of the VC and FMC. Zip preview for bigger images. Assembled and prepared for FSX by Chris Evans.
Posted Dec 31, 2014 06:16 by chris evans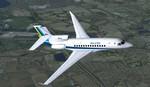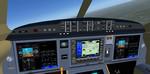 10.04Mb (3457 downloads)
Falcon 7X Royal Malaysian Air Force/ RMAF. FSDS modelling XML Programming CABs Gauge design 2D Panel & VC design by Jean-Pierre Brisard Paint by Bob May Flight dynamics by Bob May and Danny Crance Trijet sound set by kind permission of Aaron Swindle Ground Handling Gauges with permission Rob Barendregt, The Netherlands Garmin GPS Thanks to Don Kuhn. Base textures by Bob May. RMAF textures by Abd Mu'iz. Premier Aircraft Design
Posted Dec 31, 2014 05:15 by Abd Mu'iz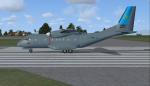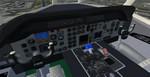 5.71Mb (1962 downloads)
CASA CN235 Royal Malaysian Air Force (RMAF). Original aircraft design by J.E.Narcizo & RanchoJEN Adaptation for FSX, panel and VC by Philippe Wallaert.
Posted Dec 30, 2014 06:16 by Abd Mu'iz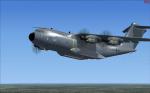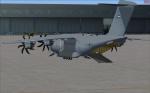 4.54Mb (2770 downloads)
FSX texture repaint in the grey colors of the German Forces "Luftwaffe" for the military transporter Airbus A400M. Requires the original model from Patrick Le Luyer updated by Chris Evans. The new Airbus will be the replacement for the much smaller C-160 Transall. Delivery of the first A400M to German Forces was in Dezember 2014. Required file: A400M-1.zip Repaint by Randolph Windler
Posted Dec 28, 2014 10:03 by Randolph Windler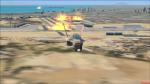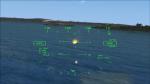 4.07Mb (4237 downloads)
Ever thought of firing weapons in the Acceleration F-18? Now you can do it! Just install this and from a simple FSX aircraft it will a lethal airborne striker. Applicable for any fighter/attack aircraft, but it works best with the F-18. To have it you need to install FSX Acceleration. Happy flights!
Posted Dec 27, 2014 10:31 by David Guerrero