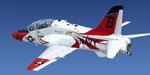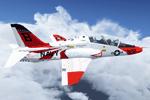 4.20Mb (1780 downloads)
Textures for Dino Cattaneo's freeware but 'payware quality' T-45C Goshawk V2.10 package. Repaint represents T-45C Goshawk 167100/B322 VT-22 Golden Eagles.
Posted Jan 21, 2012 07:53 by Jiri Soukup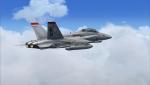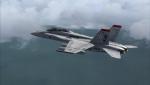 3.27Mb (3667 downloads)
FSX Default FA-18 VFA-41 BlackAces F18D Texture. Enjoy this repaint made by Molly for CS18D
Posted Jan 19, 2012 05:59 by Molly Mae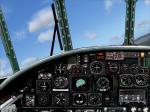 10.45Mb (13064 downloads)
I updated Kazinori Ito's FS2002/FS2004 Convair B-36H Peacemaker by updating the 2D panel with guages from HJG's Convair 880 and Philippe Wallaert's BAC 1-11 panels. I replaced the sound with FERRY SAB's C-123k sound set. I also added Bill Baldwin's FS2002/FS2004 SAC Convair B-36 and FS2002/FS2004 SAC Convair B-36J textures. Along with Malcolm Steck's FS2004 B-36 Smoke. Plus I reworked the Aircraft CFG a little. No VC Panel
Posted Jan 15, 2012 23:53 by Michael E. Roberts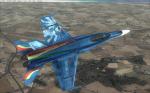 2.44Mb (1669 downloads)
'Rainbow Dash' textures only for the default FSX Acceleration FA18 Hornet.
Posted Jan 12, 2012 01:17 by Maurox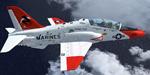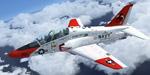 4.48Mb (1212 downloads)
Textures for Dino Cattaneo's T-45C Goshawk V2.10 package. Repaint represents T-45C 165080/SD-201 VX-23 Salty Dogs from its first flight on biofuel.
Posted Jan 6, 2012 17:59 by Jiri Soukup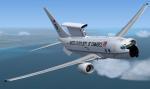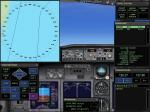 32.30Mb (4908 downloads)
The first upload resulted in "Incorrect file parameter. Please contact system administrator to fix this error" So I reloaded the file I updated Project Openskys' NOAA Boeing 737 w/ wedge tail. I replaced the panel with Kevin Widjajas' FSX 737 AWACS Panel and the sound with HJGs' CFM 56 TURBOFAN for the C-135R NO VC
Posted Jan 1, 2012 01:18 by Michael Roberts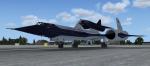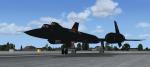 32.82Mb (11245 downloads)
I updated Kazunori Itos' FS2004/2002 Lockheed M-21/D-21 Mother and Daughter and FS2002/FS2004 Lockheed YF-12 Black Bird. Plus Alphasims freeware' FS2004 SR-71B Blackbird. I replaced the autopilot, panel and sound with the ones from michael litze SR-71A Package. NO VC
Posted Dec 31, 2011 10:53 by Michael E. Roberts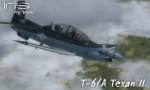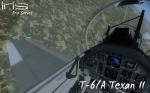 83.14Mb (14841 downloads)
Iris T-6/A Texan II Package ex payware back catalog generously donated to the community as feeware. Features: * A choice of high quality 32 bit textures or medium quality DXT3 Textures for improved frame rates in high detail environments. * Backlit canopy gauges for accuate night-time flying. * Interactive Virtual Cockpit including a wide variety of custom interactive objects. * Appearing warning labels, prop restraints and intake covers plus more from a pre-boarding checklist. * Custom Soundpack designed by Christoffer Petersen from Turbine Sound Studios. * Custom designed simulation systems including the Trim Aid Device. * Enhanced flight dynamics from flight dynamics modeller Rick Piper complete with spin ability in both FS9 and FSX. * Two external models covering the Texan II and the Texan II NTA with external fuel tanks. * Authentic new 2D panel with VFR and popup windows, all with custom programmed XML gauges throughout.
Posted Dec 24, 2011 08:45 by Ronny Durand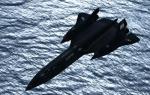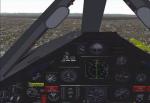 17.31Mb (24250 downloads)
SR71 for FSX 2012 for AlphSim SR-71a freeware. Features: Advanced flight model, panel, sound, effects, and custom gauges. Custom FSX sound package, afterburning engines, Compressor Inlet Temp, wheel roll heating, unstarts, auto fuel COG management of 8 tanks, Annunciator, detailed manual, checklists, World record and BECKY Sortie flight plans. More. AlphaSim 3D model included.
Posted Dec 24, 2011 06:29 by michael litze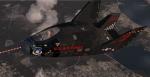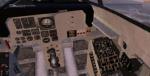 5.77Mb (7299 downloads)
An FSX adaptation of Tim Conrad's sweet little X-24 Lifting Body. Built as a atmospheric test vehicle for a planed orbital version intended to be a military spaceplane lofted by a Titan launcher. A series of unmanned half scale X-24's were flown on sub-orbital and orbital test flights to validate Hypersonic and reentry performance. The design performed well, and detail design and operational doctrine for the orbital military version was well advanced when the airforce walked away from manned military capability. Mr.Conrads X-24 is a FS2002/2004 model that, with modifications, looks and works great in FSX. The panel has been re-worked using Mr.Conrads T-2 gauge cab(included). Flight model has been re worked to give HOTOL LEO capability (Nuclear gas core/H2 rocket?) A couple of new textures for hypothetical 'operational TAV-24's' included. A fascinating glimpse of an Air Force that almost was.
Posted Dec 17, 2011 11:56 by lazarus