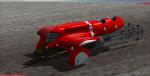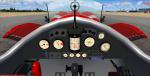 131.50Mb (423 downloads)
Military Vanship by Mellin Version 1.0.3 Requires Flight Simulator X: Acceleration, or Flight Simulator X: Gold Edition Vanships come from the animated series "Last Exile" and "Last Exile: Silver Wing Fam". I highly recommend also watching animated series. This aircraft uses VSTOL addon module by R. Barandregt and M. Motta. Special thanks to everyone on FSDeveloper forum for their help and advise.
Posted Jan 31, 2016 15:32 by Mellin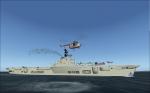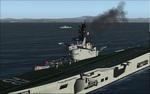 12.19Mb (1927 downloads)
Majestic class angle deck CVL`s HMAS Melbourne and HMCS Bonaventure. Reworked, more poly grinding and smashing, tightened up the mesh. Roughly to Bonnie's fit, now full hull. Armament shipped-3"50cal twin mounts, new mirror landing sights. Animated surface and air search radar, new ships crane and boats. Separate Bonaventure and Melbourne models to accommodate slightly different arresting wire layouts. Fully texture mapped around Jens Ole's great Bonnie and Melbourne tex's, with reduced drawcalls. Bonaventure in correct RCN colours. This edition replaces the beta version, the deck park's are unchanged, as are effects for effects version, position and titles are unchanged. A lot less pukeworthy than the earlier effort. Paints by Jens-Ole Kjolberg and Y.T.
Posted Jan 29, 2016 04:48 by LLS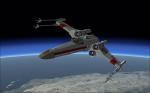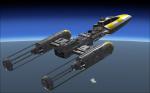 18.14Mb (5400 downloads)
Rebel Alliance BLT-A4 Y-wing by Tim 'Piglet' Conrad, T-65 X-wing by Bruce Fitzgerald. Upgraded to FSX MDLX standard, all original animations and VC's, flat-riser VTOL's, ready for space. X-wing has been scaled correctly, and now has a pilot. Very smooth frames, and glass! A big BZ for Bruce, Tim, Rob, Arno and Henk, who made it all possible.
Posted Jan 28, 2016 03:30 by LLS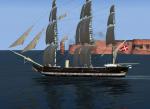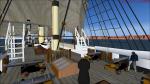 10.26Mb (709 downloads)
FSX Danish Steam Frigate Jylland from around 1860. She fought 1864 in the battle of Helgland. The ship is equiped with a 1300 hp steam engine and has a liftable propeller for sailing. Now she lies as one of the biggest wooden ships as museums ship in a dry dock at Ebeltoft at the Baltic Sea. This addon is a pilotable version with many sails and twelve additional stunsails and is almost complete rigged with hundreds of ropes. There are fourtytwo animated guns and a Navy crew of thirteen men. Twentythree cameras let you explore the whole ship: The deck, below the decks and you can enjoy the sailors views from high above in the masts. FSDS 3.5 model and configuration made by Erwin Welker
Posted Jan 27, 2016 04:08 by Erwin Welker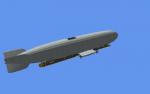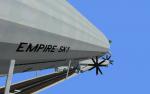 11.50Mb (907 downloads)
Be the envy of every 1930`s super villain on the block with your very own 12000 ft long Zeppelin Skybase. Art Deco design elements, an airport large enough for a wing of B-36`s, and a stol-port on top. Ran out of steam on this one, but it`s still lots of fun, looks great in a sky full of cumulus cloud. animated 200 ft contra props, night mapped. For use with AICarriers2.
Posted Jan 27, 2016 02:26 by LLS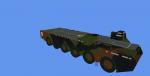 1.33Mb (383 downloads)
This is a basic giant mecha-battletech type thing, hard deck, helio pad, hangar bay and ramp. Something to bomb from orbit, or to schlep a spaceship or a mecha. Threw out my source files accidentally, so never really get to finish it. More fun FSX AI Carriers2 toys.
Posted Jan 27, 2016 02:07 by LLS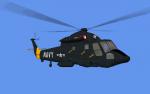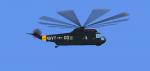 4.20Mb (564 downloads)
AICarriers2 planeguards, SH-3 Seaking, Sh-2C and SH-2F Seasprites, animated rotors, textures mapped and at a suitable rez for re-painting. A bit better than total crapolla, but the price is right, and they look all right on station.
Posted Jan 27, 2016 02:02 by LLS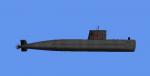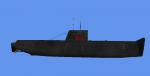 2.07Mb (361 downloads)
Marine Nationale SSK's of the Agosta and Daphne classes, for AI Carriers2 or similar. These models are pretty simple, and may be converted to scenery or whatnot
Posted Jan 27, 2016 01:55 by LLS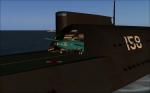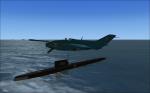 6.07Mb (526 downloads)
Wacky fsx stuff - I whacked together a soviet-style submarine aircraft carrier for the Native Yak-36 and -38, available at sim out house. Hard deck and hangar, also included, a redone EchoII SSGN-also hard deck, and a overhauled November SSN. For AICarriers2, or whatnot.
Posted Jan 27, 2016 01:51 by LLS

3.33Mb (510 downloads)
USS SSBN-598 George Washington, the first modern SSBN. For AI Carriers2, or conversion for use in scenery or what not. Cleaning old files from HD!
Posted Jan 27, 2016 01:35 by LLS