1.56Mb (11764 downloads)
This is a fix for the POSKY 777 Panel above. This download contains a file needed to get FS to read the .gau gauges, and thus fix the blank gauge problem. This has been tested with FSX Deluxe w/ Acceleration, and SP2. You NEED the above panel for this to work. By Sam Fisher
Posted Oct 30, 2009 10:59 by Sam Fisher
37.38Mb (16425 downloads)
This Boeing 777 Panel and VC textures is compatible with all of POSKY's 777 and FSX. The Panel, and VC textures where original made by Project Open Sky, then updated by "gritob01", all I have done is put them into a package. By, Sam Fisher
Posted Oct 20, 2009 17:28 by Sam Fisher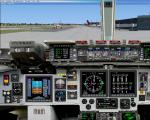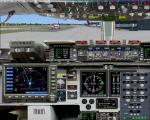 2.66Mb (8510 downloads)
Photorealistic 2D panel for the Boeing C17. All original gauges in xml. Works also with FS9. See instructions in the readme.txt file.
Posted Oct 8, 2009 06:24 by Philippe Wallaert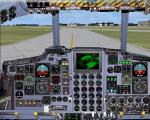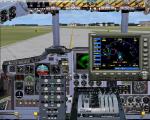 2.59Mb (9819 downloads)
Lockheed C130 HERCULES 2D panel based on real pictures. All original gauges in xml. Please read instructions concerning configuration in the readme.txt file
Posted Oct 1, 2009 13:14 by Philippe Wallaert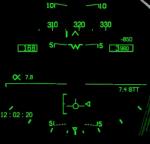 0.64Mb (4108 downloads)
High-resolution realistic HUD for default FSX Acceleration F/A-18. Includes 2D and VC HUD; Courseline steering arrow; Ability to link to NAV1, NAV2, or GPS; Multiple clock modes; Realistic HUD reject options; Altitude options; Energy caret; AOA bracket; ILS needles; ACLS tadpole; HUD switch panel; docs and image files for instructions on use. Modified for FSX Acceleration default F/A-18 by Damien13N.
Posted Sep 20, 2009 20:08 by Damien Oxier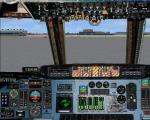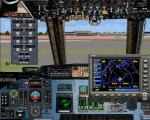 2.64Mb (7556 downloads)
2 D panel for the huge C5 Galaxy and C141. Based on real photo. All gauges in xml for a perfect compatibility with FSX. See readme file for instructions.
Posted Sep 16, 2009 06:43 by Philippe Wallaert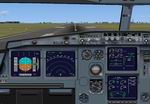 2.90Mb (8011 downloads)
FSX Airbus A320 Panel. All gauges work with P.A. flight model anda are only FSX default gauges. This panel may be used as alternate panel for default A-321 with working virtual cockpit. By Marco Spada. 2.9MB
Posted Sep 10, 2009 06:47 by archive
1.73Mb (12653 downloads)
FSX Airbus A-380 panel. Based on actual aircraft photos, this panel has all its gauges custumized. By Hector Molina. 1.7MB
Posted Sep 10, 2009 06:47 by archive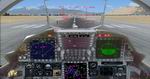 4.86Mb (3766 downloads)
FSX F-15E Panel. There are little to no F-15E panels in FSX. This is a simple but as accurate as possible F-15E panel. This package contains xml and regular gauges that work in FSX and represents the F-15E Strike Eagle cockpit. Only the bare essentials for flying were included. The F-15E Strike Eagle is a two-seater. In the rear seats the Weapons Safety Office (WSO). Therefore, this package contains the cockpit of the WSO too. The WSO is a pilot and if needed, can fly the jet from the back seat. The Coral_f-15_v2.cab is required and may be obtained here. Gauge credits where known included. Dana Eng. 5MB
Posted Sep 10, 2009 06:47 by archive
0.97Mb (2158 downloads)
FSX HUD for Commercial Jets. JelAir HUD including manual, version 3. Jacob Larsen. 990K
Posted Sep 10, 2009 06:47 by archive