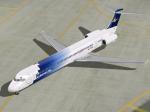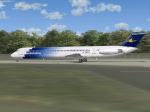 2.16Mb (372 downloads)
Textures only for the payware Flight 1 MD82. McDonnell-Douglas MD-82, (cn 49392/1272), registration number YV253T, ex-Spirit Airlines registration N822NK untill September 2005, starting with Aeropostal in October 2005 untill 2008. Lather as Venezolana YV191T from 2009 and remains in service today. Flight Dynamics by Jerry Beckwith, Aircraft Model & Texture by Terry Gaff. By Juan Ernesto Oropeza.
Posted Jun 6, 2012 12:36 by Juan Ernesto Oropeza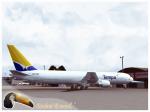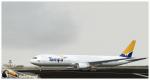 6.72Mb (432 downloads)
Tampa Cargo photoreal textures in 32 bit format for the model payware 767-300 of Level-D. Tampa Cargo, is a cargo airline based at Jose Maria Cordova International Airport. It is a specialized all-cargo airline transporting flowers from Latin America to Miami, as well as general cargo throughout the Americas. Repaint be Manuel Jose Contact Ground. Happy flights.
Posted Jun 5, 2012 18:38 by Manuel Jose Larrahondo Burgos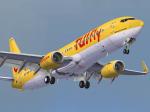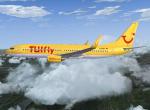 10.57Mb (1441 downloads)
Boeing 737-8K5,(cn 30415/719), registration D-AHFV. TUIfly is the third bigger airline in Germany, wearing this very nice yellow livery. Textures only for the iFly 737-800 (payware package) model. By Juan Ernesto Oropeza.
Posted May 28, 2012 17:32 by Juan Ernesto Oropeza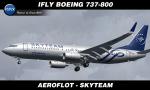 7.22Mb (599 downloads)
Boeing KC-707-320C FAV 6944 Venezuelan Air Force Textures, Requires the payware Captain Sim Boeing 707. texture by Jose Armando Yanez YV-REPAINT'S
Posted May 21, 2012 15:04 by Jose Armando Yanez
13.77Mb (3613 downloads)
Demo version with banners in model and VC - The Airbus A330 is a twin-engined wide-body Airbus A340 and is a four-engined wide-body aircraft produced by AirbusIndustries. Both models have many features and components, and differ essentially only by the number of trie works. You are designed as long-haul aircraft. Both aircraft have modern turbofan engines with high bypass ratio and are the first Flight course with a modern fly-by-wire controls in a two-man cockpit. The first flight of 4 four-engine A340-300 version took place on 25 October 1991 and the twin-engine A330-300 version took place on 2 November 1992. Final assembly of the Airbus A330 and A340 in Toulouse by place on a street clock. As of July 2010 from the Airbus A330 were a total of 710 of 1092 aircraft ordered and delivered from the Airbus A340 delivered a total of 374 of 380 of the aircraft ordered, 369 of which are still in service are. By Andreas Meyer
Posted May 16, 2012 18:30 by Andreas Meyer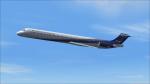 5.20Mb (359 downloads)
Bolivian Textures only for the payware Jet City MD-82.
Posted May 12, 2012 19:55 by LUIS CASTRO
1.42Mb (422 downloads)
RAF GR4 of 41 Sqn 90th Anniversary textures only for the payware Lago Tornado. photoreal this package incorparates the tornado gr4. It displays a repaint of the 41 sqn gr4 aircraft by lagosim [http://www.logosim.com] Textures by ukmil
Posted May 12, 2012 16:39 by UKMIL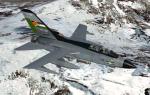 1.84Mb (246 downloads)
RAF Tornado GR4 12 Sqn Special ZA543 textures only for the payware Lago Tornado. By UKMIL
Posted May 12, 2012 16:34 by UKMIL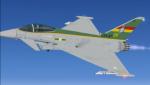 7.67Mb (357 downloads)
RAF 3 Sqn 100 FGR4 100 Year textures only for the payware Alphasim Typhoon. Textures by UKMIL [www.ukmil.org.uk]
Posted May 12, 2012 16:30 by UKMIL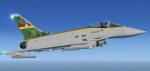 7.67Mb (167 downloads)
RAF 3 SQN 100 Years Textures only for the payware AFS Typhoon. Textures are by UKMIL [www.ukmil.org.uk]
Posted May 12, 2012 16:24 by UKMIL