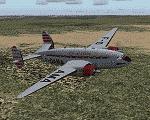 1.96Mb (262 downloads)
AIR ALGERIE repaint for the Sud Ouest 30P Bretagne by J.R. Lucariny. Textures only - the donation ware model can be downloaded at: www.jrlucariny.com
Posted Aug 28, 2010 10:10 by Jaap de Baare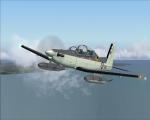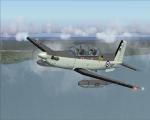 3.18Mb (209 downloads)
FS04 T-6A / NTA Texan II - Royal Navy UK Fctional 1950's Textures NEEDS Payware Aircraft by IRIS Simulations (www.irissimulations.com) Repaint by Dave Gore (fooflyer)
Posted Aug 20, 2010 22:10 by Dave Gore (fooflyer)
10.20Mb (698 downloads)
Cape Air repaint of the payware Carenado PA-34 Seneca II. Includes all textures for this model, however you must have the payware Carenado PA-34. This file is freeware, just please give me credit if you use it for your own paint, and please don't hesitate to let me know what you think.
Posted Aug 20, 2010 16:29 by Glen Miller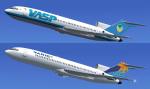 14.50Mb (424 downloads)
Varig and Vasp textures for the payware Legendary 727 V1.5 Professional.
Posted Aug 9, 2010 11:28 by Michel O. Florindo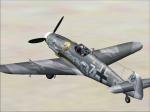 2.39Mb (521 downloads)
Textures for the payware AFS typhoon in the new colours that are applied to 6 Sqn
Posted Aug 8, 2010 13:36 by UKMIL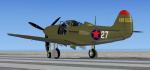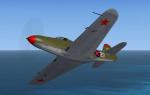 6.05Mb (405 downloads)
Textures only Bell P-39D-2 "27 White" Airacobra (41-38555), 16 GvIAP, Kuban, April - May 1943. Pilot N. Iskrin. This repaint of the payware SimTech P-39 Airacobra is by Enrique Medal, using a repaint by David Green.
Posted Aug 6, 2010 13:50 by Enrique Medal
11.09Mb (515 downloads)
Textures only for the payware Sky Simulations dc9-10 YV857C of JD Valenciana Airlines, Texture by Gustavo La Cruz
Posted Aug 2, 2010 16:24 by Gustavo La Cruz
12.50Mb (947 downloads)
Textures only for the payware Sky Simulations dc9-10 YV1382 "Pitufo" of SBA Airlines, Texture by Gustavo La Cruz
Posted Aug 2, 2010 16:13 by Gustavo La Cruz
12.38Mb (1019 downloads)
Textures only for the payware Sky Simulations dc9-30 YV2430 of SBA Airlines, Texture by Gustavo La Cruz
Posted Aug 2, 2010 03:43 by Gustavo La Cruz
12.18Mb (999 downloads)
Textures only for the payware Sky Simulations dc9-30 YV1920 of Aserca Airlines, Texture by Gustavo La Cruz
Posted Aug 2, 2010 02:58 by Gustavo La Cruz