13.40Mb (204 downloads)
Polish Air Force textures for the payware FSX MilViz T38A
Posted Sep 7, 2013 03:23 by Voiteh
6.30Mb (2088 downloads)
BlackBox Simulations Airlines Airbus A330-300 Turkish TC-JNI textures
Posted Sep 7, 2013 03:23 by Selim Birdal
15.83Mb (830 downloads)
Dago Red is a North American P-51 Mustang (44-74996), restored as a competitive air racer by Frank Taylor in 1981. Dago Red holds several world records, including the 15 km (517.323 mph) set in 1983. Frank Taylor piloted the plane to most of its world records in the 1980s. Six time winner of the National Championship Air Races (1982, 1998, 1999, 2000, 2002 and 2003) Mojave, California 1983 - World Speed Record 15 km (517.323 mph) Unlimited Reno Air Races 1982 - Gold Winner Reno Air Races 2003 - Thompson Trophy, Fastest Lap (512.164 mph), Fastest Race (507.105 mph) Reno Air Races 2001 - Fastest Qualifying Speed (497.797 mph) Textures only. By Jimmy Snow
Posted Sep 6, 2013 02:31 by Jimmy Snow
9.59Mb (1062 downloads)
FSX features for pilotable aircraft carrier USS Enterprise. It requires the fantastic payware-package from Team SDB. My AddOn provides files for a pilotable ship with 2D panel as navigation bridge and five VC-cameras. Nineteen other cameras allows you to explore the ship. There are plenty of views of the flight deck, the hangers and within the island plus two external ones. Even three different pilot views are included (Crusader, Tomcat and Hornet). Bitmaps and configuration by Erwin Welker
Posted Sep 6, 2013 02:02 by Erwin Welker
20.07Mb (349 downloads)
FSX Kent State University Cessna 172. A repaint of the payware A2A Simulations C172 trainer in Kent State University livery.
Posted Sep 5, 2013 15:46 by Bob Jim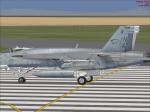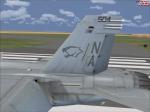 1.85Mb (171 downloads)
VAQ-139 Cougars LINE textuires only for the payware VRS Superbug. Hornet202
Posted Sep 5, 2013 14:58 by Christopher Hammons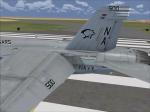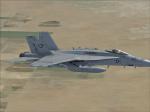 1.85Mb (211 downloads)
The current CAG for the VAQ-139 Cougars. Requires the payware VRS Superbug. hornet202
Posted Sep 4, 2013 10:16 by Christopher Hammons
16.91Mb (1859 downloads)
Aerolinea de Antioquia is a regional airline with its headquarters on the property of Olaya Herrera Airport in Medellin, Colombia. The airline operates scheduled domestic services from Medellin to over 20 destinations. Its main base is Olaya Herrera Airport. Dedicated to Juan Carlos Mejia who has more 19000 hours in twin otter . Textures in dds format for the payware Aerosoft Twin Otter Extended model. Repaint by: Manuel Jose, Contact Ground. Happy flights.
Posted Aug 31, 2013 16:26 by Manuel Jose Larrahondo Burgos
0.00Mb (440 downloads)
Payware AlphaSim/Virtavia Yak-52 fuel fix. Those of you flying this neat FSX radial trainer may have noticed two problems associated with fuel: first is that the fuel gauge in the VC does not work, and second is that the engine quits due to fuel starvation after about 40 minutes of flight at cruise power setting. Turns out that V/AS got the fuel load and location correct, but mapped the gauge to the wrong fuel tank data source. The attached "aircraft.cfg" file corrects that error, and brings the fuel gauge to life. While I was at it, also modified fuel burn rate to give approximately correct endurance. To install, first backup your current "aircraft.cfg" file in your "SimObjects/Airplanes/ALPHA Yak-52" folder just in case, then unzip this new "aircraft.cfg" file into the same location.
Posted Aug 28, 2013 17:44 by Toby Wills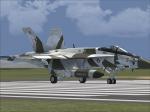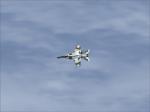 1.92Mb (634 downloads)
Textures for the payware VRS Superbug in VFC-12 Camo scheme for 2013. Enjoy Hornet202
Posted Aug 28, 2013 13:19 by Christopher Hammons