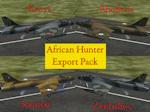 6.87Mb (540 downloads)
This is my second pack of textures of exported Hawker Hunters for the Alphasim Hawker Hunter, This one covers the African continent, Countries included are Kenya, Rhodesia, Somalia and Zimbabwe. FSX only
Posted Mar 17, 2009 07:43 by Bruce Martin
5.77Mb (662 downloads)
This is my third pack of Textures for the Alphasim Hawker Hunter, this comprises of the South Americas, Chile and Peru. FSX only
Posted Mar 17, 2009 07:30 by Bruce Martin
18.63Mb (720 downloads)
FSX texture pack for the Alphasim Hawker Hunter, this comprises of 10 repaint covering the Middle and Far East. Countries include Abu Dhabi, India, Iraq, Jordan, Kuwait, Lebanon, Oman, Qatar, Saudi Arabia and Singapore.
Posted Mar 15, 2009 08:34 by Bruce Martin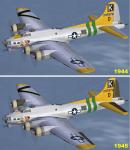 3.13Mb (1121 downloads)
Textures for rhe Shockwave B-17G "A Bit O'Lace" with original repaint, and a dark olive replacement parts after she received extensive tail damage on april 4, 1945. To use this textures you need to have purchased the Shockwave B-17G.
Posted Mar 10, 2009 17:19 by Enrique Medal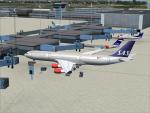 0.51Mb (947 downloads)
Patch for Swedflight's FS2004 Kastrup Airport scenery (payware) to make it work in FSX
Posted Mar 10, 2009 16:47 by P Nigel Grant/Swedflight Desig

26.22Mb (1055 downloads)
FS Flying School 2009 is a revolutionary new add-on for Microsoft Flight Simulator FSX and 2004. It adds a talking instructor to your cockpit that provides feedback and evaluation of all aspects of your take-off, flight, and landing. Free playable demo!
Posted Mar 9, 2009 13:19 by John Paul Jones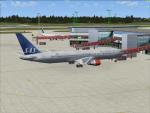 0.36Mb (1092 downloads)
Patch for Swedflight's FS2004 Arlanda Airport scenery (payware) to make it work in FSX
Posted Mar 8, 2009 18:48 by P Nigel Grant/Swedflight Desig
0.00Mb (1085 downloads)
Auto Smoke for AlphaSim CH-53A-MH-53J Stallion, H-60 Blackhawk, AH-64A-AH-64D Apache, AH-1W Super Cobra. (X,Y,Z Coordinates are accurate for the AlphaSim Helos)
Posted Mar 5, 2009 20:36 by Thunder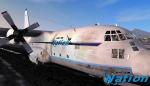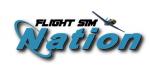 3.13Mb (935 downloads)
This paint for Captain Sim's C130 by Owen Young shows how hard we work in the Flight Sim Nation Virtual Airline. This is one mean and tough plane and it shows. Several are in use with our AFTS airline and has been featured in many of our videos (now available in the video section here)
Posted Mar 5, 2009 00:30 by Sonic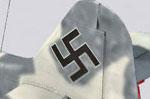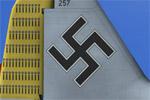 0.02Mb (678 downloads)
Historically correct markings (Swastika) for the Classics Hangar FW 190A, the early variant. You need a legal copy of the Classics Hangar Fw190A, available from http://www.classics-hangar.de This substitutes the previously uploaded file
Posted Mar 4, 2009 13:46 by Alessandro Biagi (alx)