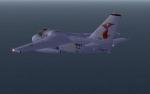 0.99Mb (383 downloads)
Textures only for the Flight Deck 5 S-3 Viking in VS-41 colors
Posted Feb 9, 2009 05:17 by FSXF Rhino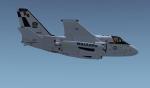 1.07Mb (477 downloads)
Texures only for the Flight Deck 5 S-3 Viking in VS-32 colors.
Posted Feb 9, 2009 05:11 by FSXF Rhino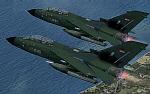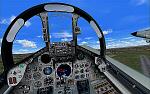 3.88Mb (1500 downloads)
Demoversion with banners. The Panavia Tornado is a family of twin-engine combat aircraft, which was jointly developed by the West Germany, United Kingdom and Italy. There are three primary versions of the Tornado; the Tornado IDS (Interdictor/Strike) fighter-bomber, the suppression of enemy air defences Tornado ECR (Electronic Combat/Reconnaissance) and the Tornado F.3 (only United Kingdom) a air fefence variant. It is one of the world's most sophisticated and capable interdiction and attack aircraft, with a long range, large payload and high survivability. Developed and built by Panavia, a tri-national consortium consisting of MBB of West Germany, British Aerospace, and Alenia Aeronautica of Italy. The Tornado first flew on August 14, 1974, and saw action with the RAF and AMI (Italian Air Force) in the Gulf War (Operation Desert Storm). International co-operation continued after its entry into service within the Tri-National Tornado Training Establishment, a tri-nation training and evaluation unit operating from RAF Cottesmore, England. Including all variants, 992 aircraft were built for the three partner nations and Saudi Arabia (first export customer). Panel, GAUGES, model, sound and textures by www.afs-design.de - Author: A.Meyer.
Posted Jan 29, 2009 17:33 by Andreas Meyer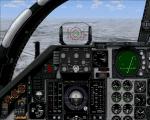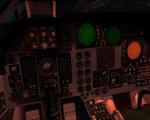 8.53Mb (1258 downloads)
This is a upgraded panel for the Alphasim F-111 package. It includes a new Red military style Virtual Cockpit Lighting effect.Improved VC lighting to some gauges. Better positioning of Horizon for 2D panels. More realistic Fuel Quantity gauges, plus all the other previous improvements to the 2D and 3D panels
Posted Jan 16, 2009 11:22 by Steve Hess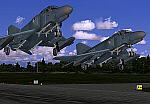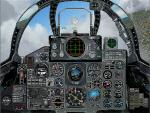 3.13Mb (2525 downloads)
Demo version. The McDonnell Douglas F-4 E/F Phantom 2 is a two-seat, twin-engined, all-weather, long-range supersonic fighter-bomber originally developed for the U.S. Navy by McDonnell Aircraft. Proving highly adaptable, it became a major part of the air wings of the U.S. Navy, Marine Corps, and U.S. Air Force. It was used extensively by all three of these services during the Vietnam War, serving as the principal air superiority fighter for both the Navy and Air Force, as well as being important in the ground-attack and reconnaissance roles by the close of U.S. involvement in the war. First entering service in 1960, the Phantom continued to form a major part of U.S. military air power throughout the 1970s and 1980s, being gradually replaced by more modern aircraft such as the F-15 Eagle and F-16 Fighting Falcon in the U.S. Air Force and the F-14 Tomcat and F/A-18 Hornet in the U.S. Navy. It remained in service in the reconnaissance and Wild Weasel roles in the 1991 Gulf War, finally leaving service in 1996. The Phantom was also operated by the armed forces of 11 other nations. Israeli Phantoms saw extensive combat in several Arab–Israeli conflicts, while Iran used its large fleet of Phantoms in the Iran–Iraq War. Phantoms remain in front line service with seven countries, and in use as an unmanned target in the U.S. Air Force. Phantom production ran from 1958 to 1981, with a total of 5195 built. This extensive run makes it the second most-produced Western jet fighter, behind the famous F-86 Sabre at just under 10,000 examples. Panel, GAUGES, model, sound and textures by www.afs-design.de - Author: A.Meyer.
Posted Jan 16, 2009 04:11 by Andreas Meyer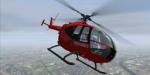 2.93Mb (656 downloads)
Nemeth Designs BO-105 PSG Helicopters, Manchester, UK, Textures only. Payware Nemeth BO105 required. Paul Greenwood.
Posted Jan 15, 2009 16:32 by PSG1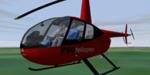 1.42Mb (1216 downloads)
The 'Just Flight' Robinson R-44 in PSG Helicopters, Manchester, UK textures only.
Posted Jan 14, 2009 23:52 by PSG1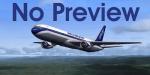 16.83Mb (777 downloads)
This is a version of Blaq Aces fictional personal airline Global Air Charter for the LVLD767 FSX sp2 Vista. You get 3 variations. Requires the payware Level D Boeing 767. Textures by "Blaq Ace"
Posted Jan 6, 2009 09:18 by mdgoins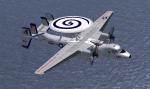 3.11Mb (1801 downloads)
FSX Flight Deck 5 E2C Hawkeye for VAW-123 Textures only.
Posted Jan 6, 2009 03:40 by FSXF Rhino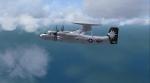 2.91Mb (2170 downloads)
Textures only for the 'Flight Deck' 5 E2C Hawkeye in SunKings VAW-116 livery.
Posted Jan 5, 2009 06:50 by FSXF Rhino