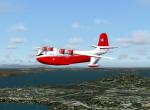 2.18Mb (1085 downloads)
The first JRM-1 (BuNo 76819), the "Hawaii Mars", was completed in late June 1945 and flown several times before being christened and launched on 27 July 1945. Before testing was completed the Hawaii Mars was lost on 5 August 1945. The present Hawaii Mars operating out of Port Alberni (Sproat Lake) as part of Flying Tankers Inc., was delivered April 23, 1946, as part of the last four remaining JRM's which were bought by the British Columbia forest industry to fight forest fires, The Marianas Mars was lost on 23 June 1960 when the Captain disregarded the spotter plane and attacked a fire directly uphill. The Winter of 1962 claimed another Mars, the Caroline. She was tethered to the ramp at Patricia Bay when Hurricane Frieda hie. Frieda tossed the big boat about as if it was a toy, and by morning she laid bent and broken, her flying days over. The owners of the last two remaining JRM's in the world are looking to sell the giants, as operating costs, and spare parts get harder to find. On Sunday April 15 it was announced in the Victoria "Times Colunist" that the planes had been sold by Timber West to Coulson Aircrane Ltd. of Port Alberni. The model is by Peter Hall using FSDS 3.0. (my first attempt at modeling an aircraft). The Flight Dynamics for this aircraft were written by Bob Chilico, Windsor, Ontario. Sounds: For this first release I have included the DC-3 sounds. You candownload a really nice set of heavy radial engine sounds by Des Braban,from "fltsim.com" or Avsim. Please read his readme file for a description of the sounds. I really like them. The panel was developed by Mike Stone for his Boeing 314 Clipper, and looks good in the Mars. Just make sure that you copy the "b314" and the "Douglas_DC3" zip files (included in the panel folder) to your main gauges folder. Thanks to Jens B. Kristensen for putting me straight on Polygon smoothing groups.
Posted Aug 1, 2015 17:55 by Peter Hall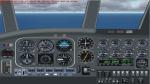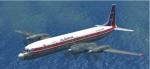 12.54Mb (588 downloads)
This is an update for FS9 of the IL-18D_AP by Edgar Guinart . There are 4 paints (texture sets) of the aircraft. I have added all the wheels, and changed any contact points that needed to be changed. I have updated the flight dynamics and added a panel in English for those who like me would want it. See read me file about how to change to the origial panel. There is no VC. This is the whole aircraft.
Posted Aug 1, 2015 15:47 by Bob Chicilo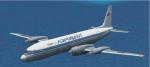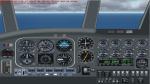 53.12Mb (827 downloads)
This is an update for FS9 of the Il-18 by Edgar Giunart and packaged by Matt Miller. I have added a different 2D panel so those like me can fly with English gauges. I have updated the flight dynamics, added all the wheels, and changed any other contact points that needed changing. I changed the smoke effect to something that I had as the aircraft package did not contain effects. This is the whole aircraft.
Posted Aug 1, 2015 11:07 by Bob Chicilo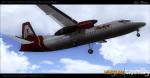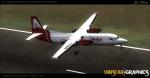 83.34Mb (1929 downloads)
FS2004 Avior Regional Fokker 50 Texture Pack. Includes YV2917, YV2936 and YV2948. Model by DreamWings. Includes model, 2d panel and sound. (No VC). Added some effects in the fuselage, engines and engine metal textures,Repaints By Jose Blanco (Venstar Graphics) and Jesus Martinez
Posted Jun 29, 2015 23:29 by Jose Blanco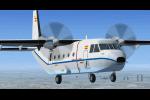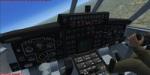 10.79Mb (1709 downloads)
The dependent Customs Service Ministry of Finance (Tax Office) Watch Spain (SVA) uses this modified model for drug operations, when they had incorporated some of them winglets. The 200 series engines up more power than the 100 series, TPE 331 of 900 hp, which allowed increasing the maximum takeoff weight of 6500-7700 kg. The Air Force purchased two copies of this series in electronic warfare version seven search and rescue (SAR). Model by Vladimir A. Zhyhulskiy texture by Juan Villamor.wORKS FSX
Posted May 12, 2015 18:09 by Juan Villamor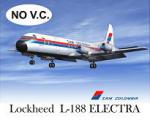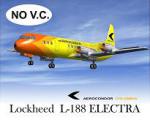 28.92Mb (4347 downloads)
FS9 / FSX Lockheed L-188 Electra - No VC Version. I decided to share my work as it is because finishing the version with VC will take a few months and I don't have time to do it by now. Includes sound: Mr. Ozawa, Mr. William Schulz, of the Cielo Company, Panel: Paul Strogen. By Libardo Guzman.
Posted May 5, 2015 23:27 by libardo guzman garcia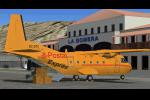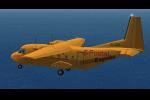 10.95Mb (1396 downloads)
This Aviocar 200 series is acquired by the Direccion Gral. de Correos and discharged in the Register on January 5, 1984, he begins to fly with provisional registration ECT-128, passing later to INTA in Torrejon and in 1994 passed the Air Force, where it is encoded as T.12D-74. Two Aviocares flew to the post office for a short period of time, after being inactive in Barajas were transferred to the Air Force. Your registration EC-DTV Complete airplane (read installation files and credits). Vladimir A. Zhyhulskiy model.
Posted May 3, 2015 18:07 by Juan Villamor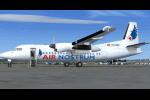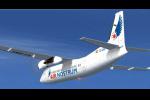 27.34Mb (2707 downloads)
Air Nostrum Mediterranean Airlines, commonly known by the short version Air Nostrum is a Spanish airline based in Valencia, which operates as a franchise under the name Iberia Iberia Regional Air Nostrum. NoVC only 2D, panel by Enrique Medal. Aircraft before the contract with iberia. Model by DreamsWings, texture by Juan Villamor. Full aircraft
Posted Apr 20, 2015 02:54 by Juan Villamor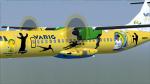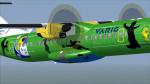 41.97Mb (2203 downloads)
ATR 72-500 Varig, Brazil. Model by ISDT for FS2004. Textures by Yankyvictor.
Posted Apr 2, 2015 22:34 by YANKYVICTOR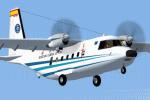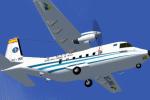 7.92Mb (1451 downloads)
The CASA C-212 Aviocar is a light tactical transport aircraft and maritime patrol aircraft, powered by two turboprop STOL capable, designed by CASA for civilian and military use. Ministry of Agriculture Fisheries and Food (MAPA extinct), now Ministry of Agriculture, Food and Environment (MAGRAMA). It is manufactured in Spain since early 1970. 2D/NoVC. Full aircraft, model by Thinus Pretorius, texture by Juan Villamor.
Posted Apr 1, 2015 05:01 by Juan Villamor