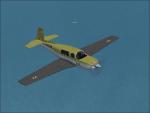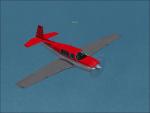 9.44Mb (1807 downloads)
Modified stock but beefed up Mooney Bravo. In two different colour schemes. Engine Modifications: This Mooney is easily capable of 300 kts. With cylinder displacement/engine capacity from 90.3 to 200.0 cubic inches and engine compression ratio raised from from 8:1 to 20:1, this machine is truly awesome. It climbs at 5,000 fps without loss of speed, at 160 kts. Repaints by Francis F Silva of SAS (Silva Art Studios) of the stock Money Bravo
Posted Jun 21, 2009 15:55 by Francis F Silva (SAS-Silva Art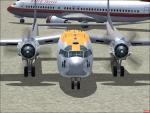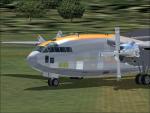 4.28Mb (4627 downloads)
Fairchild Boxcar C119 - "Postcard from Bryant in Korea'53" Textures by Francis F. Silva. Model by Daisuke Yamamoto
Posted Jun 17, 2009 18:03 by Francis F Silva of SAS (Silva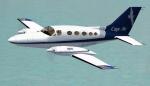 1.96Mb (1773 downloads)
Cessna 414A Textures for Cape Cod. Original Aircraft by Premier Aircraft Design. The Cessna 414A model was designed by PAD and can be found at http://www.premaircraft.com/ These textures are not DX10 compatible, so if you are using the DX10 preview, you must disable it. The liveries include an updated Cape Air, Nantucket Airlines and Island Airlines, all liveries from Cape Cod Massachusetts.
Posted Jun 9, 2009 14:01 by Deviant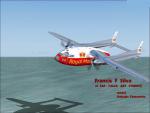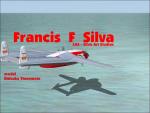 3.95Mb (2435 downloads)
ROYAL MAIL Box car Fairchild C119 Royal Mail is the Post service in the United Kingdom (UK) The engines in this C119 have been replacedwith very powerful turbo prop engines with engine compression ratio increased to 14:1 for fuel efficiency. Engine capacity doubled. So... enjoy...... but be careful how you handle it ! Beautiful aircraft by Daisuke Yamamoto of Tokyo Japan I hope my repaint and engine improvements add to your enjoyment of FS2004 Thank you Daisuke... I hope the weather in Tokyo is as nice as in London right now.
Posted Jun 9, 2009 12:46 by Francis F Silva of SAS (Silva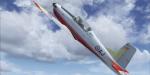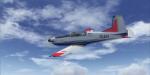 14.83Mb (1253 downloads)
This package includes three paint schemes for the FS9 version of Tim Piglet Conrad's Pilatus PC-7. The Pilatus n°578 callsign F-ZJAH belonging to the EPNER located at Istres airbase (BA 125). The Pilatus n°579 callsign F-ZJAI belonging to the CEV (French flying test center) located at Istres airbase (BA 125). The other is n°580 callsign F-ZJAJ belonging to the CEV located at the Francazal airbase (BA 101).
Posted Jun 9, 2009 12:17 by Pierre-Emmanuel Aubertel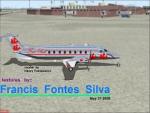 10.42Mb (2063 downloads)
Beechcraft 1900D in glorious chrome. Model by Henry Tomkiewicz Repaint by Francis F Silva
Posted May 31, 2009 16:18 by Francis F Silva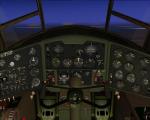 57.80Mb (5469 downloads)
Beechcraft Model 28 Destroyer / XA-38 Grizzly for FS2004 Only by Milton Shupe, Scott Thomas, Damian Radice, Tom Falley with Sounds by Steve Buchanan. Functional VC model included; Pkg incl eight Aircraft (Navy, AAF, Experimental, Ferry, Civilian, AAF2, AAF3, and Post WWII Marines) with "hand-flyer" flight model and features a beautiful custom era correct panel and easy-to-read virtual cockpit, photoreal-influenced exterior bare metal textures plus seven paint schemes and new XML gauges. Sounds included. Support website and contact info in documentation.
Posted May 25, 2009 12:11 by Milton Shupe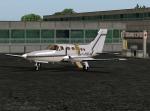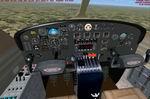 8.77Mb (18162 downloads)
FS2004 Cessna 414A Chancellor 6/8 place business and touring airplane. With custom panel & VC. Full moving parts including opening nose and wing lockers, door with airstair and animated pilot. Fully modelled interior. Full documentation including manuals and check/ref lists. Complete package for FS2004. Excellent big twin sound file by Aaron Swindle. Two liveries included. by Jean-Pierre Brisard and Bob May - Premier Aircraft Design.
Posted May 22, 2009 06:37 by bob.may@premaircraft.com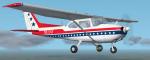 1.10Mb (948 downloads)
A patriotic paintscheme for the default Skyhawk. Tow banners, drop a skydiver during an airshow, or just add some color to your general aviation flightline. Repaint by Don Brynelsen using the paintkit by Mark Rooks.
Posted May 21, 2009 12:25 by Don Brynelsen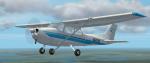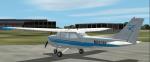 1.17Mb (665 downloads)
Nothing Fancy, just a generic looking skyhawk like you might find on the flightline at any small airport. For the default aircraft. Repaint by Don Brynelsen using the paintkit by Mark Rooks.
Posted May 19, 2009 12:36 by Don Brynelsen