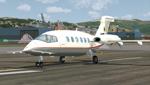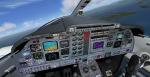 71.62Mb (6957 downloads)
Version 3.0 brings an entirely new cockpit (2D/3D, 2D panel available in Widescreen and 4/3) and cabin down to almost every single switch, entirely new flight dynamics, advanced systems and avionics, new sound and panel sound effects, and much more! The Piaggio P-180 is a high-speed high-efficiency turboprop aircraft. Capable of speeds up to 395 KTAS (or M0.68) up to its service ceiling of 41000ft. This performance is achieved by extreme aerodynamic optimization instead of sheer power. The end result is an aircraft that burns 40% less fuel than the average jet of comparable size, while flying at the same speed range, or 30% less than an equivalent size turboprop, as it flies much faster. The pusher propellers on the wings mounted much backwards thanks to the forward wing set make it a comfortable and quiet ride for the passengers, that also enjoy a very spacious cabin for an aircraft of this size. Features Clickable Dynamic Photortreal VC with Night Lighting, night lighted internals, Photoreal 2D Cockpit, Engine start Effect, advanced FDE, Customizable Payloads.
Posted Jul 30, 2012 21:41 by Mario Noriega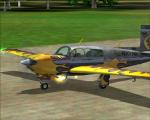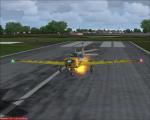 49.70Mb (1566 downloads)
Spike's Mooney Bravo Mooney Madness with Engine Fire! Mods for the default FS2004 Mooney Bravo. Lots of things added and changed for 2012. Complete aircraft and effects included. Weather radar by Aviation legerede l'Armee De Terre. Prop and wheel dust by Nick. Engine failure fire By Joe Latarski. Apologies to users who downloaded the previous version. Texture by Geoffrey.
Posted Jul 29, 2012 23:15 by Spike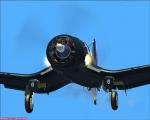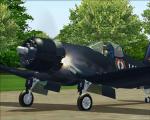 51.51Mb (3724 downloads)
It has come to my attention the previous version didn't work like it should. My sincere apologies to everyone. Thanks to Jon and 138 at HAV for BETA testing. Apologies to users who downloaded my previous version. This version comes completely fixed and revised to work. F4U-7 Corsair with Engine Fire Effects for FS2004. For the love of the F4U and aviation. Includes good VC. Original Model by Alpha Bleu Ciel.
Posted Jul 29, 2012 17:40 by Spike

0.14Mb (410 downloads)
FS2004 Zlin 326 Flight Dynamics mods to Pavel Karasek's Zlin 326 package for FS2004 and FSX. By George Csillag
Posted Jul 26, 2012 01:53 by George Csillag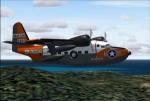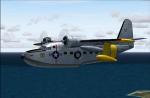 89.10Mb (3680 downloads)
FS2004 Grumman Albatross (short winged) UF-1/HU-16.The Albatross started out as a company venture in the late forties and became such a success that it has been used by more than two dozen armed forces throughout the world.Original by Greg Pepper,and Michael Verlin. Models by "Swingman",sounds by "Skysong Soundworks",and textures by Michael Verlin. Some texture mods by James Craig. 4 different models, 2d panel as well as VC, unique sounds, many textures, etc..
Posted Jul 24, 2012 06:09 by uploader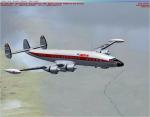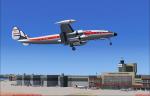 4.05Mb (967 downloads)
This repaint was one of ten IBERIA's units of Super Constellation: EC-AIN. "Santa Maria" 1049 E-55 (Serial number S/N 4550). A repaint of Manfred Jahn's outstanding Lockheed L-1049 Super G Constellation.
Posted Jul 23, 2012 02:51 by Enrique Medal
2.48Mb (130 downloads)
This is a Cessna 150 aircraft that I painted into the color of my Flying school (Advance Aviation Training Fiji Ltd)aircraft DQ-WWT. Requires the Ranchojen C150
Posted Jul 13, 2012 00:21 by Haueia Joseph Reemon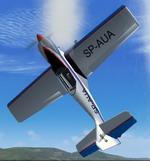 0.59Mb (1197 downloads)
FS2004 Zlin Z-50L By Peter,Piotr Sabadasz. Fixed prop and FD by George Csillag
Posted Jul 5, 2012 17:44 by George Csillag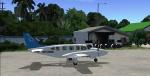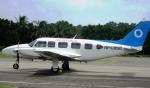 22.11Mb (4099 downloads)
FS2004 Air Republiq Piper Navajo Chieftain Air Commuter service serving northern luzon area. Destinations: MANILA, LAOAG, BASCO, ITBAYAT, TUGUEGARAO. Website: http://www.airrepubliq.com This model is based on the Piper Chieftain. The model is not intended to be an exact replica of the Piper Chieftain. Model and bitmaps including the panel are copyright Fred Choate. Air file and aircraft.cfg are by Fred Choate, based on Microsoft templates. The pilot figure is that of Dave Eckerts, The prop and seats by Brian Gladden Repainted by Gerard G. Olvis
Posted Jul 4, 2012 19:04 by Gerard G. Olvis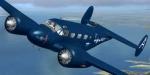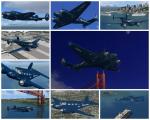 1.72Mb (628 downloads)
Commemorative Air Force Airshow 2007 textures for the Cliff Presley/ simTech Beech C-45 package. This C-45 was built in 1954 and flew with the USAF as 52-10762. The aircraft is now named "Texas Dolls". TEXTURES ONLY. Original model by Cliff Presley's redesigned simTECH freeware Beech 18 Pack; requires CP-C45G.ZIP. Repaint by Enrique Medal.
Posted Jun 30, 2012 22:07 by Enrique Medal