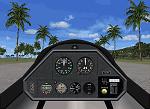 14.37Mb (1964 downloads)
The ARX-1 is a single seat sailplane concept in both unpowered (A model) and powered versions (B model). Both glider models make use of the variometer to detect thermals for soaring in FSX. The Concept 1 was our first concept plane, released in 2000 for FS7. The ARX-1 was originally designed after RC gliders, with basic technology from the default FS2000 Schweizer. So it does not have negative flaps, water ballast, or retractable gear. As our first Concept, it is purposely built to be incredibly simple, reliable, docile, and mildy aerobatic and features a forward fuselage and cockpit section identical to it's much smaller and faster cousin, the ARX-6 Formula One pylon air racer. This package includes 11 aircraft in 2 different models with 12 schemes. By Jason L. Terry and Brady Duros.
Posted Dec 7, 2012 06:47 by Jason Terry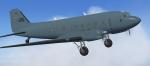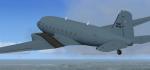 12.85Mb (356 downloads)
FSX Bazler BT-67 repaint textures for the real world Royal Thai Air Force 46-158. For the wonderful Jahn-Fuernkaess-Metzger-Naegele BT-67, which you must have previously installed in FSX. Having worn at least three different liveries between 2004 and 2010 while in service with the Thai Air Force, this subdued dark bluish gray version of 46-158 dates back to Aug. 26, 2004, the day the photo that this repaint was based on was taken. Although painted as close to the photograph's colors as my previous eye surgeries allow me to perceive, I'm tending to believe that the aircraft is actually more gray than blue. Anyway, the photo can be seen at Airliners.net by entering the photographer's name, Sakpinit Promthep, into their search engine. Rumor has it that this airframe currently resides in pieces in a hangar at Wittman Regional in Oshkosh, Wisconsin, and now affectionately goes by the nickname "44 mag", although I think I'd have to see that with my own eyes to believe it! Includes engine exhaust smoke coordinates for all four exhaust stacks for those of you who like smokey engines. Screenshots enclosed. Easy installation. By Tom Tiedman
Posted Dec 7, 2012 04:41 by Tom Tiedman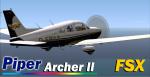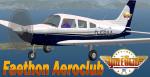 0.73Mb (2331 downloads)
If you downloaded Rien Cornelissens Piper Archer III or my Faethon Air Club package and had spining problems while taxing....here is the fix for it.I have changed the sim and its working like it sould.There is also more improvement handling the aircraft in general.Happy Landings.By Hellenic Aircraft/Yiannis Katehis Tsetsas.
Posted Dec 5, 2012 03:59 by YIANNIS KATEHIS TSETSAS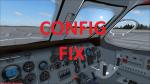 0.01Mb (885 downloads)
This zip includes "aircraft.cfg" and readme files. Upack and replace an old "aircraft.cfg" with the new one. This update gives us a more realistic flight model and fixes a slow decelerating issue. Also adds a co-pilot view in VC.
Posted Dec 4, 2012 11:22 by Intruder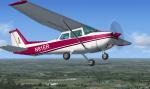 16.13Mb (546 downloads)
FSX default FSX Cessna 172 Skyhawk textures for the real world aircraft registered N81ER. By Tom Tiedman
Posted Dec 4, 2012 05:34 by Tom Tiedman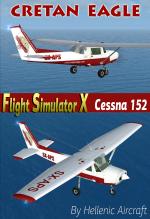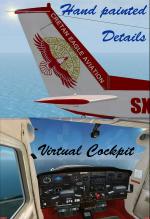 7.85Mb (1169 downloads)
The Cessna C152 SX-APS is owned and operated by Cretan Eagle Aviation,a pilot school Located at IraKlion Nikos Kazantzakis Int.Airport at The Isle of Creta in Greece for training new pilots. The Superb Model is an X Just Flight payware now available for free download.(Follow link below to download it). After Using the usual photoreal technique the tail logos were all hand drafted to ensure quality and integrity of colors. I have left the texture files in a simple bitmap mode so they can be used in both FSX and FS2004. Special thanks to Flying instructor Cpt.Konstantinos Savides of Cretan Eagle Aviation for providing the photo material. There are photos of the actual aircraft in the file. Repaint for the Hellenic Colors by:Hellenic Aircraft/Yiannis Katehis Tsetsas 2012.
Posted Dec 3, 2012 19:31 by YIANNIS KATEHIS TSETSAS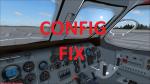 0.01Mb (558 downloads)
A small fix for PZL AN28 that changes a flight model to make it more realistic. It also adds a co-pilot view.
Posted Dec 3, 2012 19:04 by Intruder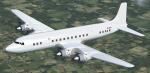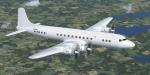 1.96Mb (1054 downloads)
FSX Douglas DC-7C real world PH-DSL in her final white livery. Repaint textures for the Gibson-Follas DC-7C which I enjoy flying in FSX. I installed her using the Philippe Wallaert Alitalia with VC upgrade "Douglas_DC7.zip" (available here) with good results. Last seen at London-Stansted dressed in heavenly white and sitting on the burn pile awaiting firefighter training, real world PH-DSL, having previously worn the colors of KLM and Martinair, and for some time even having enjoyed the sweet life of flying in Biafra, proclaims "not today, firefighters"! Escaping to FSX, she rises from the ashes, her glorious white livery washed and polished and highlighted against a beautiful blue sky, to once again ply her trade on countless flight sim monitors scattered across the globe! Includes engine smoke coordinates adjusted for FSX. Screenshots enclosed. Easy installation. By Tom Tiedman
Posted Nov 27, 2012 23:39 by Tom Tiedman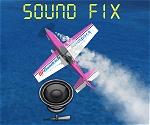 0.02Mb (598 downloads)
This is a fix for the aliased sound.cfg for the ARX-5X Expansion Pack (arx5x_exp_jt.zip). By Jason L. Terry
Posted Nov 25, 2012 16:59 by Jason Terry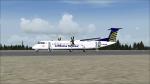 1.92Mb (2086 downloads)
Textures for the Bombardier-q400x by Premier Aircraft Design representing the current Augsburg Airways livery. Package contains textures and an automatic installer for the aircraft.cfg registry. Thanks to PAD for this beautiful model and the repaint kit.
Posted Nov 25, 2012 12:08 by dave_h