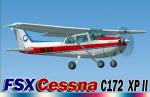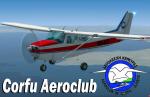 37.56Mb (3265 downloads)
FSX Acceleration /Private owned Cessna C172 -XP II Skyhawk Reg.id "SX_AJT" operated by Corfu Aeroclub Stationed at Ioannis Kapodistrias Airport of Kerkira (Corfu) Greece. Many thanks to my friend Spiros Ventoyras vice president of the club for providing Info and photos.Complete package with 2 models,sound Full VC and 2 panels to chose from /Standrd and GPS. Textures are 32 bit DDS 5.Modifications and Textures by Hellenic Aircraft & Scenery/ Yiannis Katehis Tsetsas
Posted Dec 9, 2011 23:46 by YIANNIS KATEHIS TSETSAS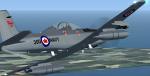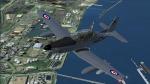 5.44Mb (780 downloads)
FSX Pilatus PC-9A Royal Canadian Navy fictional textures only for the Iris ex payware PC-9 package
Posted Dec 9, 2011 03:42 by Dave Gore fooflyer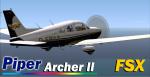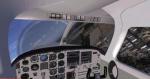 21.37Mb (7295 downloads)
FSX /2004 PA-28 Piper Archer II Complete package. Private owned German Reg.id "D-EPAA" operated by Faethon Aeroclub of Megara Greece (LGMG). The model has been modified for FSX and adapted by Rien Cornelissen. There two texture variations of Faethon Aeroclub or as private owned. There is Full VC and you can choose the 4x3 or 16x9 panel with or without wheel fearings. Effects, sound and gauges are included in the package with installation instructions. Special thanks to Flying Instructor Giorgos Karagiannis for the info and photos. The textures are photorealistic proccesed with a special new technique i have developed for color correction. New Textures and Modifications by Hellenic Aircraft & Scenery / Yiannis Katehis Tsetsas.
Posted Dec 9, 2011 02:48 by YIANNIS KATEHIS TSETSAS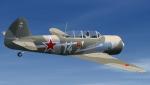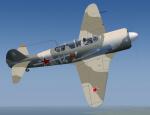 19.94Mb (2066 downloads)
I've used Pavel Karasek's update of the Yak 11 and repainted it using 50% photoreal textures and added lots more detail. comes with a great sounds especially with the sound up high, great VC ,a joy to fly. repainted by Stephen Browning
Posted Dec 8, 2011 16:19 by Stephen Browning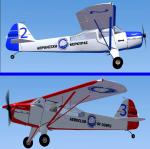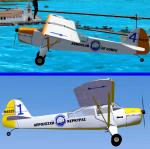 18.08Mb (929 downloads)
This is an update for my Taylorcraft Auster 5 Kerkira (Corfu) Aeroclub package,with new reworked exterior look including the clubs Logo, new metallic colors and all of the interior textures with more civilian look than the previous version. There are 4 liveries in this update. For those of you who already have the package just replace the old textures with the new ones. There are two sets of textures for FSX and 2004. If you don't have the package installed, you will need my "FSXAustKerkiraAirClub" zip for this. Released by Hellenic Aircraft & Scenery , Yiannis Katehis Tsetsas
Posted Dec 6, 2011 07:40 by YIANNIS KATEHIS TSETSAS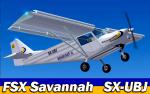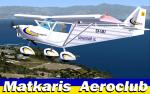 12.52Mb (2141 downloads)
This ICP Savannah with Reg id SX-UBJ is owned by Matkaris Aeroclub a pilot training Academy for training new flyers in Olympiada of Ptolemaida Greece in a private Airfield marked as ZZZZ (all open Fields marked that way ) The package is for both FSX and FS9 and was repacked for easier installation. The model has full VC. Also 2d Panel and sound are included in this package. For FS9 there is another complete folder. Special thanks Massimo Taccoli for the model and my friend the Hellenic pilot Sokratis Moutidis for all the info . Repaint and repacking by: Yiannis Katehis Tsetsas
Posted Dec 2, 2011 21:08 by YIANNIS KATEHIS TSETSAS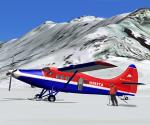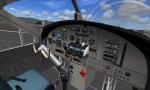 32.28Mb (7313 downloads)
This aircraft, originally built in 1954 and now converted to turbine power with a Garrett TPE 331-10 engine, currently operates on wheel/skis with Talkeetna Air Taxi in Alaska. It is mainly used to fly tourists over the Denali National Park and the trips often include a ski landing on one of the glaciers on the lower slopes of Mount McKinley. Full package for FSX/SP2. Custom panel and VC. Model and paint by Premier Aircraft Design.
Posted Dec 2, 2011 08:40 by Bob May - Premier Aircraft Design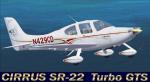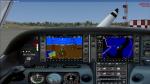 25.02Mb (13643 downloads)
Private Owned N429CD (SR-22-G2) Package,based at Megara, Greece .Special thanks to my friend Pilot Sokratis Moytidis for providing all the info of the Aircraft. The Cirrus SR22-GTS is a four-place, single-engine low-wing airplane with a fixed tricycle landing gear Turbo charged 230 + MPH. This Aircraft package has a working Cirrus Airframe Parachute System new 2D panel and Sound and VC GLASS cockpit with a New GPS. Updates by Mark Rooks of RDG Aircraft. There separate files for FSX and FS9 in this package for easy installation. Repacking and repaint by: Yiannis Katehis Tsetsas
Posted Dec 2, 2011 02:10 by YIANNIS KATEHIS TSETSAS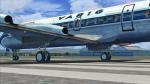 74.90Mb (1464 downloads)
Textures only. As requested, here are in DXT5 for best performance! For the Lockheed L-188 Electra II PP-VJM. You need to download this aircraft by "Team FS KBT". FSX only! Texture in DXT5 resolution! Maybe can slowdown fps!!! Read carefully the instructions to know how to activate the 4096 textures in fsx config.
Posted Dec 1, 2011 17:20 by Fabio Cabral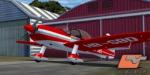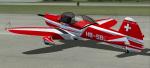 1.38Mb (812 downloads)
Textures only for the CAP-10 by Samdim in the colours of the PH-SBD, privately owned an flown in the Netherlands. Includes modified VC textures. Made by Marius Kramer.
Posted Dec 1, 2011 16:52 by archive