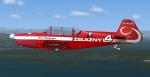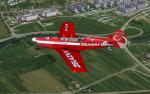 2.00Mb (393 downloads)
Textures for the Z-526. SP-AUB belongs to a group of acrobatic Zelazny Polish Aero Club. About real plane Zlin Z-526 is Czechoslovak sports and training plane. It's intended for basic and for advanced training, for aerobatics training, and also for glider's towage. The first prototype flew in 1964. Zlin Z-526F is metal with chintz cover, two seat, single engine, low-wing monoplane, with tandem seats. It's powered by engine M-137A with power 180HP. The propeller is metal, two blade, with automatic adjustment. Technical data Wingspan: 10,596 m. Length: 8,0 m. Height: 2,06 m. Wing surface: 15,451 m2 Empty weight: 675 kg. Max. take off weight: 975 kg. Vmax : 304 km/h Vmin : 90 km/h Vclimb : 6,0 m/s G load factor: +6,0 -3,0 G Engine type: M-137A Output: 180 HP Propeller type: V-503A automatic, metal
Posted Sep 29, 2011 08:01 by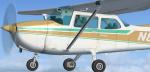 11.66Mb (501 downloads)
FSX default Cessna 172SP Skyhawk repaint textures for the fictional N8643L, a tan on white Skyhawk with mint green trim. Textures are your choice of DXT3 1024 pixels for better frame rates, or 32 bit 1024 pixels for better clarity, both with no mips. Install one or the other, or install both at once if you wish. Easy installation. Repaint by Tom Tiedman.
Posted Sep 28, 2011 11:34 by Tom Tiedman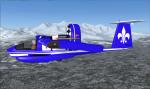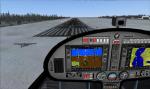 5.58Mb (888 downloads)
After looking over the files I decided to do some slight updates to my Stingray Air Saint Texture. This new texture has a more classy look and also the aircraft.cfg file has been updated to match the new tail number on this texture. I suggest you delete the other Stingray Air Saint texture folder you have and replace it with this new one as well as update your aircraft.cfg with the new one in the "read me" note.
Posted Sep 27, 2011 10:23 by Darnell Metcalf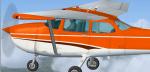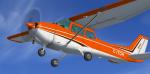 4.33Mb (692 downloads)
FSX default Cessna 172SP Skyhawk repaint textures for the fictional Canadian registered C-ITOH, an orange on white Skyhawk with brown trim. Textures are 1024 pixels saved in DXT3 for good frame rates, with no mips for clarity. Easy installation. Repaint by Tom Tiedman.
Posted Sep 26, 2011 10:15 by Tom Tiedman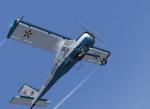 4.23Mb (964 downloads)
Two repaints - Malev Aero Club, and Hungarian Police textures for the PZL 104 Wilga package (FSX/FS9)
Posted Sep 26, 2011 05:04 by T.Feri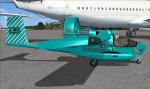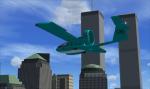 5.71Mb (716 downloads)
This is a freeware custom 9/11 tribute texture for the FSX Stingray Prototype designed by DarnellM1 Designs for aircraft designer Simon Smeiman's Stingray Prototype.
Posted Sep 25, 2011 15:30 by Darnell Metcalf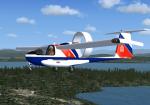 6.40Mb (1035 downloads)
This is a Dutch Coast Guard texture for the Stingray Prototype Package by Simon Smeiman. Created by Club508.
Posted Sep 25, 2011 13:27 by Club508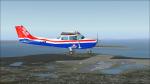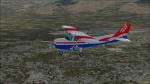 5.36Mb (1474 downloads)
This is a hand-made realistic repaint of the Cessna 172SP Skyhawk featuring the colors of the US Civil Air Patrol. Fly your own simulated missions with the CAP repaint for the C172. The US Civil Air Patrol performs congressionally assigned key missions such as emergency services, aerial search and rescues, disaster relief operations, and aerospace education for youth and the general public. Textures for default Cessna 172 by kilocharlie1.
Posted Sep 24, 2011 19:50 by kilocharlie1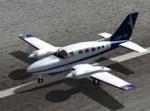 0.09Mb (1664 downloads)
Reworked and additional views ( defined by camera definitions in the aircraft.cfg file ) for the beautiful Cessna 414A Chancellor by Premier Aircraft Design. A total of 6 cameras pointing at the aircraft and 4 virtual cockpit cameras. See Read me.txt file for very easy installation procedures + a special instruction. Also included is a text file that contains the new camera definitions.
Posted Sep 22, 2011 22:37 by Marc Renaud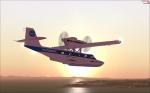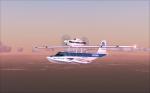 2.81Mb (614 downloads)
PanAm "what if" livery applied to the Premier Aircraft Design Dornier Seastar. Make sure to read the readme! Named after a friend of mine who gave the green light for this project. By Josef A. Kunzlar of FSXTipline
Posted Sep 22, 2011 04:44 by Josef of FSXTipline.blogspot.com