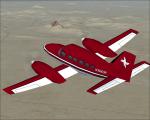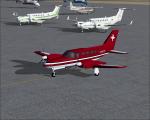 14.86Mb (3949 downloads)
FSX Cessna 421C Golden Eagle N3669F. We are "Monument Valley Aerial Tours", based at Four Corners Regional (KFMN) in Farmington, New Mexico. We offer aerial tours of Monument Valley, Arizona and the surrounding desert southwest region, including Roswell and Area 51. Bring your camera and feel the thrill of capturing on film the towering spires of desert rock, vast fields of sage brush and cactus, UFO's, and F-15 Eagles firing their 20mm cannon rounds past our windscreen as they escort us out of restricted airspace. Book your tour early, and remember, we only fly on clear sunny days, which is, well, everyday in our magnificent desert southwest! Come be our guests! Sincerely, Rinehart and Betty Schloppelschtriefendorfer, Monument Valley Aerial Tours. This is the Henry Tomkiewicz Cessna 421C Golden Eagle freeware AI model, painted, propped, paneled, sounded, contact pointed, and smoked to be fairly funly flyable in FSX-SP2. Also includes Henry's blank white model, flyable as well! (Press your "I" key for starboard engine catching a stray cannon round)! Easy installation. By Tom Tiedman
Posted Aug 19, 2010 07:29 by Tom Tiedman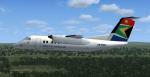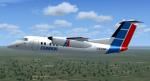 27.72Mb (11495 downloads)
New Livery for the default Quantas Default Aircraft; MS Dash8 Remapped in Gmax by Udo Lemmob. Concept, Flight Model, HTML Check/Ref list by Barry Blaisdell. Master Textures & Livery by Bob May, Quantas Repaint by Dave Evans. Adapted for FSX By: Eric Buchmann. Other Textures Repainted by John Sebastian Gaskin and included are; Air Aruba, Air France, Air Jamaica, Air Mexico, Alaska Air, Alitalia, America West, Continental, Cubana, Horizon Air, Jet Blue, North West, SwissAir, South African Air, TAP (Portugal). I do not know if all these airline have dash8's in their fleet but I wanted short haul commuter aircrafts to put into FSX as AI aircraft. I have included the PAD, Premier Aircraft Design, Dash-8 cockpit, no VC. Also the original Quantas aircraft is included.
Posted Aug 17, 2010 18:21 by John Sebastian Gaskin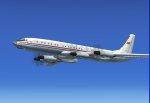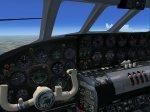 30.17Mb (19379 downloads)
Samdim Design Tupolev Tu-114 adapted for FSX. Featuring DDS textures, full virtual cockpit (VC), custom gauges, custom sounds, passenger cabin with camera definitions. 1959 Khruschev livery. Also includes Soviet Army Tu-126 Moss AWACS variant. Adapted by B. Jansik
Posted Aug 15, 2010 15:44 by Branislav Jansik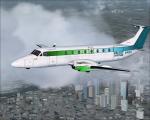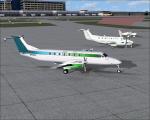 12.33Mb (3673 downloads)
FSX AI Beech 1900C made flyable. Hire on as cargomaster for Alphonse Coletti and Sir Reginald Percival Herringbone Cutlief III, co-proprietors of Col-Cut Cartage, subcontracting to numerous airlines for lost luggage pick up and re-sale, unclaimed pet cold storage and rendering, and unclaimed freight auctioneering. Tired of carry on luggage fees? Simply pay Col-Cut a low yearly flat rate, and Alphonse and Sir Reggy will fly your carry on bag to your destination, following your airliner all the way. Disembark, catch a cab to the freight hangar, and pick up your bag. What could be easier? This is the Henry Tomkiewicz AI Beech 1900C, made flyable in FSX with default King Air 350 panel and sound (no VC). Also includes the Tomkiewicz blank white model, which is flyable as well and makes a dandy paint kit! Choice of 2 engine smoke effects for those who like to smoke. Easy installation. Compiled by Tom Tiedman.
Posted Aug 14, 2010 02:12 by Tom Tiedman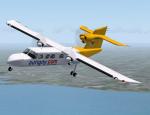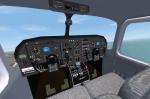 6.69Mb (9405 downloads)
Britten-Norman BN2A Mk lll-2 Trislander. The Trislander is a rugged 3 engine, 18 seater, STOL commuter/island pper/utility aircraft built originally in the 1970's and 1980's. The demand for refurbished Trislanders is such that B-N are now considering re-opening the production line for new aircraft. This model features full moving parts, custom panel and VC, pleasant and accurate flight dynamics, panel documentation, and FS kneeboard check and ref lists. Three liveries included in the package, Aurigny (UK), LyddAir (UK) and Great Barrier Airlines (New Zealand). More liveries and paint kit available on the PAD web site. Compatible with FSX/SP2. By Jean-Pierre Brisard and Bob May - Premier Aircraft Design
Posted Aug 12, 2010 20:18 by bob_may@premaircraft.com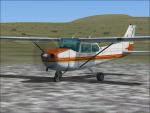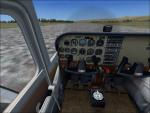 6.28Mb (1401 downloads)
Based on the real N172DM, a C172N model. Textures for the default C172. The cockpit is a yellow/orange mix based on the real N172DM cockpit. The real 172DM was modified to carry a 180HP engine instead of the default 160HP Lycoming engine. By Anthony Celentano
Posted Aug 7, 2010 19:32 by Anthony Celentano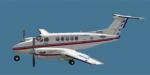 5.94Mb (1341 downloads)
A Texture of the "Royal Flying Doctors Service of Australia" for the Freeware Beechcraft King Air 300 of AFG (http://www.alliedfsgroup.com/). The Royal Flying Doctors Service is actually using this aircraft, so I decided to produce such a texture for bush-piloting in Australia. Repaint by Daniel Wesselhoft.
Posted Jul 31, 2010 08:09 by Daniel Weßelhöft
0.47Mb (495 downloads)
For the above 50826 texture, I didn't properly mirror the VC file for the black/wooden panel version of the C172 resulting in a messed up VC panel. this file includes a corrected version for the black/wood panel Includes instructions for fix.
Posted Jul 29, 2010 20:52 by Anthony Celentano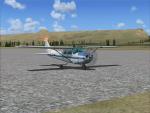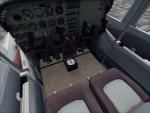 14.92Mb (1491 downloads)
50826 is a photoreal repaint of the default C172. the real 50826 is a C172P model. NOTE: This repaint includes 2 versions with a tan/red Virtual cockpit and a black/wood Virtual cockpit based on the actual C172P Model cockpits. By: Anthony Celentano See Textures fix below.
Posted Jul 27, 2010 00:25 by Anthony Celentano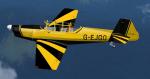 1.83Mb (583 downloads)
Repaint G-EJGO Zlin Z-226T for FS9 and FSX Z-226 T is a single engine, two-seat monoplane. Private G-EJGO in Brighton UK-England.
Posted Jul 26, 2010 08:00 by