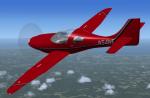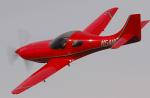 1.24Mb (582 downloads)
FSX/FS9 N54NE Reno Racer real textures for Robert Christopher's great Lancair Legacy.
Posted Dec 4, 2010 16:50 by Jean-Luc Peters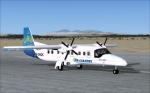 0.09Mb (2470 downloads)
Original views reworked ( with permission of PAD ) and additionnal views ( defined by camera definitions in the aircraft.cfg file ) for the beautiful Dornier Do228 by PREMIER AIRCRAFT DESIGN. 4 cameras pointing at the aircraft and a total of 5 views in vC mode. See Read me.txt file for very easy installation procedures. Also included is a text file that contains the new camera definitions. Enjoy !
Posted Dec 2, 2010 22:01 by Marc Renaud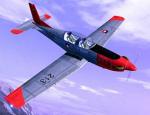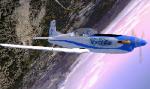 24.53Mb (1742 downloads)
This pack contains our repaints for the Tim Conrad's PC-7 Version 2.0. 3 different repaints for real and semi real Chile Navy and 1 dedicated to the FlightSimNation All 4 with VC in blue colors Packed to be easy install, only put into your Microsoft Flight Simulator X folder and be ready to flight you must have the Tim Conrad's PC-7 Version 2.0 ready installed for this package work properly
Posted Nov 29, 2010 19:46 by Hani Michal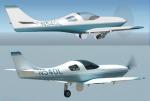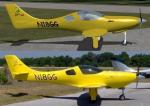 2.57Mb (1043 downloads)
Textures update of Robert Christopher's beautiful N540L and N188GG "Tweety": registration characters size and inclination corrected on both planes, metallic light blue and white colors for N540L, smaller Tweety on N18GG's tail.
Posted Nov 26, 2010 17:25 by Jean-Luc Peters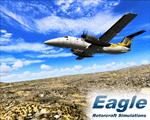 54.90Mb (5828 downloads)
FSX Acceleration version of Erick cantu's Embraer EMB120 Brasilia. Everything about the FS2004 version is here, but rebuilt in gmax to take advantage of FSX features like dynamic self shadowing, bump maps, specular maps and FSX specific animations. This package comes with 12 high quality textures plus blank templates created by Adriano Martoni. Sounds, panel and FDE has been aliased to the default Beechcraft King Air 350. This release does not come with a VC. Tested in Windows Vista and Windows 7 with DX10 preview enabled.
Posted Nov 23, 2010 02:37 by George A.Arana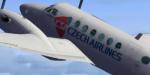 2.88Mb (854 downloads)
Fictional Czech Airlines textures for the default FSX Beech King 350.
Posted Nov 20, 2010 19:53 by Jakub Budina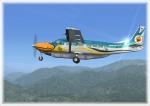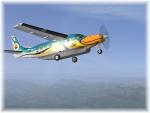 1.49Mb (1815 downloads)
Siam General Aviation textures for the default Cessna Grand Caravan (C208B). Created by Prasong U-Wang. Uploaded by pancs1 More Info in Readme.
Posted Nov 20, 2010 08:25 by Pancs1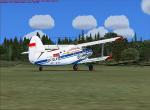 1.67Mb (1022 downloads)
This is my texture for An-2 SP-DLA, Polish paint for ROUND THE WORLD FLIGHT. Requires Vladimir Zhyhulskiy's Antonov An-2.
Posted Nov 20, 2010 06:56 by Wodzu01/EPGI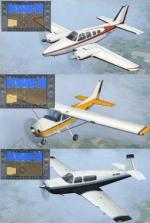 12.67Mb (2066 downloads)
I have created three additional glass cockpit texture options for the FSX default Cessna C172, Baron 58 and Mooney Bravo. I have installed the glass cockpit to my favourite of the default FSX textures so I have an option of two different textures with glass cockpits per aircraft rather than just one. I hope you all enjoy the additional textures.
Posted Nov 16, 2010 23:18 by Jamie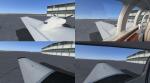 0.06Mb (2520 downloads)
These files change the default camera positions on the FSX default C172, C208B, Baron 58, King Air 350, Bravo, Maule, Piper J3, Extra 300, Goose G21A, Beaver DHC2, Douglas DC3 and whilst I was at it, the Aircreation 582SL. The new views include an improved wing view and also a realistic cabin view using the VC right seat camera. I hope you enjoy the new positions.
Posted Nov 16, 2010 21:24 by Jamie