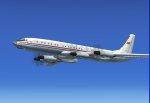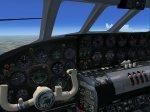 30.17Mb (19812 downloads)
Samdim Design Tupolev Tu-114 adapted for FSX. Featuring DDS textures, full virtual cockpit (VC), custom gauges, custom sounds, passenger cabin with camera definitions. 1959 Khruschev livery. Also includes Soviet Army Tu-126 Moss AWACS variant. Adapted by B. Jansik
Posted Aug 15, 2010 15:44 by Branislav Jansik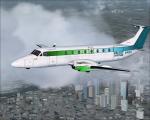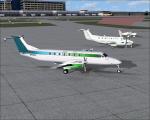 12.33Mb (3749 downloads)
FSX AI Beech 1900C made flyable. Hire on as cargomaster for Alphonse Coletti and Sir Reginald Percival Herringbone Cutlief III, co-proprietors of Col-Cut Cartage, subcontracting to numerous airlines for lost luggage pick up and re-sale, unclaimed pet cold storage and rendering, and unclaimed freight auctioneering. Tired of carry on luggage fees? Simply pay Col-Cut a low yearly flat rate, and Alphonse and Sir Reggy will fly your carry on bag to your destination, following your airliner all the way. Disembark, catch a cab to the freight hangar, and pick up your bag. What could be easier? This is the Henry Tomkiewicz AI Beech 1900C, made flyable in FSX with default King Air 350 panel and sound (no VC). Also includes the Tomkiewicz blank white model, which is flyable as well and makes a dandy paint kit! Choice of 2 engine smoke effects for those who like to smoke. Easy installation. Compiled by Tom Tiedman.
Posted Aug 14, 2010 02:12 by Tom Tiedman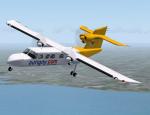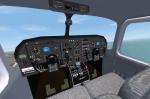 6.69Mb (9604 downloads)
Britten-Norman BN2A Mk lll-2 Trislander. The Trislander is a rugged 3 engine, 18 seater, STOL commuter/island pper/utility aircraft built originally in the 1970's and 1980's. The demand for refurbished Trislanders is such that B-N are now considering re-opening the production line for new aircraft. This model features full moving parts, custom panel and VC, pleasant and accurate flight dynamics, panel documentation, and FS kneeboard check and ref lists. Three liveries included in the package, Aurigny (UK), LyddAir (UK) and Great Barrier Airlines (New Zealand). More liveries and paint kit available on the PAD web site. Compatible with FSX/SP2. By Jean-Pierre Brisard and Bob May - Premier Aircraft Design
Posted Aug 12, 2010 20:18 by bob_may@premaircraft.com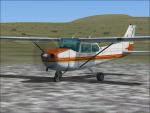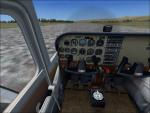 6.28Mb (1473 downloads)
Based on the real N172DM, a C172N model. Textures for the default C172. The cockpit is a yellow/orange mix based on the real N172DM cockpit. The real 172DM was modified to carry a 180HP engine instead of the default 160HP Lycoming engine. By Anthony Celentano
Posted Aug 7, 2010 19:32 by Anthony Celentano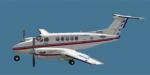 5.94Mb (1444 downloads)
A Texture of the "Royal Flying Doctors Service of Australia" for the Freeware Beechcraft King Air 300 of AFG (http://www.alliedfsgroup.com/). The Royal Flying Doctors Service is actually using this aircraft, so I decided to produce such a texture for bush-piloting in Australia. Repaint by Daniel Wesselhoft.
Posted Jul 31, 2010 08:09 by Daniel Weßelhöft
0.47Mb (533 downloads)
For the above 50826 texture, I didn't properly mirror the VC file for the black/wooden panel version of the C172 resulting in a messed up VC panel. this file includes a corrected version for the black/wood panel Includes instructions for fix.
Posted Jul 29, 2010 20:52 by Anthony Celentano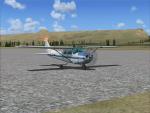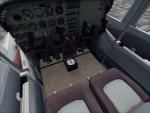 14.92Mb (1549 downloads)
50826 is a photoreal repaint of the default C172. the real 50826 is a C172P model. NOTE: This repaint includes 2 versions with a tan/red Virtual cockpit and a black/wood Virtual cockpit based on the actual C172P Model cockpits. By: Anthony Celentano See Textures fix below.
Posted Jul 27, 2010 00:25 by Anthony Celentano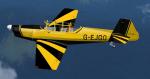 1.83Mb (620 downloads)
Repaint G-EJGO Zlin Z-226T for FS9 and FSX Z-226 T is a single engine, two-seat monoplane. Private G-EJGO in Brighton UK-England.
Posted Jul 26, 2010 08:00 by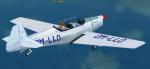 1.95Mb (500 downloads)
Repaint OM-LLO Zlin Z-226MS for FS9 and FSX Textures only. Requires the full Zlin Z-226MS model. Z-226 MS is a single engine, two-seat monoplane, designed especially for towing gliders. Private Z 226MS OM-LLO is a real livery from the Aero Club Nitra, Slovakia.
Posted Jul 23, 2010 04:33 by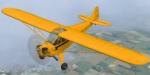 0.01Mb (1349 downloads)
J3 Cub Speed Modification for the default J3 Cub. This will make the aircraft go faster for those that wish this! For those that wish for low but not so slow.
Posted Jul 22, 2010 20:20 by FSX737200