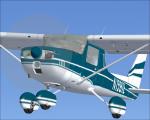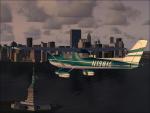 12.15Mb (1231 downloads)
FSX/FS2004 Cessna 150L texture only for Fravin's C150L available at www.fs-tutorials.com. This Cessna 150L sports a deep ocean blue factory paint commonly found on the 1973 models, nearly identical to the factory paint found on many 1972 models, but with some details added to the lower stripe near the cowl and two white stripes added just forward of the rear window. Cessna's attempt to zazz it up a bit for the new model year. Repaint by Tom Tiedman
Posted Mar 28, 2010 03:12 by Tom Tiedman
4.62Mb (1590 downloads)
It's a fix to FSX Beech C-45H Expeditor cargo plane (above).The fix includes some corrections in a texture file (fuse_t.bmp - right spelling for the word "FREIGHT"), modified panel (new electric switches and modifications to panel backgrounds). I also included landing lights reflection effects from the original D18S package.
Posted Mar 22, 2010 21:18 by Vladimir Gonchar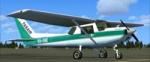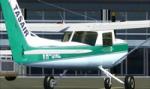 3.31Mb (1589 downloads)
Photorealistic textures for Just Flight's freeware C152 in Tasair colors. Tasair is based in Hobart Tasmania and provides flight training and charter flights around the state. Requires the free Cessna 152 from Just Flight (Follow link below to download) Author: "Frequent Flyer"
Posted Mar 22, 2010 04:36 by Matthew Devenish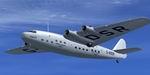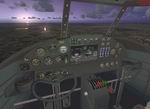 10.56Mb (6363 downloads)
FSX Armstrong Whitworth Ensign. This is an all-new model of the AW.27 Ensign, a large medium-range airliner built for Imperial Airways (later BOAC) in the late 1930's. Because of the outbreak of WW2, only 12 Ensigns were built, and they mostly served as transports in support of the RAF. The package contains the MK.I and the MK.II in three different colour schemes. For FSX only. FS2004 users should get Ensign_V10.zip instead. By Jens B. Kristensen.
Posted Mar 20, 2010 12:49 by Jens B. Kristensen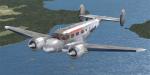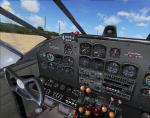 25.65Mb (9451 downloads)
This is a FSX adaptation of the FS9 D18S cargo plane by Milton Shupe, presented as a former Beech C-45H Expeditor in the livery of a "freighter dog" plane (registration # N6648R), used by the Blue Skys Inc, Gillette, WY. The package includes a new VC panel, generally authentic to former Expeditors, which still fly today. FSX adaptation -by Vladimir Gonchar (crazy Twin Beech addict)(see fix below)
Posted Mar 19, 2010 22:14 by Vladimir Gonchar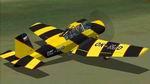 2.19Mb (1162 downloads)
Textures only. The Zlin Z-37 Čmelák (Czech: "Bumblebee"), also known as LET Z-37 Čmelák is an agricultural aircraft manufactured in Czechoslovakia. The aircraft is used mainly as a cropduster. Pilot plus three passenger version. Conversion of "A" version. Rear facing seats Repaint is made to the version Z37A-3:Pilot plus three passenger version. Conversion of "A" version. Rear facing seats (External link - please report if broken)
Posted Mar 18, 2010 05:59 by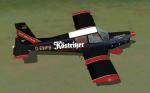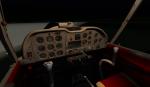 2.51Mb (801 downloads)
FSX/FS2004 Repaint Zlín Z43 D-EWFB textures only for the Zlin Z43 by CVA Design. Zlin Z-43 is Czechoslovak sports and training plane. It's intended for basic and for advanced training, for IFR and night flying. Autor: Jozef Košík
Posted Mar 17, 2010 08:02 by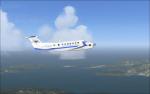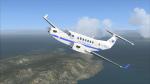 2.80Mb (1327 downloads)
Default King Air 350 Textures for our new Virtual Airline based in Victoria Canada. Painted by Fred Roy and Patrick Croft. Check us out in the forums if your interested in joining!
Posted Mar 15, 2010 23:22 by Patrick Croft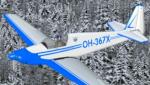 0.09Mb (540 downloads)
Corrected thumbnail for the Finnish OH-367X livery (apologies for error)
Posted Mar 15, 2010 16:49 by Jean-Luc Peters

5.71Mb (2469 downloads)
FSX Cesna 172 World Global Airways (VA) Textures only for the default C172.
Posted Mar 14, 2010 00:37 by Zack B