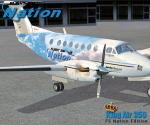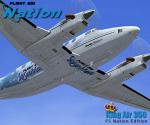 6.01Mb (2678 downloads)
This texture by FSN member Owen "crazieman" Young features photo realistic Flight Sim Nation graphics complete with scratched up paint and logo on the bottom of the fuse. This texture is in use for AFTS as well as free flight. Visit us at www.flightsimnation.com
Posted Oct 11, 2008 00:54 by Flight Sim Nation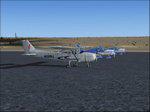 3.95Mb (894 downloads)
This is a repaint of the default C172 for FSX, This repaint is somewhat unique for me as its my first foray into weathering, it is weathered with a basic Cessna paint scheme hope you enjoy! Repaint by Anthony Celentano (dr.bob on forums)
Posted Oct 9, 2008 16:29 by Anthony Celentano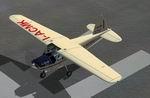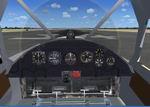 3.85Mb (4471 downloads)
The Macchi MB.308G was a light aircraft produced in Italy in the late 1940s, one of the most prolific Italian-built types of the following decade. The model is fully animated and features the usual moving parts, such as flight controls, spinning wheels, animated crew and more. The panel background has been created from photographic material found in the net. The most part of the gauges have been created by the authors. Included in this model there is also a simplified Virtual Cockpit, with working essential gauges and animated flight controls. A similar model with registration 'I-MACK' was flown in a raid from Milano to Adelaide (Australia) in 1951. Capt. I. D'Attomo Capt. G.Quai
Posted Oct 9, 2008 08:43 by D'Attomo

0.86Mb (1222 downloads)
Textures only for Long Island Classic Eagle textures only by Chris Krawczyk.
Posted Oct 8, 2008 21:33 by chris.krawczyk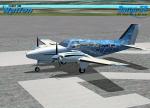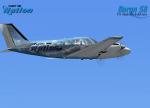 6.97Mb (2401 downloads)
This paint scheme by member Owen(crazieman)Young captures the spirit of Flight Sim Nation. Visit us at www.flightsimnation.com
Posted Oct 8, 2008 21:25 by Flight Sim Nation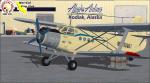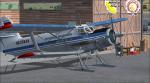 52.41Mb (29394 downloads)
Antonov An-2 for FSX SP2/Acceleration (wheel and ski) Legendary multi-purpose Russian biplane, Autor - Vladimir Zhyhulskiy. Sound/Gauges Correction / Engine / all known updates Ground handling & more Updated By the Nor-Cal Prop Club
Posted Oct 7, 2008 23:36 by Ted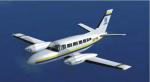 0.04Mb (2624 downloads)
This is an update for FS X acceleration of the Cessan 404 Titan by Mike Stone. I have updated the flight dynamics and the panel so it works in FS X. No virtual cockpit. You need the original aircraft for this update to work. Bob Chicilo.
Posted Oct 7, 2008 08:53 by Bob Chicilo.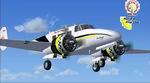 14.01Mb (16612 downloads)
Beechcraft Model 18 Volpar for FSX. The Beech 18 was one of Beechcraft's most enduring designs. In production from the late 1930's until the early 60's many are still in use all over the world. This plane represents a late Model Super H with the Volpar Trigear conversion. The Volpar kit added an extended nose and converted the plane to a tri-gear configuration rather than the stock taildragger landing gear. Aircraft by Brian Gladden Updated For FSX By The Nor-Cal Prop Club
Posted Oct 7, 2008 08:47 by Nor-Cal Prop Club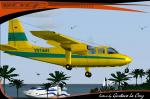 14.08Mb (5416 downloads)
Beechcraft Model 18 Volpar on Amphibious Floats for FSX. The Beech 18 was one of Beechcraft's most enduring designs. In production from the late 1930's until the early 60's many are still in use all over the world. This plane represents a late Model Super H with the Volpar Trigear conversion that has been further modified with International Aeroproducts 8100 series Amphibious floats. Aircraft by Brian Gladden Updated For FSX By The Nor-Cal Prop Club
Posted Oct 7, 2008 08:46 by Nor-Cal Prop Club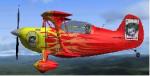 0.96Mb (1780 downloads)
Christen Eagle Tail texture for The Long Island Classic Eagle with 'Joker' on tail. Joker added by Cris Krawczyk
Posted Oct 6, 2008 07:05 by chris krawczyk