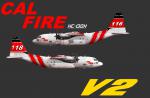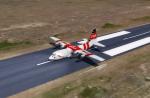 4.68Mb (401 downloads)
This small repaint pack was created mainly for P3D users, and the stock Captain Sim C-130 provided with P3D. But the liveries should work in FSX with some modifications to the aircraft.cfg entries provided in this pack. As P3D and FSX models differ if these are to be applied to the Captain Sim C-130X pack aircraft. These textures are designed to replace the Cal Fire C-130 in my original C-130 airtanker texture package, but that package is not required. Updates to the livery on T-118 were made to accurately represent the final livery design for Cal Fire. I have also included T-116, which will be the second Cal Fire HC-130H to enter service. The Cal Fire Hercules' are expected to enter service some time in mid-late 2021, equipped with Coulson's RADS XXL 4,000 gallon constant flow tanks. The same system in their C-130s. Cal Fire came to acquire these HC-130Hs from the USFS' now ended tanker program after only a few seasons of use. The USFS had acquired them originally from the US Coast Guard in exchange for surplus C-27J Spartans from the USAF. Cal Fire has acquired all 7 aircraft, which they plan to convert into LATs (Large Air Tankers). Repaints by Nicholas Mitchell.
Posted Feb 22, 2020 03:47 by Nicholas Mitchell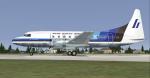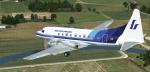 3.16Mb (246 downloads)
FS9/FSX Gem State Convair 580 textures for the Greg Pepper Convair 580. Gem State textures by Gary Harper.
Posted Feb 21, 2020 11:36 by Gary Harper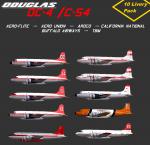 18.46Mb (421 downloads)
This repaint Pack is for the V3 JBK DC-4 pack, in particular the airtanker version. These are NOT for the merlin powered aircraft. These will work with the FSX Version. But I have included a link to the P3D v4 updated models. These repaints will work on both. But likely NOT the FS2004 version. Therefore this is for the FSX/P3D versions ONLY. The DC-4 saw service as an airtanker for decades in the United States and Canada. Sadly, policy changes with the USFS forced the DC-4 series of aircraft into retirement, rather than their age. The amount of surplus aircraft and parts made maintaining the Skymasters possible all the way until their forced retirement. Many were forced to be converted back to freighters or sold as scrap. Ironically, it is highly likely that the flying examples still flying as rural freighters or museum pieces were airtankers at some point. And is likely the only reason they are still airworthy today. This pack represents 6 operators of the DC-4/C-54 series of airtankers. And 10 total liveries for the following operators. Aero Union, Aero-Flite, California National (Cal Nat), Buffalo Airways, Ardco, and TBM Inc. Repaints by Nicholas Mitchell. Note, these will only work on the P3D V4 version if the model has been updated. The FSX version is required for those updates.
Posted Feb 9, 2020 01:41 by Nicholas Mitchell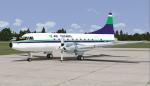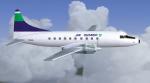 5.36Mb (216 downloads)
FS9/FSX Air Ontario textures for the Greg Pepper Convair 580. Air Ontario textures by Gary Harper.
Posted Feb 6, 2020 16:51 by Gary Harper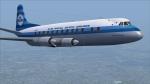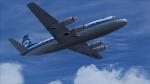 6.40Mb (209 downloads)
This is a repaint of the Viscount 803 in KLM 1966 colors. The freeware Vickers Viscount 800 for FSX by Jens B. Kristensen (JBK) is needed for this repaint. Textures are 32bit dds for FSX/P3D3 users. FS2004 DXT3 BMP textures are included as well for FS2004 users who have the FS2004 version. This repaint was tested on FSX-SE. It should also work on FSX, and P3Dv1-3. In June 1955, KLM placed an order for nine Vickers V.800 Viscounts, making it the first foreign company to order the type. They were to replace the Convair CV-340s and intended for use on the European network and a number of shorter intercontinental services to the Middle East and northern Africa. The nine Viscounts were delivered between 6 June and 23 December 1957. All aircraft were delivered in the old KLM "The Flying Dutchman" color scheme. From the early 1960s, all aircraft were equipped with the new KLM color scheme with the light and dark blue band across the hull with the slashes in the tail and in addition, red KLM with emblem. From October 1965 to November 1966 the KLM Viscounts gradually disappeared from the fleet. They were all sold to Aer Lingus of Ireland. A new color scheme was introduced in 1966, the blue stripes and white ball as depicted in this repaint. The few Viscounts that were still used by KLM, were repainted in this new color scheme in 1966.
Posted Feb 5, 2020 03:44 by Ted Giana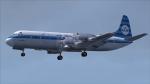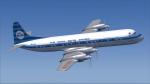 7.42Mb (250 downloads)
This is a repaint of the L-188 Electra in KLM 1966 colors. The freeware L-188 Electra by Libardo Guzman is needed for this repaint. Textures are 32bit DDS for FSX/P3D3 . FS2004 DXT3 BMP textures are included as well. This repaint was tested on FSX-SE. It should work on FSX, FS2004, & P3Dv3. On February 29, 1956, KLM signed a contract with Lockheed for the delivery of 12 Lockheed L-188C Electras. KLM needed a number of aircraft with a larger flight range and greater capacity than its Vickers Viscounts and the carrier was not convinced that the Se-210 Caravelle was profitable, which proved to be false. KLM was thus the only European user of the L-188 as most major European airlines decided to purchase the Caravelles. The twelve L-188C Electras were delivered to KLM between October 10 1959 and December 14 1960. This is a repaint of PH-LLD which was delivered to KLM on 16 December 1959. In February 1969 it was bought by the U.S. carrier Universal Airlines, and converted to a freighter.
Posted Feb 5, 2020 03:43 by Ted Giana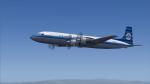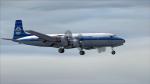 10.60Mb (220 downloads)
This is a repaint of the DC-7C(F) in KLM 1965 colors. The freeware CalClassic DC-7C by Greg Pepper and Tom Gibson is needed for this repaint (link provided). Textures are 32bit DDS. DXT3 BMP textures are included as well for FS2004 users. This repaint was tested on FSX-SE and should work on FSX & P3D v1-3, & FS2004. This aircraft was delivered as a DC-7C to KLM in June 1957. It was subsequently converted to a DC-7CF in January 1962. In February 1969 it was sold to Aer Turas. KLM operated a total of 15 DC-7s.
Posted Feb 5, 2020 03:32 by Ted Giana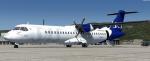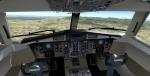 58.49Mb (3383 downloads)
FSX/P3D ATR72 210 SAS Scandanavian Airlines. SAS is based at 3 Scandanavian capital airports Copenhagen Kastrup, Oslo Gardermoen, Stockholm Arlanda and currently have 8 ATR72 in their fleet. Model and VC by Virtualcol. Ex payware. Textured and assembled for P3Dv4.5 and should be ok in FSX and earlier P3D versions by Chris Evans.
Posted Feb 4, 2020 01:13 by chris evans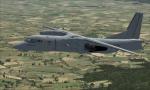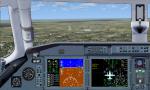 41.26Mb (1859 downloads)
FS2004/FSX Antonov An-132D will be powered by two Pratt & Whitney Canada PW150 turboprop engines, and will feature Honeywell avionics, a Liebherr air management system. Panel and gauges for wide screen only 2D (no VC) by Philippe Wallaert including GPWS callout. Original design model by Tsyntsar Victor, Kyiv, Ukraine, 2020.
Posted Jan 24, 2020 11:59 by Tsyntsar Victor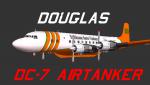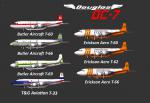 137.33Mb (1333 downloads)
This extensive modification to Cal Classic Propliner's DC-7 into an airtanker was done with their permission. The base DC-7 for FSX/P3D3 is required for the panel, gauges, effects, and documentation to appear correctly. The DC-7 has seen many years of service as an airtanker. Despite the USFS deciding to no longer contract the DC-7 for aerial firefighting in 2003, stating it was too old Several have remained flying as airtankers for nearly 2 decades after that decision on state contracts mainly in the Pacific Northwest. The DC-7 is large and fast. Despite it's age, the DC-7 is able to carry 3,000 gallons of retardant and cruise at high speeds. It's 350 mph cruise speed is slightly affected by the external tank. But it is still quite fast and has remained a viable tanker for decades and is likely the reason for it being the last remaining radial engine tanker in service in the United States. Only a few aircraft remain flyable, owned by Erickson Aero. This pack contains 2 model versions and repaints representing 3 operators. Butler Aviation, Erickson Aero, and T&G Aviation. There are a total of 7 aircraft represented. Aircraft should be compatible with FSX up to P3D v4.5. Original aircraft by Jens Kristensen, Tom Gibson, and Greg Pepper. Aircraft donor part conversions by Bjoern Kesten. Sounds by Jon Jefferys. Airtanker modification and repaints by Nicholas Mitchell.
Posted Jan 15, 2020 05:18 by Nicholas Mitchell