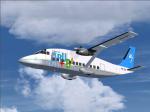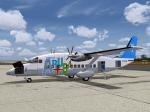 2.36Mb (659 downloads)
Shorts S360-100, cn SH3619, registration P4-TIA. Textures only for the Premier Aircraft Design, (30360-Short-360), by Barry Blaisdell, Jean-Pierre Brisard, and Bob May package. By Juan Ernesto Oropeza.
Posted Sep 6, 2015 22:54 by Juan Ernesto Oropeza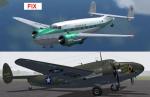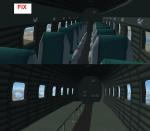 0.01Mb (1954 downloads)
FSX Only Lockheed Lodestar L-18, C-57, and C-60A - Release v1.0 FIX The Fix replaces the aircraft.cfg. This corrects the issue with frequency adjustments.
Posted Sep 4, 2015 18:18 by Milton Shupe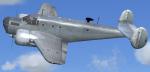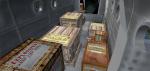 28.09Mb (476 downloads)
FSX textures for the freeware Milton Shupe and Team Beech AT-11 Kansan. A polished bare metal civilian cargo hauler with no markings, decals, nose art, or anti-glare paint, just a simple N2368F painted on the tail, a new top turret cover plate, and a new fresh load of cargo inside. Includes engine exhaust smoke coordinates. By Tom Tiedman
Posted Sep 4, 2015 10:10 by Tom Tiedman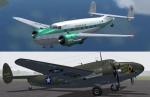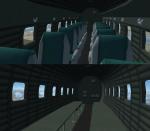 94.68Mb (4828 downloads)
FSX Only Lockheed Lodestar L-18, C-57, and C-60A - Release v1.0 by Milton Shupe, Tom Falley, Scott Thomas, Ken Mitchell, Rachael Whiteford, Stuart Cox, Andre Reimers, Mark Rogers, and Sounds by Nigel Richards. Pilot figures by Jan Visser. ** This port over Will not work in FS9 ** Pkg incl 4 models, custom panel and gauge setup, custom sounds, custom Flight Model by Tom Falley, and 14 liveries military and civilian. Optimized for FSX Milton Shupe September 2015
Posted Sep 3, 2015 23:07 by Milton Shupe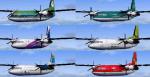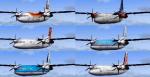 28.21Mb (5992 downloads)
DreamWings Fokker 50 Multi Package, 10 new liverys 2 times Aer Lingus, Arik Air, 2 times Air Baltic, Avianca, Iberia, SAS, Virgin Australia, CityJet, plus KLM and VLM I uploaded in August, 13 in all. I have changed the sound file, I have replaced the 2D panel with Enrique Medal panel (no VC) and the prop texture so it will work with SP2 Tested in windows 7 with SP1 and SP2. All repaints by Stephen Browning.
Posted Sep 2, 2015 12:59 by Stephen Browning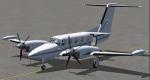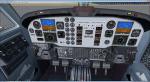 9.79Mb (8302 downloads)
FSX PA-42 Piper Cheyenne 400LS. The PA-42-1000 Piper Cheyenne 400LS is a high performance pressurised turboprop corporate aircraft seating up to nine passengers & is powered by two 1000shp AiResearch (Garrett) TPE-331-14A engines normally driving four bladed Dowty rotol propellers, this model features improved performance five blade constant speed composite MT-propellers increasing max speed to over 400 knots. Gmax model with detailed interior & full animation of major parts.Uses default B350 2D panel & VC. Layered PSD paintkit included. Model & master textures by Paul Craig.
Posted Sep 1, 2015 02:57 by uploader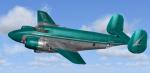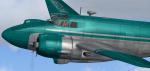 21.78Mb (561 downloads)
FSX Lockheed PV-2 Harpoon privately owned civilian N4729W teal green repaint textures, for the Milton Shupe and Team Lockheed PV-2 Harpoon, which you must have previously installed in FSX. The military shoulder patches and military cap insignia have been removed from the pilot and co-pilot for a more civilian looking flightcrew. Includes engine exhaust smoke coordinates for those who want to use engine smoke. Repaint by Tom Tiedman
Posted Aug 28, 2015 04:47 by Tom Tiedman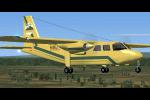 0.40Mb (863 downloads)
FSX/FS2004. Fix, now you have transparent windows from the outside and not tinted windows ...
Posted Aug 26, 2015 09:01 by Juan Villamor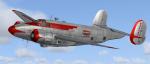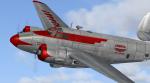 23.79Mb (725 downloads)
FSX repaint textures for the Milton Shupe and Team Lockheed PV-2 Harpoon civilian Androli Aero Cartage N3448Y. Red on bare metal. Repaint by Tom Tiedman
Posted Aug 25, 2015 06:53 by Tom Tiedman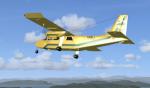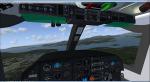 11.92Mb (2206 downloads)
Audeli, whose trade name is Gestair Airlines, an aircraft operator is based in Madrid, Spain. Operated passenger aircraft for Iberia contracts ACMI. 99% belongs to Cygnus Air (Gestair Cargo). Full aircraft, Model by Kenje Thomas, Marcel Kuhnt. Texture by Juan Villamor. Works FSX and FS2004
Posted Aug 24, 2015 10:21 by Juan Villamor