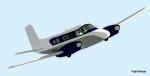 0.47Mb (1019 downloads)
Mike Stone's FS2004 Beech Queen Air with edits for FSX. Panel and sound are default baron 58. 2 liveries; American private and Brazilian private. American by Mike Stone and Brazilian by VeneSim. Aircraft requested by several people. Has 2d panel but no VC. V1.1 - Fixed error on startup causing only American livery to show - Brazilian livery now displays. Apologies for error. Happy Flying!
Posted Nov 29, 2015 08:47 by Cayden Smith

0.16Mb (2280 downloads)
Rara Avis Simulations Icon A5 for Prepar3D v2/3 edits to work in Fsx. Tested Fsx Gold with Accel. Contains thumbnails and 'aircraft.cfg' file edits
Posted Nov 25, 2015 03:38 by Dave T


9.61Mb (460 downloads)
These files are Textures only. U.S. registered repaints of David Molyneaux's Auster-Taylorcraft-plus-C by Peter Watkins. They represent Taylorcraft BL65 aircraft.
Posted Nov 24, 2015 14:40 by Mike Shearer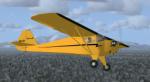 14.12Mb (1599 downloads)
This is an Auster Tayorcraft Plus-C By David Molyneaux. It is powered by a 55hp Lycombing 0-145B. Its empty weight is 660lbs can carry 13.2 gallons of fuel & has a gross weight of 1220lbs. I have tested it in FSX with Acceleration with out any problems. New livery, engine & panel by Mike Shearer.
Posted Nov 24, 2015 05:47 by Mike Shearer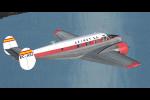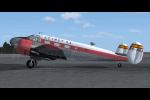 14.61Mb (689 downloads)
That plane is acquired Spantax in the month of May 1962en USA. Its main task was to support the transport of company personnel and maintenance. Spantax flew for eleven years later was acquired by the company Azimut SA Air fotograflia that after long years of service, is inoperative and about to disappear. Model by Milton Shupe modified by David Carroll, texture by Juan Villamor.
Posted Nov 24, 2015 05:35 by Juan Villamor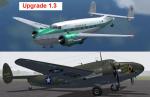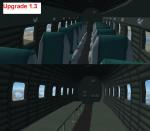 12.88Mb (2140 downloads)
FS2004/FSX Lockheed Lodestar L-18, C-57, and C-60A - Upgrade Release v1.3 ** This is NOT a full package upgrade - It requires and upgrades your original download ** This update replaces 6 model folders (adds deflector windows) and instructs you to change the aircraft.cfg (to fix landing lights entries). Simple installation. Original release by Milton Shupe, Tom Falley, Scott Thomas, Ken Mitchell, Rachael Whiteford, Stuart Cox, Andre Reimers, Mark Rogers, and Sounds by Nigel Richards. Pilot figures by Jan Visser.
Posted Nov 23, 2015 08:38 by Milton Shupe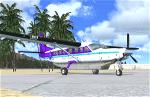 2.39Mb (965 downloads)
This is skins only release for the default Cessna 208B Caravan in the livery of Palm Express - an AI-Airline operating from Malibu California. It started in 2013 as an AI Traffic Project for an upgrade to Aeroworks Malibu scenery. It's very similar to Emerald Harbor Air or the other default AI-Airlines, but flies exclusively from Malibu as it's hub. As such it is the only airline operating from Malibu, and its routes are often flown to other destinations along the Southern California coast. If you have Malibu 2016 (Version 4.1 AFC2v41_jt.zip) installed on your system, you will see this aircraft operating along the coastal areas near Los Angeles. Repaint by Jason L. Terry
Posted Nov 21, 2015 01:39 by Jason L. Terry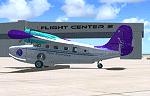 4.33Mb (473 downloads)
This is a textures only release for the default Grumman G21 Goose in the livery of Palm Express - an AI-Airline operating from Malibu California. It started in 2013 as an AI Traffic Project for an upgrade to Aeroworks Malibu scenery. It's very similar to Emerald Harbor Air or the other default AI-Airlines, but flies exclusively from Malibu as it's hub. As such it is the only airline operating from Malibu, and its routes are often flown to other destinations along the Southern California coast. If you have Malibu 2016 (Version 4.1 AFC2v41_jt.zip) installed on your system, you will see this aircraft operating along the coastal areas near Los Angeles. Repaint by Jason L. Terry
Posted Nov 21, 2015 01:36 by Jason L. Terry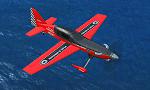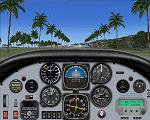 8.48Mb (2075 downloads)
The ARX-5T (Concept 5) is a single-seat unlimited category aerobatic aircraft based on the V8-powered ARX-5X, but powered instead by the Pratt & Whitney PT6A-25C Turboprop engine. Like the ARX-5X, the Turbo Coyote designed specifically for freestyle airshow type aerobatics. The plane can easily handle compulsory competition maneuvers as well as more advanced gyroscopic maneuvers such as lomcovaks and tumbles. The ARX-5T cruises around 240kts, with a never-exceed speed of 300kts. This FSX native model contains animations, reflections, environment mapping, spec mapping and a full dynamic virutal cockpit. Although it is not a real aircraft it does have several real-world components such as the Chelton Flight Systems EAU (engine airdata unit) display, and a Hartzell "scimitar" swept blade propeller. Includes 2 models and 5 schemes with a custom smoke system. Aircraft, effects, and panel by Jason L. Terry
Posted Nov 20, 2015 22:37 by Jason L. Terry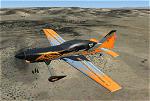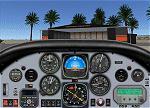 8.82Mb (1819 downloads)
The ARX-5R (Concept 5) is a custom built single-seat unlimited category aerobatic aircraft based on the V8-powered ARX-5X (ARX5v21_jt-1.zip). The R Model was made specifically for Austin Gardner's Firestorm Airshows, one of the longest running online solo demo's. Like it's ARX-5 stablemates, the R model can easily handle compulsory competition maneuvers as well as more advanced gyroscopic maneuvers such as lomcovaks and tumbles. The ARX-5R has wings, tail, and gear struts from the ARX-5T Turbo Coyote, and is thus slightly faster than the original Model X. It is therefore the fastest piston-driven ARX-5 available. This FSX native model contains animations, reflections, environment mapping, spec mapping and a full dynamic virutal cockpit. Although it is not a real aircraft it does have several real-world components such as the Chelton Flight Systems EAU(engine airdata unit) display, and a Hartzell "scimitar" swept blade propeller. Includes 1 model and 2 similar schemes with a custom smoke system and pyrotechnic effects for night airshows. Aircraft, effects, and panel by Jason L. Terry. Youtube Video: https://www.youtube.com/watch?v=lpO9sYq1Xuk
Posted Nov 20, 2015 22:27 by Jason L. Terry