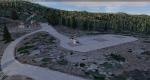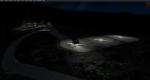 10.99Mb (112 downloads)
FSX/P3D Keenwild Helibase in So Cal. Fictional code of 79CA. Works in FSX and P3D, best when used with ORBX and Vector. Has not been tested without those two.
Posted Jul 31, 2022 00:15 by Delta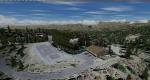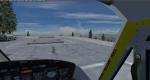 4.90Mb (114 downloads)
Quick Scenery for Heaps Peak Helibase. Best used with ORBX and Vector. Has not been tested without those two to see what it looks like. Works in FSX and P3D. Fictional code of 82CA.
Posted Jul 31, 2022 00:06 by Delta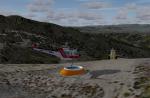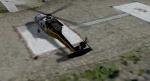 4.73Mb (165 downloads)
Photoreal scenery of 69 Bravo, LA County Fire Helibase and automated refill site for wildfire operations. Placed objects to my abilities and locations of satellite images. Turned out quite well. The refile sites are static and don't refill your helicopter if you are using FFX. A big thanks to Scorch of SATO for the design and textures of the refill tanks! Scenery will work in FSX and P3DV4, however I don't know if the tanks will show up in FSX as they were designed around P3D. Readme for install included.
Posted Jun 22, 2022 23:26 by Delta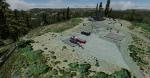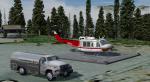 5.62Mb (203 downloads)
Addon scenery for Crane Flat Helibase out of Yosemite in California. Fictional airport code of 78CA. Photoreal scenery and some static objects. Home to Copter 551. Texted in FSX and P3DV4.
Posted Jun 21, 2022 01:29 by Delta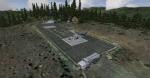 3.35Mb (148 downloads)
Tried to get it as real as I could using my skills. Bald Mountain Helibase for the USFS in California. Home to C517.
Posted Jun 18, 2022 22:22 by Delta
0.55Mb (178 downloads)
This is the latest update of the EBCI2016 scenery previously published. It only features default buildings and objects but creates the whole "new" terminal area (north of the runway, since 2008 but not implemented by default on FSX & P3D), and it also features the extension of the runway and additional taxiways as of December 2021. This scenery should work on FSX and P3D all versions. However please be kind reporting any issues you see. It is an early release, allowing you to benefit the new infrastructure and the longer runway. However, expect later in 2022 a fully redesigned scenery, closer to the reality. MAIN FEATURES: - current accurate runway + all taxiways - runway and taxiway lighting according to real life - DME added to the ILS 110.900 IGC - All parking stands at the north (51 to 72 + "far-away" stands + B stands for code D and A340) - parking numbers (may fail to show up sometimes) INSTALL: Put the main folder in your ADDON SCENERY and add it to the library (like most sceneries). Enjoy!
Posted Jan 4, 2022 12:47 by IVAO Belux - Jonatan G.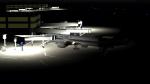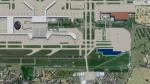 130.25Mb (606 downloads)
Singapore Changi Airport (WSSS) for P3D V4. By Zenith Creations (Zachary Tay). This add-on is the culmination of over a year's worth of work on various aspects of the airport. The scope has increased tremendously, from merely an amendment of the taxi signs to new 3-D models and various airport landmarks, as well as satellite imagery for the airport area. A basic GSX configuration is also included, subject to change in future. You need SODE for the jetways, it's free. Features: - Phase IV compliant taxi signs, correct as of 23/12/2021 - Custom terminal, satellite imagery, tower and Jewel objects - SODE jetways - Apron lighting Known issues: - 02R/20L signs are incomplete - Models are very basic and could use improvement I hope you'll enjoy this improvement over the default WSSS, and Merry Christmas. If you have questions or suggestions, send an email to toffee2000@gmail.com. And if you'd like to support my work, please consider donating to my Patreon, at www.patreon.com/zenithcreations, or my PayPal, username exocetfalling. REUSE: Licensed under Creative Commons BY-SA 4.0.
Posted Dec 24, 2021 10:48 by Zachary Tay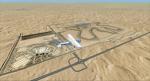 16.28Mb (271 downloads)
OTBD Old Doha International - Losail F1 Circuit, QATAR Freeware Photorealistic scenery for FSX (should work on P3D V 1-5). Doha International Airport (IATA: DIA, ICAO: OTBD) is an airport in Doha, Qatar. It was Qatar's commercial international airport until Hamad International Airport opened on 27 May 2014. While all scheduled commercial traffic ceased, the airport site and existing runway is still used by Qatar Emiri Air Force, Rizon Jet, Gulf Helicopters and Qatar Aeronautical College. The airport is planned to be refurbished and reopened to handle more traffic for the 2022 FIFA World Cup in Doha, Qatar. Ignacio Del Muro
Posted Nov 18, 2021 03:55 by Ignacio Del Muro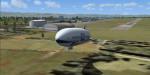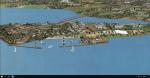 112.97Mb (530 downloads)
Well it starts as always, I can't find a usable freeware airport in this case for the EDNY Friedrichshafen so I'll build it myself again.... now what can I say after a lot of work it is built as real as possible with many details with the standard scenery .......... So fly to Friedrichshafen on Lake Constance of course you should take a zeppelin there, which is also being built there, and fly with it on a sightseeing flight over Lindau to Bregenz and visit the mountain station on the Pfänder ......
Posted Oct 29, 2021 00:54 by Ewald Wagner
100.43Mb (74 downloads)
This file is a scenery of the Carcassonne-Salvaza airport located in France, on the Occitania region. This airport welcome 20 000 movements of planes per years. Ryanair is the only company who is exploiting this aiport for commercials flights with 737-800 for an average of 4 flights per days. The scenery have custom building and GP make on SketchUp Make 2017.
Posted Aug 27, 2021 03:07 by Sim Devs Team