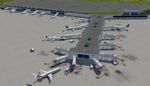 5.47Mb (244 downloads)
Nashville Tennessee International Airport for P3D. Originally created for FSX, this airport has been converted to work in P3D. Several improvements have been made to the default airport. The default terminal buildings have been replaced with buildings created in FSDS; there are custom built hangars in the Embraer maintenance area, also created in FSDS; aircraft gates have been correctly coded and named using Airport Design Editor 1.76.6582; a new airport vehicle network has been built; extra fuel trucks have been added throughout the airport; the tower view has been changed to display from the roof of the control tower; all taxiway designators are correct and all taxiway signs are correctly placed and named; there is the option to open all runways to AI traffic; the FedEx and UPS cargo areas are modeled, as well as the Embraer maintenance area; and Jim Dhaenen's excellent ramp lights are also included. Please refer to the README FIRST.txt file to insure proper installation of all files
Posted Apr 20, 2018 17:53 by uploader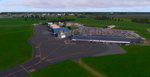 62.29Mb (549 downloads)
FSX/P3D>v4 Invercargill NZNV New Zealand Scenery Invercargill is the medium-sized regional airport located at the southern end of New Zealand, near the city of Invercargill. It was built in 1938 on a land reclaimed from a nearby river, and was prone to flooding, until a system of open drains was created, which is represented in this scenery -- alongside the new terminal opened in 2016. Air New Zealand's ATR 72 and Q300 are scurrying to here daily, and their A320 is also visiting Invercargill every now and then. Another prominent visitor is Steward Island's Britten-Norman BN-2. While the real NZNV can easily accomodate a 757, spawning here in anything larger than A320 or B738 is not advisable. Dmitriy Kozyrev
Posted Apr 19, 2018 02:47 by uploader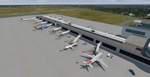 5.11Mb (209 downloads)
Buffalo-Niagara International Airport for P3D. Includes missing .bgl files. Originally created for FSX, this airport has been converted to work in P3D. Several improvements have been made to the default airport. The default terminal buildings have been replaced with buildings created in FSDS; aircraft gates have been correctly coded using Airport Design Editor 1.76.6582; a new airport vehicle network has been built; extra fuel trucks have been added throughout the airport; the tower view has been changed to display from the roof of the control tower; all taxiway designators are correct and all taxiway signs are correctly placed and named; there is the option to open both runways to AI traffic; the FedEx and UPS cargo areas are modeled; and Jim Dhaenen's excellent ramp lights are also included. Please refer to the README FIRST.txt file to insure proper installation of all files. Patrick Finch
Posted Apr 17, 2018 00:16 by uploader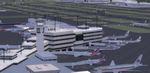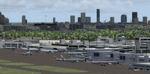 4.90Mb (814 downloads)
KMIA - Miami Intl Airport, Florida, USA. This is Ray Smith's FSX file. Ray has given me permission to modify his file for P3Dv4. This is an accurate and up-to-date version of Miami Intl Airport with two optional files. One file with the Crosswind runway 12/30 activated where all 4 runways will be used for takeoff/landing and one file as the default airport runway operation. Airline gate assignments now updated as per their website including gates for the A380. Gates D53-D60 allocated only for Envoy Air (ENV, but also coded EGF and AALX). Fedex, UPS and Centurion ramps and buildings updated. Taxiways and taxi signs updated to the latest charts. Extra fuel trucks, support vehicle roads rebuilt. By Robert Catherall
Posted Apr 5, 2018 02:34 by uploader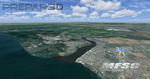 58.91Mb (152 downloads)
DEMO VERSION: Prepar3D Scenery--Sultan Abdul Halim Airport (WMKA), located in Alor Setar, Kedah, Malaysia. This is LITE/DEMO Version. Compatible with P3Dv3 / P3Dv4. By Zurib Aerospace.
Posted Apr 4, 2018 05:13 by uploader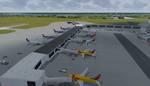 7.02Mb (287 downloads)
Louis Armstrong New Orleans Intl. Airport for P3D. Originally created for FSX, this airport has been converted to work in P3D. Several improvements have been made to the default airport. The default terminal buildings have been replaced with buildings created in FSDS; aircraft gates have been correctly coded using Airport Design Editor 1.76.6582; a new airport vehicle network has been built; extra fuel trucks have been added throughout the airport; the tower view has been changed to display from the roof of the control tower; all taxiway designators are correct and all taxiway signs are correctly placed and named; there is the option to open both runways to AI traffic; the FedEx and UPS cargo areas are displayed; and Jim Dhaenen's excellent ramp lights are also included. Please refer to the README FIRST.txt file to insure proper installation of all files. Created by Patrick Finch
Posted Apr 2, 2018 01:32 by Uploader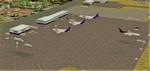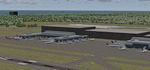 1.45Mb (365 downloads)
KFLL - Ft Lauderdale-Hollywood Intl Airport, Florida. This is Ray Smith's FSX file. Ray has given me permission to revise and update his file for P3Dv4. The new runway 10R/28L added with ILS included. Assigned parking as per their website with extra parking including. Gate E9 for assigned for the Norwegian long haul 787. Taxiways and taxi signs updated to the latest charts. Runway 13/31 removed. Extra fuel trucks, helipad, support vehicle roads rebuilt and many other scenery improvements. By Robert Catherall
Posted Mar 30, 2018 01:12 by uploader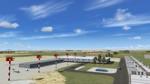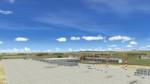 9.34Mb (207 downloads)
P3D V4 Erbil International Airport-ORER. Erbil International Airport (IATA: EBL, ICAO: ORER), is the main airport of the city of Erbil in Iraqi Kurdistan. The airport has facilities for both cargo and passengers. The airport was built at the beginning of the 1970s as an Iraqi military base (Z16J). The airstrip was used as a military base until 1991. On 26 May 2005, the airport was given the ICAO airport code, ORER. The new airport is next to the old airport (Z16J) and has one of the world's longest runways, 4,800 m × 75 m (15,748 ft × 246 ft) and is equipped for ILS CAT II operations. This Airport is not included in P3Dv4, it is AI ready and has some small, medium airliner,cargo and GA parking space. This airport uses stoke library objects and does not need any 3rd party object library. By MAK.
Posted Mar 29, 2018 02:53 by mak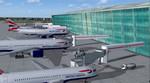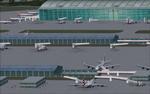 5.84Mb (2928 downloads)
London Heathrow Terminal 5 FSX scenery. This Scenery for london Heathrow Airport contains realistic renditions of terminal 5A, 5B, and 5C, as well as the new control tower. Also features the "HSBC" jetways found at the real Heathrow airport. Works well with the Project Airbus A32X series and the world-of-ai British Airways Traffic (and other airlines too). By Dr. Macouglious
Posted Mar 23, 2018 05:17 by uploader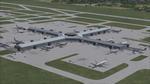 2.06Mb (547 downloads)
WMKK - Kuala Lumpur Intl Airport, Malaysia. This is Ray Smith's 'FSX_wmkk_rs' file. Ray has given me permission to update this file and make it available for Prepar3Dv4. This file has not been tested in previous versions of Prepar. Runway 15/33 added with ILS and transitions also included for it, KLIA2 terminal included with the Main terminal and Satellite A terminal completely rebuilt, assigned parking as per their website with extra parking, five gates added for the A380, the old Low cost carrier terminal (LCCT) now the East cargo apron, lighted helipad with a start location, taxiways and taxi signs updated to the latest charts, drainage canals added, extra fuel trucks, support vehicle roads rebuilt, fuel tank farm and many other scenery improvements, airport views are from inside the new control tower west (when in tower view) please view the readme before installation. By Robert Catherall
Posted Mar 23, 2018 03:33 by uploader