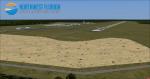 75.73Mb (605 downloads)
This scenery mod will add the new Northwest Florida Beaches Airport in Panama City Florida. Identifier KECP. This airport is not present in the default FSX or P3D scenery since it was not opened until 2012. This scenery features a custom modeled terminal, FBO, Cargo Building, and Tower. Custom GP textures are used to enhance the taxiway layout. I also include the current approaches so you can load them into the default GPS, The airspace around ECP has also been added, and correct ATC frequencies are used. I've also included AFCADS for other airports around Panama city including adding 4 Heliports, updating 2 seaplane bases, updating the AFCAD for Tyndall Airbase, and lastly adding the Tyndall Drone Airfield. This scenery is self contained with no additional downloads required.
Posted May 18, 2018 02:07 by CountryFlyboy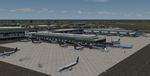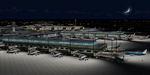 2.44Mb (1157 downloads)
LIRF - Fiumicino Intl Airport, Rome, Italy. This is Ray Smith's FSX file. Ray has given me permission to modify his file for P3Dv4. This is a very accurate version of Fiumicino International Airport with two optional files, one file with the Crosswind runway activated and in full operation, where all 3 runways will be used for takeoff/landing and one file as the default airport runway operation. Runway 16C/34C is closed and now taxiway "D". Although 16C/34C is still used under certain visibility conditions P3Dv4 will only allow one or the other. Assigned parking as per their website with extra parking including gates for the A380. The new Terminal 3 expansion added. Gates/parking now numbered in the correct order. All ILS approaches, taxiways and taxi signs updated and corrected to the latest charts. Extra fuel trucks, support vehicle roads rebuilt and many other scenery improvements and objects added. by Robert Catherall
Posted May 16, 2018 02:26 by uploader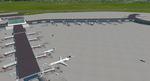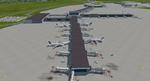 6.02Mb (441 downloads)
Cleveland Ohio Hopkins International Airport for P3D. Originally created for FSX, this airport has been converted to work in P3D. Several improvements have been made to the default airport. The default terminal buildings have been replaced with buildings created in FSDS; aircraft gates have been correctly coded using Airport Design Editor 1.76.6582; a new airport vehicle network has been built; extra fuel trucks have been added throughout the airport; the tower view has been changed to display from the roof of the control tower; all taxiway designators are correct and all taxiway signs are correctly placed and named; there is the option to open all runways to AI traffic; the FedEx and UPS cargo areas are modeled, as well as the Expressjet maintenance area; and Jim Dhaenen's excellent ramp lights are also included. Please refer to the README FIRST.txt file to insure proper installation of all files
Posted May 13, 2018 02:14 by uploader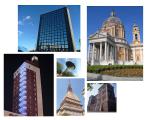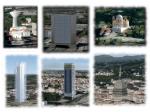 3.17Mb (307 downloads)
This file integrates the visual traffic of Edoardo Agnelli LIMA airport of Torino Aeritalia.
Posted May 9, 2018 12:10 by Senior Commander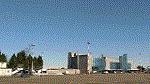 59.62Mb (339 downloads)
Cuneo International Airport, Italy. As for all additional Prepar3D airports, install it by creating the Addon Scenery folder where Levaldigi 2018 should be copied. It is then necessary to activate it from the appropriate library. In addition, the files in the Effects folder must be copied (if not already present) in the simulator one. I would like to thank VicDabor and FG91X of the FSX Blog for their precious collaboration in realizing the transparency of the windows and the trees that surround the hangar area. For those who use it with the default background in the Photoreal folder is the file Area_Lp0_SnapLOD13.bgl that eliminates the annoying autogen of houses and trees that sprout on the squares and in the surrounding meadows. In the Static folder there are a 737 Ryanair and an AB139 of the 118 that weight the frame rate and are recommended only for performing PCs.
Posted May 9, 2018 01:40 by Senior Commander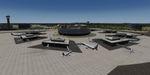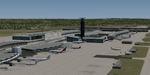 3.28Mb (1116 downloads)
LFPG - Charles-De-Gaulle Intl Airport, Paris, France. This is Ray Smith's FSX file. Ray has given me permission to modify his file for P3Dv4. This is an accurate and up-to-date version of Charles De Gaulle Intl Airport. All terminals and jetways now updated, assigned parking as per their website with extra parking including many gates for the A380. Taxiways and taxi signs updated to the latest charts plus approaches updated where needed. Extra fuel trucks added and the strangely textured building at the south cargo apron N has now been replaced. Support vehicle roads rebuilt and many other scenery improvements and objects added. By Robert Catherall
Posted May 6, 2018 08:39 by uploader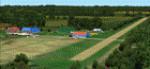 24.08Mb (311 downloads)
FSX/P3Dv3 scenery Oelgod airfield EKOF. The small airfield EKOF are placed close to center part of Jutland in Denmark. A photoreal scenery, with some challenge in starts and landings, because of the runway is surrounded of big trees. Animated windsock, but only in FSX. By Otto Knudsen.
Posted May 1, 2018 16:26 by Otto Knudsen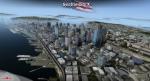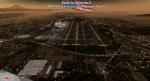 90.14Mb (3148 downloads)
Seattle X Demo features an extremely detailed scenery of large area of Seattle, USA, fully compatible with FSX, FSX SE, P3D v1/v2/v3/v4 and FSW by Dovetail. Updated from previous version. With Seattle X you are free to fly to any of 5 airports: KSEA Tacoma, KPAE Paine Field, KBFI Boeing Field, KRNT Renton, S50 Auburn, admire some of the world-renowned landmarks, bridges, harbours, heliports, seaplane bases, ships, etc. This Demo version features both - the City and the Airports packages (commercial poducts) and includes some downtown buildings as well as all airports with terminals but with low resolution textures, non-animated jetways and generally much less details. This ensures no problems with online (VATSIM, IVAO and multiplayer) flying in case some users have the payware scenery and some don't. It's equipped with an automatic installer, which means that the scenery will be automatically added to the Flight Simulator Scenery Library. Please uninstall all previous versions of the above-mentioned airports you may have installed before. Please make also sure that no duplicated AFCAD files are installed. Enjoy your virtual flying with Drzewiecki Design!
Posted May 1, 2018 09:08 by Drzewiecki Design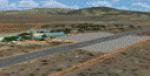 52.33Mb (261 downloads)
FSX-P3Dv3 Photo real scenery of Roodewal shooting range in the north east of South Africa, made after a request from Willie a flight-simmer from down there. Includes some animated/moving targets and an airfield.
Posted Apr 30, 2018 06:53 by Otto Knudsen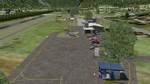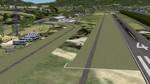 3.52Mb (128 downloads)
P3D V4 Flugplatz Reutte-Hofen-LOIR, Germany. Reutte-Hofen Airport (German: Flugplatz Reutte-Hofen, ICAO: LOIR) is a private use airport located near Reutte, Tyrol, Austria. beautiful and challenging VFR flying area. This Airport is not included in P3Dv4, 2 small GA parking spots, 1 fuel parking spot and 1 helipad. This airport uses stoke library objects. No night operation. Charts and airport plan included. By Mak
Posted Apr 28, 2018 05:47 by uploader