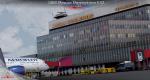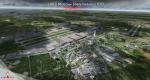 53.50Mb (424 downloads)
!!! Please remove the old outdated version of this FSX/P3D scenery from your library !!! UUEE MOSCOW SHEREMETYEVO X V2 DEMO is a new scenery of UUEE Sheremetyevo airport in Moscow, Russia, fully compatible with FSX/FSX:SE/P3Dv1/P3Dv2/P3Dv3/P3Dv4. This product is a fully functional DEMO version of the commercial payware product. Most objects are modelled as in the full version but covered with low resolution textures, non-animated jetways and generally much less details. Using this free demo ensures no problems with online (VATSIM, IVAO, multiplayer etc.) flying in case some users use the payware scenery and some don't. Sheremetyevo International Airport (SVO/UUEE) is an international airport located in Khimki, Moscow Oblast.Sheremetyevo serves as the main hub for Russian flag carrier Aeroflot and its branch Rossiya Airlines, Nordwind Airlines or Ural Airlines. The product is equipped with an automatic installer, which means that the scenery will be automatically added to the Flight Simulator Scenery Library. Please uninstall all previous versions of this airport you may have installed before. Please also make sure that no duplicated AFCAD files are installed. Enjoy your virtual flying with Drzewiecki Design!
Posted Nov 2, 2019 08:49 by Drzewiecki Design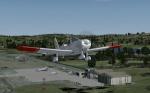 219.80Mb (88 downloads)
Unst Airport (EGPW) also called Baltasound Airport is an unlicensed airfield near Baltasound, on the island of Unst, Shetland Islands, Scotland. The airfield has effectively been mothballed since 1996 and is now only used by the emergency services. Unst Airport is the most northerly airfield in the United Kingdom. This scenery is designed and intended for P3Dv4 only. It may work in earlier versions, including FSX, but this has not been tested and no support is offered for earlier version of the platform. Andy Kewley
Posted Oct 30, 2019 03:00 by uploader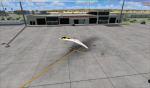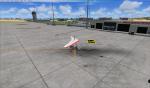 17.78Mb (364 downloads)
Sirnak Airport LTCV in the southeast of Turkey. Sirnak Airport LTCV opened 2013. Added to before version orginal Main Terminal, ARFF Rescue Buildings, Tower and other builgings. All of the Main Terminal, tower and other buildings model have been designed using Sketcup 2018. ADE has been used parking, aprons and taxiway and taxi sign and some objects. This also places a few objects from the default FSX scenery library. Compiled using Airport Design Editor. LTCV 2019V2. By Hakan DAGHAN
Posted Oct 25, 2019 10:21 by Hakan DAGHAN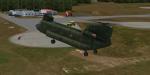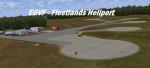 22.47Mb (278 downloads)
FSX/P3D EGVF Fleetlands Heliport. EGVF Fleetlands Heliport in Hampshire, England. A few miles to the north east of Lee On Solent airfield. It is on the side of Fleetlands, the company who helps maintain and service RAF/RN/AAC helicopters. It is also used for practice landings for various helicopters crews. Only a small release, however still contains custom buildings and includes ground equipment! Made for and tested in FSX and P3D. Works with Orbx and Photo Scenery alike. By MSPG Simulations
Posted Oct 13, 2019 01:04 by uploader
14.92Mb (104 downloads)
This is just a bugfix for my ENFG scenery wich eliminates an issue with crashing on the apron if the crash detection is activated. This bugfix works in FSX and P3DV4.
Posted Oct 9, 2019 02:11 by Wolfgang Allers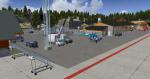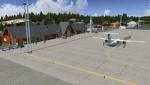 245.14Mb (240 downloads)
The airport ENFG is situated about 4 kilometers northeast of the city of Fagernes in the municipal of Nord-Aurdal, Oppland, about 120 miles northeast from Oslo. The altitude of ENFG is 822 m / 2,697 ft. The airport is very close to the imposant rocks of Jutunheimen. The senery has a photo background that covers all four seasons: spring, summer, autumn and winter. The surroundings are made via new landclasses which fit mostly the reality. Also all lakes and rivers are updated. The buildings in this scenery are mostly taken from the fantastic XPlane scenery made by Hans Kristian Braaten Olsen, who kindly gave me permission to use his buildings in this scenery. I prepared them for FSX and partly reworked them a bit.
Posted Oct 6, 2019 02:49 by Wolfgang Allers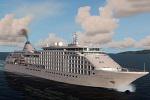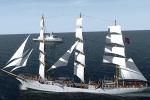 980.95Mb (2626 downloads)
This package contains almost 1100 AI ships and AI ship traffic routes for the entire globe for P3D and FSX. It is a stand-alone package comprising all my AI ship packages and fixes released until September 2019 and including around 250 new ships. The package includes cruise ships, ferries, container ships, oil tankers, bulk carriers, tall ships, fishing boats, destroyers, frigates, patrol boats, aircraft carriers, icebreakers and more. Many of the ships have helicopter platforms. You can land on all ships with an H painted on decks or hatches. Routes cover all mayor harbor cities including e.g. New York, Boston, Miami, Los Angeles, San Francisco, Vancouver, Seattle, Tokyo, Singapore, Hong Kong, Shanghai, Taoyuan, Manila, Jakarta, Sydney, Auckland, Ushuaia, Buenos Aires, Santos, Rio de Janeiro, Salvador, Panama, Chennai, Mumbai, Dubai, Cape Town, Lagos, Dakar, Las Palmas, Rotterdam, Amsterdam, London, Copenhagen, Aarhus, Gothenburg, Gibraltar, Barcelona, Istanbul, Marseille, Athens, Napoli, Bergen, Oslo, St. Petersburg, and many more. The package contains models, textures, and effects by Henrik Nielsen, Jean-Pierre Fillion, Erwin Welker, Knud Kristoffersen, Milton Shupe, Manfred Siedler, Bernardo Barroso, Paul Donnelly, Finn Kristoffer, Didier Puentes, Andrew Thomsen, Antonio Diaz, Sebastien Viale, Rick Keller, Alberto Garcia, Cxema, Gary Payne, Lazarus Starkweather, Pascal Dumat, Dave Garwood, and Robystar.
Posted Sep 20, 2019 15:25 by Henrik Nielsen

0.09Mb (121 downloads)
Ocean Springs Airport is a private, open to the public, airport in Ocean Springs, Mississippi. It features a 3,500' by 50' runway. Prior to Hurricane Katrina, 5R2 was an extremely busy GA airport with the FBO providing primary flight training. This package updates the default scenery to include taxiways, realistic position of the runways and adds realistic elements of the FBO.
Posted Sep 19, 2019 23:40 by Matt Walker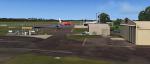 134.75Mb (299 downloads)
Detailed scenery of Ballina Byron Gateway Airport in NSW, Australia. Includes over 350 custom objects and 100 sq km of photoreal ground textures covering the airport, Ballina township and the surrounding area. Anthony Lynch
Posted Sep 13, 2019 04:36 by uploader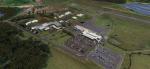 138.23Mb (307 downloads)
Detailed scenery of Ballina Byron Gateway Airport in NSW, Australia. Includes over 350 custom objects and 100 sq km of photoreal ground textures covering the airport, Ballina township and the surrounding area. Anthony Lynch
Posted Sep 13, 2019 04:09 by uploader