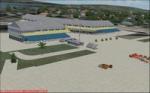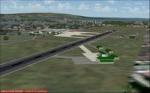 2.87Mb (841 downloads)
Port Blair scenery for FS2004. This scenery contains realistic scenery for Port Blair Airport VOPB, in Andaman Nicobar islands. Andaman Nicobar islands are located in Bay Of Bangal near Myanmar and Singapore. This airport handles Indian Airlines and Jet Airways Airbus A320,319 and 321s. Models made in gmax. I added tower and the base building, vehicles using EZ library so its default.
Posted Oct 3, 2010 11:19 by Anstin Antony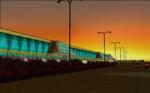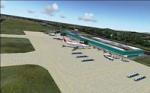 2.21Mb (1276 downloads)
Karipur-VOCL for FS2004. This contains the Airport of Calicut, Kerala, India Karipur is a new International airport in Kozhikode or Calicut. It handles planes to Middle East and Domestic. This file contains the real airport. Requieres South India Mesh and EZ library for small objects to show up Terminal made in gmax and small objects added with EZ. There may be an update coming next.
Posted Oct 3, 2010 10:25 by Anstin Antony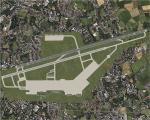 3.12Mb (1800 downloads)
Sofia Airport in Bulgaria created for FS2004. By Emil Baruhov
Posted Sep 26, 2010 09:08 by Emil Baruhov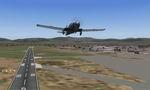 0.31Mb (1333 downloads)
FS2004 Naples Italy - Capodichino LIRN Update of Naples Capodichino airport, LIRN. Expanded ramp area and added highspeed taxiway on southwest side of the airport. Repaired some taxiway surface that was missing.
Posted Sep 23, 2010 08:44 by R.E. Wyman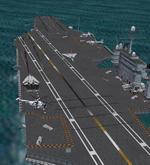 5.85Mb (28271 downloads)
This package is an update of the 18 ArrestorCable Nimitz Class aircraft carriers by Javier Fernandez & Richard Hogan, with all new Afcad runways and NAV aides as well as AI aircraft traffic files, plus, the "Sinking Carrier Deck Fix". For clearest Instructions see the "Carriers 2006 Instructions.doc" Compiled by R.A.[Lightning]Baum.
Posted Sep 21, 2010 12:41 by archive
0.00Mb (566 downloads)
Branson Airport KBBG for FS9--ILS Fix/Added Approaches Modified AFCAD for Branson_airport_project_FS9.zip that includes all 3 of the published approaches, terminal waypoints, and missed approach code, and corrects the magnetic deviation of the ILS. Thank you to Bruce Nicholson for providing the updated code. Simply overwrite the old AFCAD with 6_KBBG_Branson_Airport_AFCAD_ADE9.BGL. Carlyle Sharpe
Posted Sep 2, 2010 05:25 by Carlyle Sharpe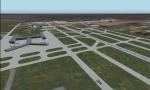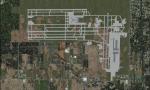 0.18Mb (2668 downloads)
Updates to KMEM include Runway 36-R, increased GA ramp space near the FBO, and the correct tower viewpoint. A much needed taxiway link was repaired so that AI aircraft will now taxi to the runway instead of getting stuck and disappearing. Updated in AFCAD by R.E. Wyman.
Posted Aug 29, 2010 02:54 by R.E. Wyman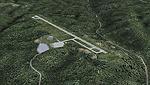 3.23Mb (1203 downloads)
FS2004 Branson Airport (KBBG), Branson, Missouri (MO). This project adds a new Branson Airport, which opened in May 2009, and is a privately developed commercial airport. The construction of the airport, which involved the flattening of several Ozark Mountains, is claimed to be the largest earthmoving project in Missouri history. As a result, the airport actually sits on a manmade plateau, surrounded by rolling hills. The airport uses the ICAO identifier BBG, however, the airlines use the IATA code BKG. By Carlyle Sharpe.
Posted Aug 26, 2010 10:24 by Carlyle Sharpe
8.54Mb (3834 downloads)
If you are like us and like the default skins, but annoyed by the lack of planes. Then you will like this little add-on. This adds the Boeing 757-200 World Travel, Landmark Boeing 767-200, A340-600 World Travel, Boeing 777-300 American Pacific, Boeing 747-400 American Pacific, Boeing 747-400 Pacifica and the McDonnell Douglas MD-11 Pacifica. This package has 5521 airports, 7 aircraft, 1770 Flightplans and 3540 legs. ###Credits: Ai traffic: Lolax-Team (Us) 757-200 Plane: Mike Stone Pacifica 747-400 Skin: Joshua Robertson American Pacific 777-300 Skin: Don Brynelsen Airbus A340-600 Plane: FS Painter World Travel A340-600 skin: Bart Denny Landmark 767-200 Plane and skin: Project Opensky McDonnell Douglas MD-11 Plane: Mike Stone Pacifica MD-11 Skin: Bart Denny Thanks for downloading and hope you like it Visit our website Lolax-Team
Posted Aug 25, 2010 04:10 by Lolax-Team
6.97Mb (1629 downloads)
Lolax-Team (Default airlines) AI traffic 1.0 If you are like us and like the default skins, but annoyed by the lack of planes. Then you will like this little add-on. This adds the Boeing 757-200 World Travel, Landmark Boeing 767-200, A340-600 World Travel, Boeing 777-300 American Pacific, Boeing 747-400 American Pacific and the Boeing 747-400 Pacifica. This package has 5521 airports, 6 aircraft, 1407 Flightplans and 2814 legs. ###Credits: Ai traffic: Lolax-Team (Us) 757-200 Plane: Mike Stone Pacifica 747-400 Skin: Joshua Robertson American Pacific 777-300 Skin: Don Brynelsen Airbus A340-600 Plane: FS Painter World Travel A340-600 skin: Bart Denny Landmark 767-200 Plane and skin: Project Opensky Thanks for downloading and hope you like it Visit our website Lolax-Team
Posted Aug 23, 2010 08:43 by Lolax-Team