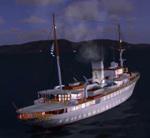 5.16Mb (76 downloads)
Update for Limnos Ifestos Airport LGLM Boats, ships and sea traffic. They are 2 static and 6 moving ships in the scenery of Limnos. This update adds moving AI ships to the scenery. These are the Diagoras ferry, the Afroditi yacht, the commercial achilles, the tourist limnosexpress, the small limnos ferry and a coastguard boat. Static ships in the Gulf of Moudros are a Hydra-class frigate and a Super Vita missile boat.
Posted Mar 21, 2023 06:05 by Vangelis Vasilias
1.33Mb (49 downloads)
the lglm Limnos airport_Addition, add the contents of the scenery and texture folders to the corresponding Limnos airport scenery folders. They correspond to 2 Canadair firefighting aircraft parked next to the runway, an AI helicopter moving parallel to the runway and artificial runway landing lights.
Posted Mar 19, 2023 10:15 by Vangelis Vasilias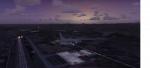 507.76Mb (132 downloads)
LEMNOS Historical Review Lemnos (or Limnos) is a Greek island, since ancient times, with a pure Greek population. Due to the old volcanic activity, it was considered as the island of Hephaestus, the god of Fire. According to mythology, Zeus in a dispute with Hera threw his son Hephaestus from Olympus to the land of Lemnos. Hephaestus set up his workshop there and taught the art of metallurgy to the inhabitants of the island. The lglm Limnos airport scenery was made over a period of 5 years and includes multiple moving parts, such as AI vehicles, moving people, night effects, air and sea traffic. Google earth was widely used for the 3D representation and the depiction of reality contains many fantastic additions to the airport and the surrounding area. An atmospheric scenery was created to provide a realistic flying experience in FSX. You can also find a video of scenery capabilities in youtube: https://youtu.be/y8q0dL5wb3Q
Posted Mar 16, 2023 03:18 by Vangelis Vasilias
13.73Mb (151 downloads)
What if the Flushing Airport in Queens, NYC would have never closed in 1984? What if it stayed open and became an alternative general aviation airport for LGA and JFK, while housing a small US Air National Guard substation for NYC? I even imagined HONDA JET having a maintenance facility here. You'll also notice the new high-rise apartments and office buildings along with shopping malls that are really there in the Flushing area where the airport used to be. Furthermore, you'll notice a few old hangars and an old aircraft from the original Flushing Airport. Have fun exploring the world of, "what if..."
Posted Jan 25, 2023 20:06 by MGI MEDIA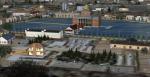 100.35Mb (178 downloads)
well it starts as always, i can't find any usable freeware airport in this case for the LHSM Balaton so I'll build it myself again............... well what can i say here it is after a lot of work as real as possible with a lot of details with the Default scenery built .......... So fly to Lake Balaton with an Airbus A321 or a Boeing 737, of course There you change to a heli or a smaller plane and see each other on the premises at...... Installation: copy the folder LHSM Balaton Scenery into the addon folder of the FSX, start the FSX go to settings, scenery library , add area, press ok , after that you can already start............ Extras: to be able to see people I deliver the file 3DPeoble_Lib with you can also put it in the Copy the addon folder and activate it in FSX as described during installation and you'll see you people.............. the same applies to extra vehicles and extra buildings with the supplied files ObjLib-Large-Car-Parking-FSX and you'll see more vehicles........... PKP file for trains........... EZ Scenery object files for extra buildings ! Balaton building ! Danger ! You don't need these files if you already have them. ! Extra sweets: I am attaching the Airport AI Enhancer program especially for the LHSM so you can create your own AI traffic.......... More about it on my Youtube channel https://www.youtube.com/channel/UC7vHXQMa3hhU2iGtODXlkHw/videos Support: Questions and help on my Youtube channel or by email to jam_aika@hotmail.de And now have fun at Lake Balaton jamaica
Posted Jan 12, 2023 02:07 by Wagner Ewald alias Jamaika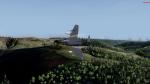 2.25Mb (220 downloads)
A series of markers around the famous "Mach Loop" in Wales to help sim flyers find and fly the route. The Mach Loop is a series of valleys in the United Kingdom in west-central Wales, notable for their use as low-level training areas for fast aircraft. The system of valleys lies 13 km (8 mi) east of Barmouth between the towns of Dolgellau to the north and Machynlleth to the south, from the latter of which it takes its name. It is usually flown in an anti-clockwise direction. Author: ======= Peter J Forster (C) Warbird Warrior 2022
Posted Oct 10, 2022 09:00 by Peter J Forster
57.89Mb (208 downloads)
Are Ostersund Airport (ESNZ), Sweden, previously known as Ostersund–Froson Airport (ESPC) This scenary was only tested on P3Dv4.5. Should work in other P3D and maybe FSX.
Posted Sep 29, 2022 01:40 by Eduardo Puelker
109.12Mb (288 downloads)
LERT US Naval Air Station and Base, Rota, Spain Extensive PhotoReal backgrounds for the air base, naval base, civilian harbor, old town. Coded for MAIW packages. Custom buildings, hangars, some with interiors and night lighting. Static and moving AI models built (with hardened landing platforms) of several US navy combat ships. By Dan French
Posted Sep 28, 2022 02:55 by Dan GFrench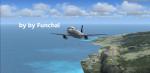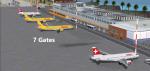 71.45Mb (668 downloads)
FSX-LPMA-Madeira-Funchal Airport well it starts as always, i can't find any usable freeware airport in this case for the LPMA Madeira Funchal so I'll build it myself again...............well what can i say here it is after a lot of work as real as possible with a lot of details with the Default scenery built ..........So fly to Madeira with an Airbus A321 or a Boeing 737, of course There youchange to a heli or a smaller plane and see each other on the premises at...... Installation:copy the folder LPMA-Madeira Scenery into the addon folder of the FSX, start the FSX go to settings, scenery library , add area, press ok , after that you can already start............ Extras: to be able to see people I deliver the file 3DPeoble_Lib with you can also put it in the Copy the addon folder and activate it in FSX as described during installation and you'll see you people.............. the same applies to extra vehicles and extra buildings with the supplied files ObjLib-Large-Car-Parking-FSX and you'll see more vehicles........... Airport_Restaurants_ss_fsx.BGL + RCS_Cobus3000.BGL ! You don't need these extras if you already have them! Extra bonus: especially for the LPMA-Madeira, I'm adding the Airport AI Enhancer program so that you can create your own AI traffic......... more about it on my Youtube channel https://www.youtube.com/channel/UC7vHXQMa3hhU2iGtODXlkHw/videos Support: Questions and help on my Youtube channel or by email to jam_aika@hotmail.de now have fun in Madeira Funschal Jamaika
Posted Sep 18, 2022 02:58 by Ewald Wagner alias Jamaika
189.73Mb (368 downloads)
FSX/P3D Cebu-RPVM. Mactan–Cebu International Airport is the second busiest international airport in the Philippines. It is located in the city of Lapu-Lapu on Mactan, a part of Metro Cebu and serves the Central Visayas region. By Daniel Miller
Posted Aug 22, 2022 23:08 by Daniel Miller