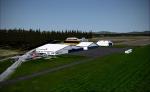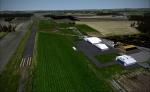 124.63Mb (315 downloads)
A freeware scenery of the Norwegian airfield Jarlsberg. The scenery includes photoreal ground, custom ground poly, and custom 3D buildings. Seasons included. Marius Risan
Posted Aug 31, 2019 04:31 by uploader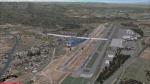 21.46Mb (332 downloads)
This is the new KAVL, Asheville Regional Airport. Runway 34-16 has been closed for upgrade and a temporary runway 35-17 has been opened in the meantime. Photoreal textures for day night and snow are included.
Posted Aug 30, 2019 04:01 by D Goldsmith
299.98Mb (397 downloads)
These are actually two sceneries offered in one pack. I started building the small airport of Mesolonghi in Western Greece. When nearing completion, I thought that FS was really missing the big suspension Bridge that connects mainland Greece with Peloponese that was finished in 2004, being the biggest in the world of the fully suspended type. The bridge project turned out bigger than the airport as I ended up doing the typical, Greek-style double ended ferries that served the straights for decades before the bridge and still offer a cheaper and, to some, more relaxing alternative. Mesolonghi airport is situated 5 kilometers east of the historic city of Mesolonghi and is close to the technical school of fisheries. There is no ICAO code (ZZZZ) so I had to give it the fictional LGME in the sim. A purely day field, it houses the local Aeroclub and ultralight school. due to its small size and hospitable atmoshpere, it is a popular GA pilots destination, receiving also often international arrivals. The runway is asphalt and 800m (2635') in length. No PAPI or VASI are provided. There is no tower service and unicom frequency of 119.7MHz is used by the traffic. Closest controlled airport is Araxos (LGRX), a civil and military field, quite common in Greece, 12.5 nautical miles S-SE. The nearby city of Mesolonghi is famous for its heroic resistance and fall in 1826 during the Greek war of indepence. It is also famous for its fishery production, due to the natural lagoon, formed by the shallow waters. Features of the Mesolonghi airport scenery include: - Photoreal area with seasonal variations and watermask. - Custom hangars and containerised buidings. - AI default trike performing TnGs (in P3D it will work only if you copy over the FSX trike). - The technical shool of fisheries on the north side. - Customized shorelines, to fit with ORBX Global Vector. - Optional shoreline fix for default scenery. Vassilios Dimoulas
Posted Aug 29, 2019 09:27 by uploader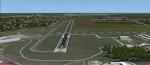 7.20Mb (226 downloads)
KBWG, Bowling Green-Warren County Regional Airport, Kentucky USA, scenery for FSX. An ADE upgrade of the FSX stock airport with photoreal background. Tested in FSX but may also work for P3D. Tim van Ringen
Posted Aug 28, 2019 03:43 by uploader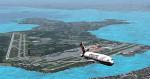 16.36Mb (805 downloads)
SBGL, Rio De Janeiro Galeao Airport, Brazil, scenery for FSX. An ADE upgrade of the FSX stock airport, now with a photoreal airport background and made more lively. Also downscaled a few buildings that ware too big i.m.h.o. Tested only in FSX but may also work in P3D. Tim van Ringen
Posted Aug 28, 2019 03:43 by uploader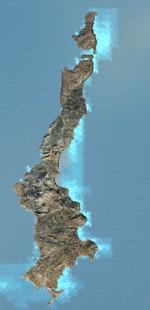 150.93Mb (353 downloads)
Greece - Karpathos photoreal scenery for FSX. Day & Night. Karpathos, also Carpathos, is the second largest of the Greek Dodecanese islands, in the southeastern Aegean Sea. Dimitris Ntaskas
Posted Aug 27, 2019 05:02 by uploader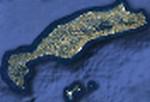 124.77Mb (310 downloads)
Greece - Kos photoreal scenery for FSX. Day & Night. Kos, one of Greeceís Dodecanese islands, is known for its abundant sandy beaches. Itís also rich with Greek and Roman landmarks, particularly in and around Kos Town. Dimitris Ntaskas
Posted Aug 27, 2019 04:58 by uploader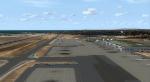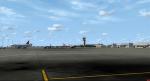 4.74Mb (494 downloads)
Completely new setup with photoreal background, done with SBuilder and ADE. Faro Airport or Algarve Airport is located at the south of Portugal. It is mainly used from March to October for tourist flights. By Tim Van Ringen
Posted Aug 27, 2019 04:12 by uploader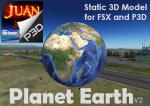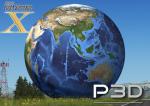 8.72Mb (402 downloads)
ADVICE: BACK UP original files in case you do not like these textures!!! Planet Earth's static 3D model V2 - by juan30005 for: Flight Simulator X & Prepar3D. This package contains the model of Planet Earth and texture high quality 4096 x 2048 px this version v2 includes textures bump and spec. FSX install model: copy content. ..\Microsoft Flight Simulator X\Addon Scenery\ scenery and texture. ----------------- add the model to scenery with: Object Placement Tool , save scenery file (.xml) agrega el modelo al escenario usando: Object Placement Tool compila en bgl con "BGL Compiler SDK". P3D install model: copy content. ..\Prepar3D v4\Scenery\Global\ scenery and texture. Add the model to scenery with: SimDirector, or you can also use Object Placement Tool and then pass it to P3D. Watch this video, this teaches you how to add the models of the scenery Tutorial FSX: efectos y object placement tool https://youtu.be/W1KCvqQja4Y.
Posted Aug 25, 2019 16:30 by juan30005
25.14Mb (158 downloads)
"KOPAIDA" airfield for FSX SP2/Accel/P3D. by Vassilios Dimoulas "Kopaida" airfield is a grass private strip, 105km NW of Athens located in the Kopaida drained lake plains between the towns of Aliartos, Kastro and Orchomenos and west of Yliki lake. It is a pure general aviation field and a hub of activity for numerous sport planes, gliders and motor gliders. The field includes a small tower and canteen and several owners of GA arcraft house them in the roomy hangar and also keep a mobile home or RV in the premises. Recently the Greek Free Fall Club (GFFC) operated from the field, using it also as a target drop zone for skydivers, using a Pilatus Turbo Porter based on the field. Unfortunately, very recent news say that the GFFC has ceased its operations indefinitely.
Posted Aug 25, 2019 00:21 by uploader