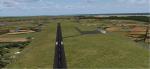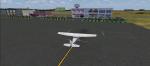 4.62Mb (173 downloads)
This is Pemba/Karume Airport in Zanzibar Archipelago located on Pemba Island (Tanzania).
Posted Dec 20, 2018 05:42 by Omar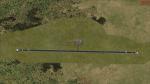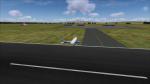 0.00Mb (126 downloads)
This is Songwe Airport in Tanzania. Is an airport in the southern highland region of Tanzania, serving the city of Mbeya and the surrounding Mbeya Region.
Posted Dec 20, 2018 05:25 by Omar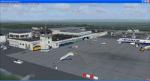 54.26Mb (840 downloads)
Ireland EIKN Knock Airport. Ireland West Airport Knock is a small international airport located in the west of Ireland. Ryanair, and AerLingus are the main carriers, serving routes within Ireland, the UK and 'beyond'. The runway is 7,500 long and has landed 747's in comfort. Passenger numbers amounted to almost 600,000 in 2010. The area is incredibly scenic with nearest airports at EISG Sligo and EICM Galway. For added realism, visibility should be set to between 10 and 20 miles with cloud cover down to 2,500 feet and it rains two days in every three. It faces the atlantic ocean, so it is also very windy, or download real world weather. The airport and scenery has been designed to work with VFR Photographic Scenery Volume 10. This scenery is a little too green so I find it best to fly at dawn or dusk. I would also recommend downloading my Ireland Static Object Library from Simviation which adds further objects, such as, fencing, gates, fuel trucks, etc. George keogh
Posted Dec 19, 2018 06:08 by Nic Neveu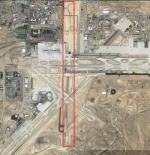 0.17Mb (234 downloads)
Albuquerque KABQ, New Mexico, AFCAD update for stock FSX airport. R17-35 removed. Txwy A4, B4, E4 added. Taxiway signs adjusted/added as needed. For use with the FSX stock version of KABQ ONLY. Do not use if you have any add on KABQ scenery installed. Sydney Schwartz
Posted Dec 19, 2018 05:51 by uploader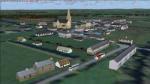 29.74Mb (543 downloads)
Ireland Static Objects Library. A collection of objects mostly appropriate to Irish Scenery. The buildings contain a collection of shops, pubs, banks and churches all typical of the type of buildings found throughout Ireland. You will also find many house types both old and new, including bungalows, farmhouses, detached, terraced and semi detached, with and without chimneys. Vehicles include buses of the main carriers Bus Eireann and a private carrier. Minor variations are included, low poly for distance and detailed for close up. These can be placed at and near airports and show AIRPORT in the front window. The fuel truck is of the larger aviation type. Some of the models include full specular shine with glass reflections. Airport objects include barriers, fencing, and gates. Although boundary fencing can be placed using the marvellous Airport Design Editor, it is nice to be able to place gates and small fill-in fencing for small gaps or for railing off small objects. Catering trucks include Gate Gourmet and Sky Chefs, raised and lowered. Other items include runway cones and lights, fuselage ladders, suitcases and a BP oil tank. The objects were designed to be used with VFR photographic scenery, which is unfortunately like a desert at low altitudes. The poly count has been kept as low as possible so that many objects can be placed in or around Irish Airports. To improve frame rates the textures can also be reduced in size, quality will suffer slightly but not very noticeable when viewed from a distance. George Keogh
Posted Dec 19, 2018 00:02 by Nic Neveu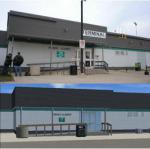 5.44Mb (280 downloads)
CYPA Prince Albert (Grass Field), Saskatchewan, Canada, for FSX. Completely re-done. Based on Google Earth and whatever photos I could find. Installation: Unzip Prince Albert CYPA.zip. Move the entire folder Prince Albert CYPA into your FSX/ADDON SCENERY folder and add it to your FSX Scenery Library list. By Sidney Schwartz
Posted Dec 18, 2018 11:19 by uploader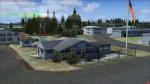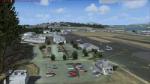 66.13Mb (856 downloads)
KFHR Friday Harbor Airport, Washington State, Photorealistic. This Scenery consists of the FSX default airport of Friday Harbor, set on photorealistic terrain. Although the scenery has been compiled with night masks, night terrain has been excluded to reduce the file size. It has been designed for Megasceneryearth photoreailtic scenery of the San Juan Islands but will also work with the default terrain. Seasonal variations are not included. The main scenery file has been subdivided into several smaller files, which can be switched off according to user preference. Full night textures are included with wash lighting in the terminal and carpark areas. All buildings have been custom modelled using real photographs, and include open hangers with interiors. Next to the fuel station you will find Ernie's Cafe, much loved by resident and visiting pilots. Close to the airport you will find US style houses modelled on real photographs from the San Juan island. Surfaced airport taxiways and aprons have been kept to a minimum to allow the photoreal textures to show through. The scenery also includes sound effects and high definition people, these can be switched off if they place too much strain on your system. Please enjoy, and I hope you like my scenery as much as I enjoyed making it. George Keogh
Posted Dec 18, 2018 05:30 by Nic Neveu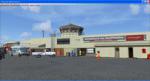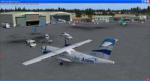 77.92Mb (601 downloads)
Ireland EICM Galway Airport, Connemara, and the Aran Islands. Galway Airport is a small regional airport on the West coast of Ireland, further west can be found the three Aran Islands of Inisheer, Inshmaan and Inishmore. In the Irish language Inish means Island, 'eer' is a corruption of the Irish word 'oirr' meaning east. Similarly 'more' means big or large and 'maan' means middle. So a direct translation means Big Island, Middle Island and Eastern Island. Directly across from Inishmore and on the mainland is Connemara which boasts the shortest scheduled airline service in the world, where Aer Arann serves the aran islands on a daily basis. They use Britten Norman BN2 Islanders, which are perfect for stol airstrips. From the 1st November 2011 Aer Arann ceased operations at EICM. Connemara made aviation history by being the landing spot for the first successful non stop crossing of the Atlantic, by Alcock and Brown in June of 1919. They crashlanded their converted Vickers Vimy bomber in a bog near Clifden, and were subsequently knighted by King George V. If you follow a south east heading from Inisheer you will see the world famous Cliffs of Moher, rising 700 vertical feet from the Atlantic. At their top I have included a model of O'Briens Castle which serves as a lookout point to 'the next Parish', which is New York. By George Keogh
Posted Dec 17, 2018 07:31 by Nic Neveu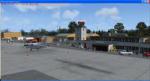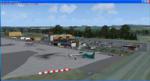 40.78Mb (540 downloads)
Ireland EIWF Waterford Airport Waterford Airport is a small regional airport situated in the South East of Ireland. Aer Arann is the main carrier serving destinations in Ireland, the UK and France. The airport also has a very active aero club. The airport also serves as a base for the SAR search and rescue Sikorsky S61n Highlights: I have included a map of the area with some local landmarks. The Great Island chimneys have lights and animated smoke, and are used by pilots for lining up with runway 21. Similarly the Spire of Holy Cross Church at Tramore is used to line up on runway 03. The sandhills to the south of the airport claimed the lives of 4 Aer Corps crewman when attempting a landing in heavy fog in 1999. To the East I have included Hook lighthouse which marks the entrance to Waterford Harbour. In the 17th Century Oliver Cromwell promised to '..take Waterford by Hook or by Crook.' A ferry now plies the passageway at Crook on a daily basis. North of the Airport I have modelled the new cable stay by-pass bridge which rises to 333 feet. To the south I have modelled the 5 columns which mark the entrance to Tramore bay, 3 stand on the western cliffs and 2 on the eastern side. I have also added some autogen buildings to Tramore town which is south west of the airport. George Keogh
Posted Dec 16, 2018 10:29 by Nic Neveu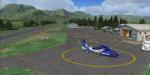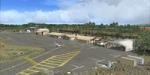 82.53Mb (847 downloads)
Hawaiian Airports Part 3. This scenery features the airports at Princeville, Port Allen, Waimea and Upolu. HI01-Princeville and PAK-Port Allen are located on the island of Kauai, the film location made famous by Stephen Spielberg's blockbuster, Jurrasic Park. PHMU-Waimea and PHUP-Upolu are located in the North West of Hawaii, also known as the Big Island. All runways, aprons, taxiways and buildings have been repositioned to their correct locations, and the scenery has been recreated based on photos of the real airports. The scenery features many animated objects including people, aircraft, animals, waves, cars, trucks and many more. Full night textures with light maps are included. All the scenery files have been sub-divided so they can be switched on or off according to user preference and hardware configuration. It has been designed for, and tested in DX9 and FSXA only. The airports include sloped flattens so they can also be used with high density mesh. This file also includes updates for Hawaiian Airports Part 2. Please enjoy, and I hope you like my scenery as much as I enjoyed building it. George Keogh
Posted Dec 15, 2018 05:27 by Nic Neveu