102.23Mb (901 downloads)
70 Colombian Airports for FSX. Airports included are: ACM (IATA Code), SK53,SKAG,SKAO (now SKMJ) SKAS, SKBC, SKBE, SKBM, SKBN, SKBQ, SKBS, SKBU, SKCA, SKCB, SKCI, SKCN, SKCR, SKCZ, SKEB, SKFE, SKFL, SKGA, SKGI, SKGY, SKHA, SKHC, SKIB, SKIM, SKIO, SKIR, SKLA, SKLB, SKLC, SKLP, SKLT, SKMF, SKMG, SKMO, SKMO, SKNA, SKNV, SKOE, SKOT, SKPA, SKPD, SKPI, SKPP, SKPV, SKPZ, SKQU, SKRI, SKSA, SKSF, SKSJ, SKSV, SKTB, SKTM, SKTQ, SKUA, SKUM, SKUR, SKVG, SLVP, SQFR, SQOA, SQPS, SQUJ, SQVZ, Z09A. These Colombian airports are largely based on my formerr FS9 colombian airports and adapted to FSX where required. I am using the FreeMesh X Global 1.0 from http://ninetwopro.com/ but most sceneries should work with also with the default or any other mesh. There is a problem with SKSJ and SLTQ: with the mesh scenery the rivers are at a much higher altitude than the surrounding ground; therefore those sceneries would be in a rather deep hole in the default scenery. But with the Airport Design Editor you can easily adjust the airport altitude to the default level.
Posted Jan 7, 2019 01:27 by uploader
0.07Mb (617 downloads)
I have always notice the FSX default military bases to be very simple without much detail or proper parking for military aircraft. FSX Airports included, PAFB Weinwright Army Air Field, Fairbanks Alaska, PAEI Eielson Air Force Base, Fairbanks, AS, PAGA Pitka (Galena AK), PABR Barrow, AK, PASC Deadhorse, AK, PAWD Seward, AK, PAMR Merrill Airport, Anchorage, AK, PASY Eareckson, Shemya AK. This group of BGL files includes some Alaska airports with one Army and one Air Force airport included. It is all redos of the default FSX airports being presented here. On some I have done scenery off base and all are designed for fun sim flying and not represtive of the actual bases/airports. I have done a lot of ai flight plans and have both fixed wing and rotary planes flying in to most airports I design.
Posted Jan 1, 2019 07:13 by Tim O
0.01Mb (122 downloads)
Brooksville-Tampa Bay Regional Airport fix. The Brooksville-Tampa Bay Regional Airport (KBKV) scenery uploaded to the library (brooksville_fl.zip) did not include the necessary file to change the airport name from "Hernando County". Download this additional file if you wish to have the name change. By: Art Poole
Posted Dec 28, 2018 06:24 by uploader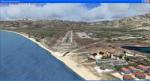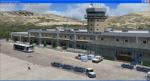 47.85Mb (1770 downloads)
LGSM Samos International Airport, Greece. The island of Samos lies in the Eastern Aegean and is a very popular tourist destination for flights from Berlin, Munich, Gatwick, Oslo, Copenhagen, Rome and many others. It is widely regarded as the most dangerous airport in Greece, mountaineous terrain requires a sharp right hand turn onto runway 09 and landings are invariably subject to strong turbulence. The airport has been designed to sit on the excellent photoreal scenery by Dimitris Ntaskas, which is available on Avsim and called 'samos_305814.zip'. It also uses many objects from my lgkf_kefallinia.zip scenery also available here. The scenery has been designed for and tested with DX9 and FSXA only, if used with the default terrain many objects will be misplaced. The scenery features a very detailed airport, repositioned according to satellite imagery and is based on real photographs. Full night lighting is included with washed lighting of the apron and carparks. The nearby town of Pythagorio has been modelled and includes some local landmarks. I have included many autogen style buildings based on photographs of Samos and also autogen trees native to the region. George Keogh
Posted Dec 20, 2018 05:59 by Nic Neveu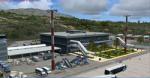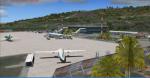 60.49Mb (1423 downloads)
The island of Kefalonia lies on the west coast of Greece. The nearest airports are LGZA Zakinthos, LGKR Kerkira, and LGPZ Preveza. During the tourist season the island is a very popular destination for flights from Frankfurt, Berlin, Gatwick, Rome and many others. The scenery has been created using real photographs where possible and has been repositioned in line with satellite imagery. It features many objects painted with Hellenic features and mediterranean vegetation. It also includes animated flags, windsocks, vehicles, aircrew and road traffic around the airport. George Keogh
Posted Dec 20, 2018 05:58 by Nic Neveu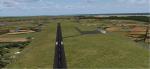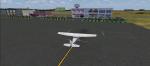 4.62Mb (179 downloads)
This is Pemba/Karume Airport in Zanzibar Archipelago located on Pemba Island (Tanzania).
Posted Dec 20, 2018 05:42 by Omar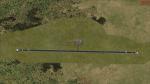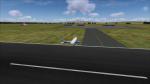 0.00Mb (136 downloads)
This is Songwe Airport in Tanzania. Is an airport in the southern highland region of Tanzania, serving the city of Mbeya and the surrounding Mbeya Region.
Posted Dec 20, 2018 05:25 by Omar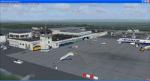 54.26Mb (870 downloads)
Ireland EIKN Knock Airport. Ireland West Airport Knock is a small international airport located in the west of Ireland. Ryanair, and AerLingus are the main carriers, serving routes within Ireland, the UK and 'beyond'. The runway is 7,500 long and has landed 747's in comfort. Passenger numbers amounted to almost 600,000 in 2010. The area is incredibly scenic with nearest airports at EISG Sligo and EICM Galway. For added realism, visibility should be set to between 10 and 20 miles with cloud cover down to 2,500 feet and it rains two days in every three. It faces the atlantic ocean, so it is also very windy, or download real world weather. The airport and scenery has been designed to work with VFR Photographic Scenery Volume 10. This scenery is a little too green so I find it best to fly at dawn or dusk. I would also recommend downloading my Ireland Static Object Library from Simviation which adds further objects, such as, fencing, gates, fuel trucks, etc. George keogh
Posted Dec 19, 2018 06:08 by Nic Neveu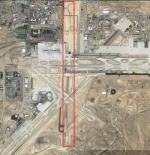 0.17Mb (241 downloads)
Albuquerque KABQ, New Mexico, AFCAD update for stock FSX airport. R17-35 removed. Txwy A4, B4, E4 added. Taxiway signs adjusted/added as needed. For use with the FSX stock version of KABQ ONLY. Do not use if you have any add on KABQ scenery installed. Sydney Schwartz
Posted Dec 19, 2018 05:51 by uploader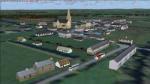 29.74Mb (564 downloads)
Ireland Static Objects Library. A collection of objects mostly appropriate to Irish Scenery. The buildings contain a collection of shops, pubs, banks and churches all typical of the type of buildings found throughout Ireland. You will also find many house types both old and new, including bungalows, farmhouses, detached, terraced and semi detached, with and without chimneys. Vehicles include buses of the main carriers Bus Eireann and a private carrier. Minor variations are included, low poly for distance and detailed for close up. These can be placed at and near airports and show AIRPORT in the front window. The fuel truck is of the larger aviation type. Some of the models include full specular shine with glass reflections. Airport objects include barriers, fencing, and gates. Although boundary fencing can be placed using the marvellous Airport Design Editor, it is nice to be able to place gates and small fill-in fencing for small gaps or for railing off small objects. Catering trucks include Gate Gourmet and Sky Chefs, raised and lowered. Other items include runway cones and lights, fuselage ladders, suitcases and a BP oil tank. The objects were designed to be used with VFR photographic scenery, which is unfortunately like a desert at low altitudes. The poly count has been kept as low as possible so that many objects can be placed in or around Irish Airports. To improve frame rates the textures can also be reduced in size, quality will suffer slightly but not very noticeable when viewed from a distance. George Keogh
Posted Dec 19, 2018 00:02 by Nic Neveu