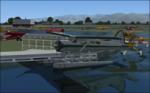 0.95Mb (2780 downloads)
Lake Hood, Alaska (LHD)-For FSX. This scenery improves LHD beyond what the default version. There are added hangers, animated floatplanes, docks, buildings, and land vehicles. This scenery must viewed with the scenery complexity slider set on 'very dense' to view the complete scenery. However it can be viewed with normal scenery complexity, but it will not have as complete. By Daniel Kemmer
Posted Jul 8, 2009 08:45 by Daniel Kemmer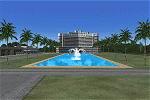 5.42Mb (3442 downloads)
FSX Acceleration Malibu California (CA) v4. This scenery area includes a 4000 foot runway and various helipads and surrounding hangars and buildings that make up the Aeroworks Flight Center 2 on top of a 1400 foot hill in Malibu, California. Also included is Malibu MotorSports, a recreational airpark and sport aircraft factory on the beach with a 2000 foot runway and a sea plane landing area marked with buoys for water operations as well as several new custom designed macros. This version also adds the factory "Test Track" for air racing as well as a slightly more urban land class texture to the eastern Malibu Lagoon area. Scenery and macros by Jason L. Terry and Joshua B. Nyhus.
Posted Jul 6, 2009 10:11 by Jason L. Terry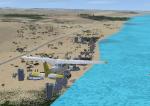 0.01Mb (1699 downloads)
Umhlanga Rocks is a popular holiday destination for South Africans. It is a located just north of Durban International Airport - FADN - (Durban, South Africa) and Virginia Airport - FAVG. Many small aircraft fly over the Umhlanga area on their final approach to Virginia Airport and commercial aircraft fly over this area too when making their approach to Durban International.
Posted Jul 4, 2009 16:39 by Greg Olfin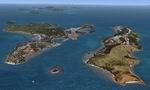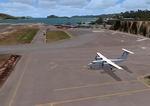 56.86Mb (3522 downloads)
FSX Ants Aussie Airports Vol 9. Hamilton Is, QLD Australia is a resort island in the Whitsunday Islands. The airport has a 5800' runway built on reclaimed land with regular A320 and B737 services from Sydney, Melbourne and Brisbane. Features photoreal ground textures for the whole island as well as nearby Dent Is plus custom 3D models. By Anthony Lynch.
Posted Jul 4, 2009 06:15 by Anthony Lynch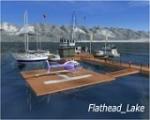 0.49Mb (2092 downloads)
Flathead Lake Helicopter scenery FSX only. start your flight at 8S1 and get out on the Lake to discover Cool floating platforms on the lake, I have also add a view camps around the lake. Ruud Popping
Posted Jul 4, 2009 05:54 by Paul Atreides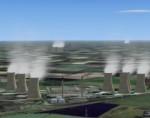 0.96Mb (4200 downloads)
This scenery is for the FSX only (does not work in FS9 or earlier versions). Basically, it consists of three sections: 1: A partial model of the UK national electricity grid with thousands of electrical pylons, hundreds of wind turbines, electrical sub-stations, cooling towers and chimney stacks positioned to align with Horizon's Generation X England & Wales photo scenery. Optional chimney stack smoke & cooling tower steam effects are included. 2: Many wind farms & power stations (including steam & smoke effects) in East/West Europe, Africa, Canada, India, Australia, New Zealand and USA (including the huge Horse Hollow wind farm in Texas) are represented. 3: Cooling tower steam effects applied to 19 FSX default power stations in the USA (including 3-mile Island).
Posted Jul 3, 2009 06:25 by Ray Porter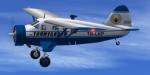 5.45Mb (2333 downloads)
This is the first pack, of a Vietnam War 1968 project. This pack contains Cam Ranh Bay AFB, Pleiku AFB, Dak To 2 airfield and a fictive challenging airstrip, and few objects. Basic english and french documentations included. Basic AI aircraft and traffic for Pleiku. Originals objects and sceneries by myself, except F4 library by Guy Diotte. These are my first sceneries. So, enjoy it, good flight, and give me feedback. Xavier "Fishbone" Carré
Posted Jul 2, 2009 07:11 by Xavier Carré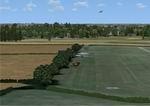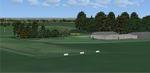 8.63Mb (2545 downloads)
Alfs_UK_airfields-Volume 16. Airfields This Volume consists of:Bourne Park X2BP, Stoke Golding, X3NN Tatenhill EGBM. Although FSX scenery is a great improvement on FS2004, there are still many small airfields in the UK with little or no details. I have tried to improve this in a small way. I do not not aim to make them accurate, only better. They were compiled using aerial views from Google Earth, Pooleys UK Flight Guide, and the FSX SDK Object Placement Tool and Airport Design Editor v1.40. Extra items were produced using Instant Object Maker v1.2 from FlightSimTools.com. I mainly use the standard FSX scenery objects but for items that combinations of FSX objects could not mimic I have made dedicated objects. I have also started adding a few landclass 'objects' using Google Earth. I hope it does improve some of the smaller airfields. It was designed to use with FSX SP2 so there may be problems if SP1 and SP2 are not installed. NOTE: The sceneries were made to fit into the FSX standard scenery, discrepancies may occur with photo-realistic scenery. Alf Denham
Posted Jul 1, 2009 09:11 by Alf Denham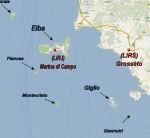 84.18Mb (3303 downloads)
FS2004/FSX Small Islands Of Italy 2 (northwest) Photoreal Scenery, v3.0. The file contains all the islands of the north-occidental portion of Italy including Tuscan Archipelago (Elba, Giglio, Capraia, Pianosa, Montecristo, Gorgona, Giannutri), Gallinara, Asinara, Archipelago of Maddalena, Island of San Pietro, Island of Santantioco, Islands of Tavolara and Molara, really small Islands next to Sardinia (Maldiventre, Cavoli, Serpentara, bisce, Ogliastra, etc.) By Fulvio Mazzokan.
Posted Jun 27, 2009 06:47 by Fulvio Mazzokan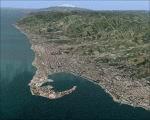 78.43Mb (4781 downloads)
FS2004/FSX Messina, Sicily, Italy Photoreal Scenery. The airport of Reggio Calabria (ICAO code LICR) is found near to the scenery. Otherwise the airports of Palermo (LICJ) and Catania (LICC) can be used. By Fulvio Mazzokan.
Posted Jun 27, 2009 06:43 by Fulvio Mazzokan