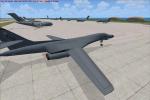 0.34Mb (1952 downloads)
A new AI package and brand new AFCAD for FSX Diego Garcia. All aircraft featured are from MAIW packages so you will need to download and install the following packages using the interactive map / aircraft list on the MAIW website to get there.
Posted Aug 31, 2008 04:45 by Dave Morgan
50.58Mb (2282 downloads)
FSX Misaka Japan Real Scenery for FSX v1.0. VFR Scenery for Mt.Ena Magome Tumago Nakatugawa-City Gifu Fly RJNG (Gifu) 10 Scenery by Kenichi Ocjaia
Posted Aug 26, 2008 08:47 by Kenichi Ocjaia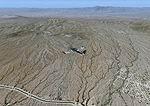 95.21Mb (4803 downloads)
FSX/FS2004 Tucson Arizona Photo-Scenery (AZ). Covers 3500 sq km including metropolitan Tucson, most of the Catalina Mountains and both parts of the Saguaro National Park. Scenery is in FS2004 standard resolution of 4.7 m/pixel. By Gottfried Razek. http://www.blueskyscenery.com
Posted Aug 21, 2008 07:42 by Gottfried Razek

4.10Mb (3019 downloads)
FSX Steven F. Udvar-Hazy Center at Washington-Dulles Airport (KIAD), Virginia (VA). This is scenery for the Steven F. Udvar-Hazy Center at Washington-Dulles Airport. This adds the Boeing Hanger and Space Hanger. This scenery also fills the hangers with aircraft such as the Concorde, 747, and SR-71. I tried the make it as real as possible but most of the historical aircraft are not made in FSX. Some the the aircraft were switched such as the 707 for the 747. To tour the center start at the Washington-Dulles Airport at runway 1R and turn around. Use slew mode to tour the buildings. Made by Daniel Kemmer.
Posted Aug 21, 2008 06:55 by Daniel Kemmer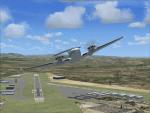 0.28Mb (2697 downloads)
This is the start of my scenery packages for Southern California: San Luis County Regional Airport in San Luis Obispo, California. Taxiways, runways, and other aspects were updated using real satellite images from Google Earth for accuracy. Default objects from the FSX scenery libraries were used. View Readme file for installation and notes. Compiled using Airport Design Editor.
Posted Aug 20, 2008 14:11 by Phillip Coyle
1.44Mb (6088 downloads)
Dublin Airport Scenery. Included are:rn- Pier Drn- West Apronrn- New Fire Station- New taxiways: M; F-OUTER; F-INNER; Y, and taxiways removed: including P (location of West Apron) NEW ILS frequency for 28/10 (111.35)-also stands 41 through 45 have been moved to allow for the building of the new Terminal or T". Neil Keane
Posted Aug 20, 2008 12:22 by no1minime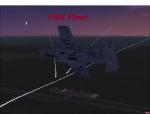 13.59Mb (1358 downloads)
Updated V2.0 Changed Scenery objects to very dense except carriers and S.A.M.s for frames.(Carriers-Very Sparse, S.A.M.s-Normal settings) Added VOR and ILS for Carrier and airstrip. This Scenary is good for missions, packaged with a Naval Task Force off the Coast of Clile. The airport name is Terrorists SCUD. Site/Airstrip(SLLB). The airstrip is 83 NM. North-West of El Astro Intl., Bolivia(SLLP). Or 161 NM. North-East of ColCarlos Ciriani Santa Rosa, Peru(SPTN). ILS Added for RW-1 109.95Mhz. RW-19 closed. VOR ident: TCS. 9000 FT. Rw, 2000 FT. over run. Has inactive scud mobile launchers, and active S.A.M.S around it. This small base posses a threat to the surrounding area. (Arresror Cables Work) The airport name is FSXF-NavalTaskForce (NTFC). Added LOC/DME for carrier, Frequency 110.90 Mhz. 30 NM. range(no glide slope or back course). Has NBD-(non directional beacon) ident:NTFC, and Frequency is 364.0 Khz. 100 NM. Range. Added VOR ident: NTF. Naval Task Force is 10 NM. South-West off the coast of Chacalluta Intl.(SCAR) Chile. Or 189NM. South-West of Terrorists SCUD. Site/Airstrip(SLLB).
Posted Aug 20, 2008 04:34 by Thunder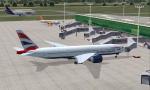 0.37Mb (8190 downloads)
FSX London Stansted Airport EGSS, UK Modifications to John Young's London Stansted FS2004 scenery (EGSS7.zip) to make it work in FSX P Nigel Grant/John Young
Posted Aug 19, 2008 09:31 by John Young
0.80Mb (900 downloads)
(Updated Simplified SCENERY for better frames, and moved some scenery objects to very dense. Added VOR ident: OHN.) This is a Mission Scenery, the airport name is H3 Northwest(OR1L). It is in Iraq. No ILS. , updated stock airfield. Tanks, S.A.M.s, around airfield. Temperary hangers, Crates in them, three static SU-37s on apron.
Posted Aug 16, 2008 04:43 by Thunder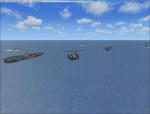 12.92Mb (1868 downloads)
(Updated,This is the same as V2.0 But I've changed all scenery objects to Very Dense except the two carriers to address a common frame rate complaint, and added a VOR-IDENT:OCG) -Carriers/Cruisers/Destroyers,(Arrestor cables work) Choopers on decks, Added LOC/DME Carrier1-R1 108.95Mhz Ident IABA Cat II, Carrier2-R2 109.30Mhz Ident IABB Cat III, NO BACK COARSE OR GLIDE SLOPE. The airport name is FSXF-CarrierGroupOceana.(KNTC) The NDB(none directional beacon) frequency is 401.0Khz, NDB Range is 100 NM. carrier Group is 12 NM. North-East of Oceana NAS. You can't spawn on the decks of the Carriers.
Posted Aug 16, 2008 04:36 by Thunder