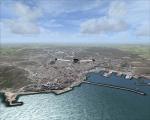 73.05Mb (2983 downloads)
Moderately detailed VFR scenery of Bandirma in Turkey LTBG Air Base and the surrounding area, for FSX. Contains realistic positioning of objects and autogen, has also some photoreal texture components.
Posted Jul 29, 2009 17:21 by Sunay KILIC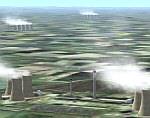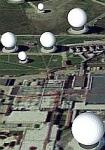 0.64Mb (5901 downloads)
Upgrade of FSX Power Project. Thousands of electric pylons, 50+ animated wind farms, power stations with optional steam/smoke effects & sub-stations in UK. Fits Horizon GenX photo scenery. Many more wind farms & power stations are added to East/West Europe, Africa, Canada, India, Australia, New Zealand and USA (including the huge Horse Hollow wind farm in Texas). Steam effects applied to 19 default USA power stations. Goonhilly and Malvern satellite earth stations. The radomes of Menwith Hill (pictured) - US NSA electronic monitoring station - in Yorkshire are now modelled + others in N.America. This version removes duplicated BGL's - frame rates now probably better . Documented to let you tailor it around your favourite scenery.
Posted Jul 28, 2009 18:15 by Ray Porter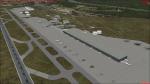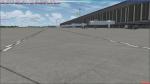 0.64Mb (5457 downloads)
Scenery includes the new Skylink-Terminal, Fire station, Parking lots and more.
Posted Jul 28, 2009 09:21 by Thomas Mittermair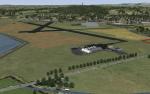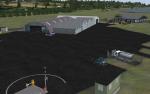 17.98Mb (1395 downloads)
Very detailed scenery of Newtownards Airfield in Northern Ireland (EGAD). The airport buildings and hangers are reproduced as realistically as possible in Gmax using photographs for reference as well as for most textures. Custom textures are also used for runways, taxiways and aprons. This scenery is designed for use with Ultimate Terrain X Europe scenery and requires FSX SP2 or Acceleration.
Posted Jul 27, 2009 17:16 by Terry Shields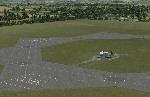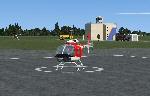 26.99Mb (1462 downloads)
Spencer NOLF is used to train helicopter Pilots from NAS Whiting Field. This was made with USGS orthoimagery sampled at 1 foot per pixel. This NOLF is famous for its runways laid out in a Star of David pattern.
Posted Jul 18, 2009 00:33 by Jim Dhaenens


1.24Mb (12376 downloads)
London Heathrow International Airport - EGLL. EGLL_KA.bgl is a significant modification to the FSX default EGLL. Version 1 represents EGLL as it existed in February 2009. See Readme for detailed information. By Kambiz Agazi
Posted Jul 17, 2009 07:22 by Kambiz Agazi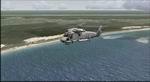 52.97Mb (1895 downloads)
FSX Scenery--90 Mile Beach X. 2.5 meter photoreal scenery of 90 mile beach, New Zealand. This area can be found at the top of the North Island and is a awesome place to visit in the sim and in the real world. By Michael Allen-Andrews.
Posted Jul 16, 2009 13:05 by Michael Allen-Andrews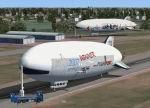 5.63Mb (3445 downloads)
FS2004/FSX FlightPort Zeppelin NT AI-Traffic. This is an AI only aircraft. The Zeppelin_AI was built with FSDS3.5. Model is multi-LOD and comes with four repaints, repaintset and separate HeliTraffic 2009 files. To optimize frames, there are only DXT3 textures with mipmaps included. Also great to display multiplayer on online flights. By Thomas Roehl, Joerg Hammes and Stefan Medelnik.
Posted Jul 16, 2009 11:27 by Thomas Roehl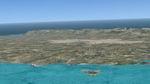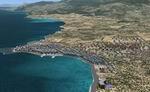 31.14Mb (3942 downloads)
Crete Island, Greece, Package V2. In this second version I have used the mesh terrain of Yiannis Dermitzakis that offers a bigger realism to the costs This has put under an obligation to reconstruct the entirety of the populations of the since costs they were located inside the sea. At the same time I have been able to redraw them populations with houses and real facilities that Google Earth has facilitated me . I have also obtained of Roger Politis dear collaboration one that knows that land very well I believe that I can offer a quite realistic scenery especially in the group of populations of the coast. Toni Agramont
Posted Jul 15, 2009 12:58 by Toni Agramont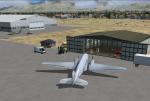 1.38Mb (1276 downloads)
This scenery package adds an air cargo hangar to the default scenery for Provo Municipal, KPVU (Provo, Utah). Other scenery that I've designed includes: * a hangar and vehicles placed at Hobbs, NM (KHOB) * a hangar and vehicles at Farmington, NM (KFMN) Anyone interested in flying cargo between these destinations will enjoy this scenery. I routinely fly these routes. Simply copy the bgl file to ...Microsoft Flight Simulator X/Addon Scenery/Scenery folder. Coming soon: Airshow scenery at Otis Air National Guard Base, Massachusetts! I would like to thank John Stinstrom for his Green Ground Service Equipment which I downloaded; I've used a couple of objects he designed in this scenery. If you have problems with this add-on, please contact me at javajoe06@yahoo.com.
Posted Jul 15, 2009 12:22 by Joe Hassen