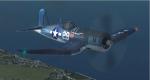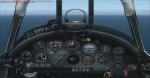 22.02Mb (1257 downloads)
This is an update for FSX of the Corsair by A.F.Scrub. I corrected any contact point position that needed it; I added and or changed gauges on all 3 panels; the fighting panel can be toggled now; I added the other 2 guns and corrected positions where necessary; and I updated the flight dynamics. Should also work in P3D4.5
Posted Jun 3, 2020 11:20 by Bob Chicilo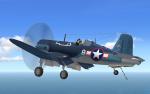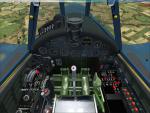 23.60Mb (1471 downloads)
FSX/P3Dv3 and 4 Vought Corsair F4U-1a. The Corsair entered service in 1942. Although designed as a carrier fighter, initial operation from carrier decks proved to be troublesome. Its low-speed handling was tricky. Landing a Corsair on a carrier was a difficult task. For these reasons, most Corsairs initially went to Marine Corps squadrons which operated off land-based runways. The U.S. Navy did not get into combat with the type until September 1943. Native FSX/P3Dv3,v4 mdl by A.F.Scrub.
Posted May 12, 2020 12:55 by A.F.Scrub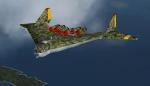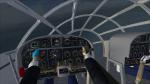 15.64Mb (611 downloads)
FSX/Acceleration/P3dV3/FS2004 Upgrade for Kazunori Ito's Arado E.555-1 WWII concept long range bomber. The modified model has now a VC regarding Ito's 2D panel and an additional repaint in camo. The only change on the exterior model is the animated turret. (Original text Wikipedia: The Arado E.555 was a long range strategic bomber proposed by the German Arado company during World War II in response to the RLM's Amerikabomber project. The E.555 designation was applied to a series of long range jet bomber designs of various sizes, powerplant, crew and weapon load configurations. As design studies only, no aircraft were developed or constructed and the entire E.555 project was cancelled at the end of 1944). Kazunori Ito is my idol for twenty years. It is a pity that he was forced to stop to continiue with his great hobby in building an incredible high amount of interesting aircrafts. Honouring his work but beeing afraid that this very rare and special aircraft will be lost for actual or newer simulators like Acceleration or P3Dv3 I allowed myself to upgrade this futuristic beauty with a VC and configured with FSX/P3d compatibel gauges. Original model and 2D panel by Kazunori Ito, virtual cockpit implemantation for a 3 men crew by Erwin Welker
Posted May 3, 2020 03:05 by Erwin Welker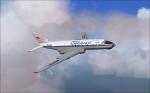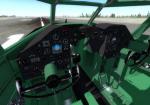 16.79Mb (911 downloads)
Samdim Tu-124 COOKPOT, Tupolev's baby BADGER. FSX native, VC is the Alphasim BADGER. I ran a fresh BADGER VC through the latest MCX, and it looks better. Gauges are the BADGER_X and weapons package by Y.T.
Posted Mar 21, 2020 03:48 by Anon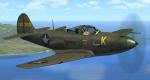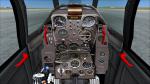 1.55Mb (762 downloads)
After uploading the package I've discovered a minor graphic shortcoming in the brown vc, which somewhat disturbs the pilot's view at the panel. As I've invested a lot of time in designing the vc I want it to be perfect, so here is a correction. Very easy installation, just delete the old panel folder and replace it with the new one. By Michael Pook.
Posted Mar 17, 2020 03:44 by Michael Pook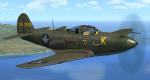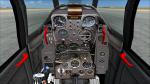 55.74Mb (1497 downloads)
The P-39 was the principle American fighter when WWII broke out When the United States entered World War II, the Bell P-39 was its primary fighter plane. By war's end, nearly 10,000 had been produced in nearly 48 variants, making the "Airacobra" one of Bell's most successful aircraft ever. This is a major panel update for the Airacobra featuring a completely reworked virtual cockpit and 2D panel with animated yoke. I've tried to design the panels as close as possible to the real P-39 panel, now with almost 100% authentic look and gauge configuration. Original CFS2/FS2004 model by Simtech, converted to FSX by A.F.Scrub. The package features 7 fine liveries by Simtech and different authors. New virtual cokpit and 2D panel by Michael Pook. Exhaust smoke added as well. The model may work in FS2004 and P2D (version3).
Posted Mar 15, 2020 12:20 by Michael Pook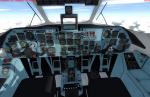 2.43Mb (607 downloads)
Missing gauges for the Beriev BE-12 uploaded to simviation. Just drop the gauges into your main panel folder of the BE-12
Posted Mar 3, 2020 03:58 by anon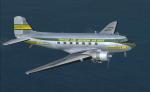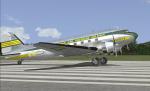 18.24Mb (177 downloads)
FSX/P3D Chicago and Southern DC-3 textures for Manfred Jahn and team Douglas C-47 V3.14. Second livery. Chicago and Southern textures by Gary Harper.
Posted Feb 29, 2020 21:57 by Gary Harper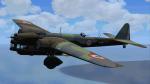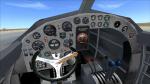 25.60Mb (503 downloads)
This is the late model of the inter war Amiot medium bomber, which was used by the French airforce in the early days of WWII. The Amiot 143M entered service in July 1935, with deliveries continuing in 1936 and 1937. About six were going to be delivered to the Spanish Republican Air Force at the beginning of the Spanish Civil War. There is no evidence, however, that these obsolete French bombers flew over Spain during the Civil War. This is an FSX update with new and much more realistic panels. Original model by Paul Clawson, modified for FS2004 by Shessie of SOH. Exhaust smoke added. New virtual cockpit, new 2D panel and exhaust smoke configuration by Michael Pook. The model may work in FS2004 and P3D(Version3)
Posted Feb 26, 2020 04:59 by Michael Pook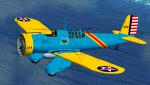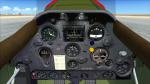 25.12Mb (457 downloads)
The Curtiss A-12 Shrike was a radial-engined derivative of the A-8, which was the first monoplane attack aircraft to serve in substantial numbers with the US Army Air Corps. It was the main aircraft of Army attack aviation strength throughout the early to mid-1930s. However the A-12 was rapidly made obsolescent by advances in aviation technology and its service with front-line units of the Army Air Corps was quite brief. By the late 1930s, it had been relegated largely to training units. Except for 20 export versions which were sent to China, the A-12 took no part in aerial combat during World War 2. This package is an FSX update for the FS9 version by Shessie and his team of SOH. It features an entirely new virtual cockpit and 2D panel. The original version was designed by David Wooster and his team and this model is also partly based on the FSX version by Paul Clawson. All credits go to the designers mentioned above. New panels and smoke effect by Michael Pook. The model may work in FS2004 and P3D (version3).
Posted Feb 26, 2020 01:57 by Michael Pook