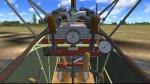 23.47Mb (669 downloads)
FSX/P3D v3,v4,v5 Fokker D VII The Fokker D.VII was a German World War I fighter aircraft designed by Reinhold Platz of the Fokker-Flugzeugwerke. Germany produced around 3,300 D.VII aircraft in the second half of 1918. In service with the Luftstreitkräfte, the D.VII quickly proved itself to be a formidable aircraft. The Armistice ending the war specifically required, as the fourth clause of the "Clauses Relating to the Western Front", that Germany was required to surrender all D.VIIs to the Allies. Surviving aircraft saw much service with many countries in the years after World War I. Native Model by A.F.Scrub
Posted Dec 19, 2021 06:55 by A.F.Scrub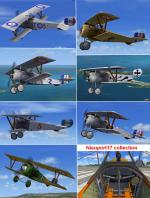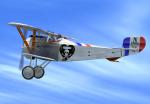 26.93Mb (756 downloads)
FSX/P3D v3,v4,v5 Nieuport 17 During March 1916, the new Nieuport 17 reached the front to begin replacing the earlier Nieuport 11 and 16 fighters that had been instrumental in ending the Fokker Scourge of 1915. On 2 May 1916, Escadrille N.57 became the first unit entirely equipped with the new model. During the late 1916 and into 1917, the Nieuport 17 equipped every fighter squadron of the Aéronautique Militaire. Almost all of the top French aces flew the nimble Nieuport during their flying careers. Native Model by A.F.Scrub
Posted Dec 13, 2021 10:33 by A.F.Scrub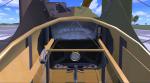 7.57Mb (539 downloads)
FSX/P3D v3,v4,v5 Nieuport 28 C.1 The Nieuport 28 C.1 was developed in France but was America's first fighter aircraft. It entered service in March 1918. France originally ordered it into production in 1917 only to cancel the order shortly thereafter in favor of the SPAD XIII as the standard French fighter. Native Model by A.F.Scrub
Posted Dec 10, 2021 11:14 by A.F.Scrub

405.70Mb (290 downloads)
The is an overhaul of the original package released for FS9/FSX. I have overhauled this aircraft to take advantage of P3Dv4 and above's use of PBR. I have also added new sounds, flight dynamics, views, models, and liveries. The pack contains 4 new model variations and 4 new liveries, for a total of 5 models and 8 liveries. The "Super" Privateer is a lighter more powerful version of the PB4Y-2 Privateer modified in civilian use for aerial firefighting operations. Super Privateers had the majority of military equipment and blister turrets removed along with their stock engines. The engines were replaced by more powerful engines from the B-25 Mitchell. As a result the Supers were lighter and more powerful than their military counterparts were. This made it possible for them to carry up to 2,000 gallons of fire retardant or water. Updated by the original author Jeremy Ulloa and myself Nicholas Mitchell.
Posted Nov 27, 2021 01:18 by Nicholas Mitchell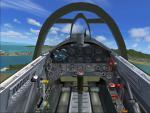 11.23Mb (928 downloads)
FSX/P3Dv3,4,5 Yak-1,1B Design of the Yakovlev Yak-1 medium-altitude interceptor/fighter began in November 1938, and from it evolved a series of remarkable aircraft (produced in vast numbers) which made an important mark in the history of aviation.The French Normandie Niemen regiment flew Yak1b fighters in the spring of 1943 and their leading scorer considered the Yak1b to be a much better plane than the Spitfire MkII and MkV which he had flown. The strength of the Yak were that it was easy to fly, instilled confidence in its pilots, had a wide stable undercarriage, and was cheap and simple to produce. FSX/P3D Native models by A.F.Scrub.
Posted Oct 31, 2021 16:50 by A.F.Scrub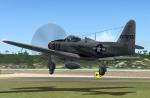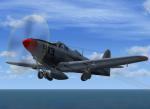 0.64Mb (428 downloads)
FSX/P3Dv4,v5 Bell P63 Kingcobra_Fix This mod fixes the flying caracteristics and the elevator trim. Use elevator trim for take off. Replace the model map, aircraft.cfg and airfile files by the new ones. Fix by A.F.Scrub.
Posted Oct 20, 2021 03:25 by A.F.Scrub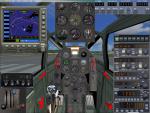 23.30Mb (835 downloads)
FSX/P3Dv4,v5 Bell P63 Kingcobra When the United States entered World War II, the Bell P-39 was its primary fighter plane. The Kingcobra was designed to address the shortcomings of the P-39 Airacobra, it was a fast airplane . its performance approaching that of the P-51 , but since the P-51 and P-47 were in full production, about 2,400 of the 3,303 P-63s produced were sent to the Soviet Union under the Lend-Lease act. France used some in Indo-China after the end of World War II. The U.S. used it as a test plane and, in a unique version, as live gunnery target training for bomber crews. Native FSX/P3D mdls, 3 variants, by A.F.Scrub.
Posted Oct 16, 2021 10:18 by A.F.Scrub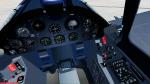 31.01Mb (773 downloads)
Vought F4U-7 Corsair Royal Navy A130 for FSX and P3D. Alpha Bleu Ciel model converted to FSX native format by LLs. Updated with different flight dynamics and revised gauges so it now works in P3D v5. Credits to Alpha Blue, LLS, Milton Shupe for some gauge and flight dynamics. . Danny Garnier YOU MUST FLY With Care,. practice to fly well.
Posted Oct 15, 2021 09:11 by GARNIER D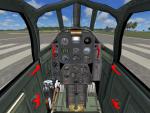 43.48Mb (709 downloads)
FSX/P3Dv4,v5 Bell P39 Airacobra When the United States entered World War II, the Bell P-39 was its primary fighter plane. By war's end, nearly 10,000 had been produced in nearly 48 variants, making the "Airacobra" one of Bell's most successful aircraft ever. Native FSX/P3D mdls, 6 variants, by A.F.Scrub.
Posted Sep 26, 2021 11:49 by A.F.Scrub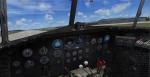 52.35Mb (1047 downloads)
FSX/P3D Douglas DC3 Buffalo Airways 2D and VC Panels (including missing file). I am hesitant about publishing this as I did not have much documentation to work from. Nevertheless this has a pretty fair reproduction of the Buffalo Airways cockpit in the 2D panel and the VC has a cockpit more similar to the default DC3 with some gauges repositioned. Many gauges are very like the excellent default gauges but have been rewritten and some errors corrected. This panel is designed for 1920X1080 monitors and will not work well on other sizes. An aircraft in Buffalo Airways paint scheme is included although this is a C-47 rather than a DC3. The panel and VC also work fine on the default DC3 but not the Buffalo Airways repaint. Note that the autopilot is basic on the DC3 - only heading and pitch are controlled - so most flying including landing is manual. The GPS can be used as a guide but is not linked to the autopilot. Please read instructions.
Posted Jul 30, 2021 07:12 by G. Munro