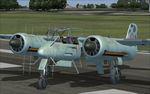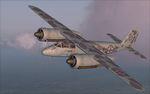 16.49Mb (1775 downloads)
Focke-Wulf Ta 154 Moskito Package for FS2004. The Focke-Wulf Ta 154 Moskito was a fast twin-engined German night fighter aircraft designed by Kurt Tank and produced by Focke-Wulf during late World War II. Only a few were produced. Kurt Tank's team at Focke-Wulf was a high-wing twin-engined design, built primarily of plywood bonded with a special phenolic resin adhesive called Tego film. The only large-scale use of metal was in the pressurized cockpit. Various prototype models were made and those were used in combat testing in 1945. It had the designation of 'Moskito', as like the very successful British aircraft, it was made of wood, and was hoped to be just as good. Unfortunately due to technological faults the aircraft did not go into series production. Includes opening canopy, VC and 2d panels. By Chris Lampard
Posted Jun 9, 2016 03:44 by uploader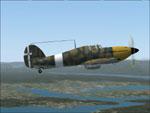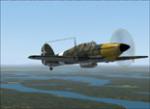 6.54Mb (868 downloads)
FS2004-Hawker Hurricane MK1 This Hawker Hurricane MK1 was manufactured under licence in Yugoslavia by Zmaj at Zenun. This model was captured on 16th April 1941 in Mostar, Yugoslavia, by Regia Aeronautica and painted with standard camo of R.A. and added fascist insignia. It was destroyed in the early 1943.Model,texture,vccockpit,panel by F.Giuli.Gauges other authors
Posted May 29, 2016 04:38 by Francesco Giuli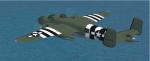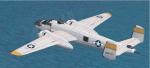 3.50Mb (1133 downloads)
This is an update for FS9 of the B-25J by Mike Stone, with some extra textures by Garry J. Smith. I have patched the holes in the panel background, some were not easy to see without looking close. I corrected the wing apex and root cord; fixed the prop and engine sections of the aircraft.cfg file; added icons and a pitch trim gauge to the panel, and updated the flight dynamics. No virtual cockpit.
Posted May 2, 2016 14:19 by Bob Chicilo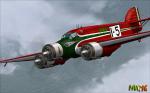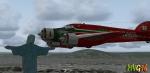 55.68Mb (1008 downloads)
Civilian "CS" (Competizione Sportiva=Sporting Race) versions of the known medium and torpedo bomber Savoia-Marchetti S.79 "Sparviero", deployed by Regia Aeronautica, or Italian Royal Air Force, were successfully flown (w/civil marks) in the "Istres-Damascus-Paris (Lindberg Cup)" 1937 air race, where they ranked the first three places of the final scoreboard. The also "civilian" "T" (Transatlantic) version of the very same S.79 performed exceptionally in the 1938 Atlantic crossing Roma-Dakar-Rio de Janeiro and in a 1939 experimental test meant to verify the feasibility of an airline passengers and mail line between Italy and South America for the civilian airlines (Ala Littoria S.A.- Linee Aeree Atlantiche, later called L.A.T.I./Linee Aeree Transcontinentali Italiane) over the routes of Southern Atlantic Ocean (Brazil/Argentina/Equador). 3 new different GMax models, covering 3 different versions of the civilian S.79 described above and featuring the standard animated parts, such as all flight controls, props pitch and leading-edge slats. Ten (10) different liveries depicting all the S.79CS team which flew the 1937 Istres-Damascus-Paris Race, the 1938 Roma-Rio de Janeiro Expedition and 1939 Transatlantic Test flight. This plane was originally developed for FS9, but an FSX version is also available in another separated release. VC only. GMax Models and Skins by Manuele Villa & Italianwings.Installation instructions included. By Manuele Villa/MVG3D, April 2016.
Posted Apr 21, 2016 13:35 by Manuele Villa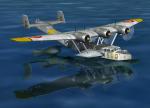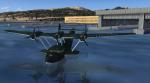 0.28Mb (598 downloads)
FS2004 fix for Dornier Do-24 (Do24T3_FSX)Flying boat with changed airfiles. Plane rotates with 125 knots and goes airborne without any problems; landings between 100 or even 70 knots. You do not need the fix for FSX! By Shessi from SOH and Erwin Welker
Posted Mar 31, 2016 06:38 by Erwin Welker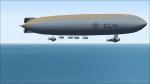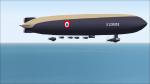 34.18Mb (1010 downloads)
Before the First World War, airships had been used as commercial airline carriers and for reconnaissance vehicles by the Army, no one had considered using them as bombers. Designed by Count Ferdinand Von Zeppelin, the airships were built from a rigid cigar shaped metal structure of circular frames connected by longitudinal beams. This made them strong enough to be fitted with engines and to carry a useful payload. There were steering fins at the rear and gondolas suspended below for the crew and engines. More crew compartments were inside the main frame as well as spaces for cargo and bags that contained the hydrogen gas for lift.
Posted Feb 27, 2016 15:53 by Andreas Becker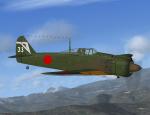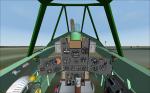 7.02Mb (876 downloads)
FS2004 Kawasaki Ki-100-I Ko The Kawasaki Ki-100 was a fighter aircraft used by the Imperial Japanese Army in World War II. 275 Ki-100 airframes were built as Ki-61's before being modified to accept a radial engine in place of the original inline engine. The emergency measure of adapting a Ki-61-II-KAI fighter to carry a Mitsubishi radial engine resulted in one of the best interceptors used by the Army during the entire war. It combined excellent power and maneuverability and it performed better than most other IJAAF fighters. Two models. Upgrade by A.F.Scrub
Posted Feb 24, 2016 14:34 by A.F.Scrub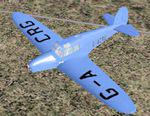 7.66Mb (754 downloads)
FS2004. British Klemm 'Eagle' The first aircraft produced by The British Klemm Aircraft Company. This was a re-design of a Klemm to meet British standards. Contact points corrected. v2 By Edward Cook.
Posted Feb 13, 2016 03:59 by uploader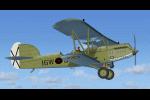 15.02Mb (1028 downloads)
The Polikarpov R-5 was a Soviet attack aircraft and reconnaissance of the 1930s as light bomber and reconnaissance aircraft was the standard aircraft of the Soviet Air Force during much of the 1930s in Spain was known as "Flush "for his role in the Spanish Civil War and during World War II they were used primarily as night bombers until 1944. Works in FSX without VC. Model by Alexander Belov, textures by Juan Villamor.
Posted Feb 9, 2016 08:25 by Juan Villamor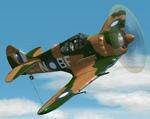 2.29Mb (1244 downloads)
FS2002/FS2004 CAC CA-13 Boomerang. The CAC Boomerang was a World War II fighter aircraft designed and manufactured in Australia between 1942 and 1945. The Commonwealth Aircraft Corporation produced Boomerangs under the production contract numbers CA-12, CA-13, CA-14 and CA-19, with aircraft supplied under each subsequent contract incorporating modifications and improvements. The Boomerang is significant as the first combat aircraft designed and built in Australia.by Kazunori Ito.
Posted Feb 5, 2016 05:36 by Mike Lietz