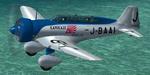 2.17Mb (1072 downloads)
FS2002/FS2004 Mitsubishi Ki-15 "Babs" Kamikaze Version. The Mitsubishi Ki-15(Kyunana-shiki sireibu teisatsuki) was a Japanese reconnaissance aircraft and a light attack bomber of the Second Sino-Japanese War and Pacific War. It began as a fast civilian mail plane. It was a single-engine, low-wing, cantilever monoplane with a fixed tailwheel undercarriage; it carried a crew of two. It served with both the Imperial Japanese Army and Navy (as the C5M). During World War II it was nicknamed "Babs" by the Allies. Kamikaze(Kamikaze-go,registration J-BAAI) was a Ki-15 aircraft, sponsored by the newspaper Asahi Shimbun. It became famous on April 9, 1937 as the first Japanese-built aircraft to fly from Japan to Europe. The flight from Tokyo to London took 51 hours, 17 minutes and 23 seconds and was piloted by Masaaki Iinuma(1912-1941), with Kenji Tsukagoshi(1900-1943) serving as navigator. by Kazunori Ito.
Posted Apr 17, 2014 23:55 by Kaz Ito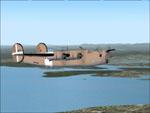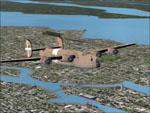 8.04Mb (1505 downloads)
FS2004-Consolidated B24D-1 CO Liberator First mass-produced Liberator,served in every theatre of war with all the Allied nations. This model Co B.num.(41-23659)"Blonde Bomber" of the 343rd BS, 98th BG, 9th AF, USAAF, landed inadvertently at Pachino, Sicily-Italy, on 24 Feb 1943, after attacking Naples. With Regia Aeronautica markings, went to Guidonia centre, but there was damaged. Model, texture, vc cockpit & panel by F.Giuli. Gauges other authors
Posted Apr 8, 2014 11:20 by FRANCESCO GIULI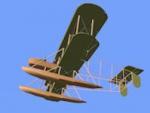 5.38Mb (782 downloads)
FS2004 White 'Wight' Navyplane No.2 A naval 'Spotter' plane made by the boatbuilding company of J.S.White at Cowes, Isle of Wight, in 1913.It featured an aerofoil of double cambered section giving a very small centre of pressure travel paired with a tailplane section to provide an almost one speed airframe of good stbility The first flight was in August 1913 at Cowes. v1 ByEdward Cook
Posted Mar 21, 2014 04:31 by uploader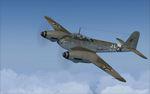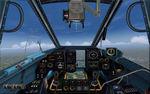 16.70Mb (2031 downloads)
A new model of a Messerschmitt Me410A1 Hornisse by Chris Lampard and Shessi for Fs2004 and CFS2, March 2014. External model and texture by Chris Lampard, internal modelling and VC model by Shessi, and a new 2D panel base picture by Carlos Echevarria and panel/guage config by Shessi.
Posted Mar 15, 2014 09:08 by uploader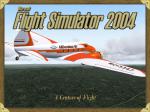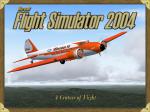 4.34Mb (413 downloads)
This texture pack was created by: Jetranger for the JBK Boeing 247 Propliner aircraft package by: Jens B. Kristensen (JBK). The original texture package was made for FSX. All I have done is convert it for use in "FS9". I only made a small paint adjustment to the prop blade. I have also included 4 splash screens using this paint scheme. (This is a textures only package) You will need to download and install the FS2004 JBK Boeing 247 Propliner aircraft package by: Jens B. Kristensen (JBK) to use these textures. "Blaze"
Posted Mar 11, 2014 23:47 by Dwayne Frye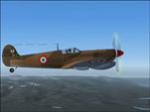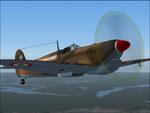 5.09Mb (1695 downloads)
FS2004-Supermarine Spitfire MKVb/Trop Spitfire MKVb assigned on Sept 15th 1944, some with sand filter, to the 20 degree Group, 51 Stormo ICAF. They were third hand planes in service to RAF,USAF,MAAF, and later to the Balkan Air Force.After being assigned to ICAF, the planes were repainted,and the Black Cat was set on the tail, with the Group and pilot identification numbers, painted in yellow. Model, texture, vc cockpit, panel by F.Giuli. Gauges other authors
Posted Jan 10, 2014 10:42 by FRANCESCO GIULI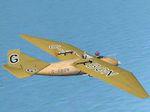 5.25Mb (774 downloads)
FS2004. Short Gnosspelius 'Gull' A high efficiency Ultra-Light aircraft Built by Shorts for Maj. O.T.Gnosspelius the first flight was at Lympne on 26/5/1923. Two aircraft were built and flown but only this one was registered. v1 By Edward Cook.
Posted Jan 10, 2014 04:03 by mike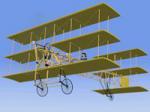 5.04Mb (1327 downloads)
FS2004 Avro Triplane 1 This is the aircraft that made the first flight by an all British airframe and pilot on the 12 of July 1908 on the Lea Marshes in London. v1 By Edward Cook
Posted Jan 9, 2014 10:36 by up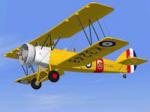 6.20Mb (1350 downloads)
FS2004. Avro 621 'Tutor' A training aircraft adopted by the RAF in June 1932 . missing Ignition switch logo added. v1.1 By Edward Cook
Posted Dec 21, 2013 12:12 by uploader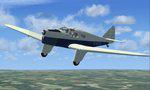 14.06Mb (1569 downloads)
FSX/FS2004 M3A Falcon Major. Private aircraft built in 1936, still airworthy & currently residing at Old Warden, UK.
Posted Dec 11, 2013 04:38 by infidel castro