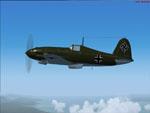 12.61Mb (1172 downloads)
FS2004-FIAT G56 FIGHTER The new aircraft was built from the Fiat G55 the fuselage was extended and amplified;in such modified hull was built the powerful engine Daimler-Benz 603A.Removed the Breda machine guns,only the three 20 mm cannons were left The first prototype flew on March 28th 1944 and due to the end of the war, no others were built Model,texture,panelby F.Giuli. Gauges by different authors
Posted Apr 27, 2011 11:19 by FRANCESCO GIULI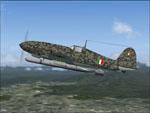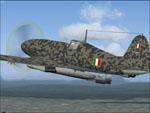 9.96Mb (1057 downloads)
FS2004-FIAT G55 S Centauro-Torpedo Fighter. Derivation of the G55,modified to carry a torpedo under the fuselage. First flew in August 1944.The radiator for the engine liquid cooler was split in two and two racks were mounted under the fuselage. The tail wheelstrut was lengthened and a shock absorber added. Removed the Breda machine guns, only the three 20 mm cannons were left. Model,texture, panelby F.Giuli. Gauges by different authors
Posted Apr 16, 2011 06:25 by FRANCESCO GIULI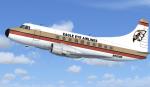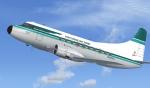 4.30Mb (526 downloads)
FS2004 (and FSX) Martin 404 repaint textures only 10-pack for the "Dee Waldron FS2004 Martin 404 version 2.24 Eastern Airlines", which you must have previously installed in FS2004. Ten repaints including passenger models and fictional freighter models, as well as blank white and blank gray passenger and freighter models for those who enjoy an easy repainting adventure. These repaints work fine in FSX-SP2 as well... as long as you have set up this aircraft to fly in FSX by replacing the prop texture, panel, and sound folders with FSX compatible ones of your liking. By Tom Tiedman
Posted Mar 31, 2011 04:41 by Tom Tiedman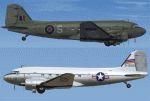 11.84Mb (5414 downloads)
Included in this package are two FS9 C-47 models that have been converted from FSX models. They have the same complexity as the FSX models but the textures are half-size only and there is some loss in resolution. There is an "early" model, which is fitted with H aerials, and a "late" model, which has beacon lights and curtains. The flight dynamics and VC are those of the default DC-3 to which custom wing views and replacement VC textures have been added. The liveries include a camouflaged RAF Dakota painted by "Squirrel" and a white/polished-metal USAF post-war aircraft. Custom animations by Hansjoerg Naegele, replacement VC textures by Marvin Carter, models by Manfred Jahn.
Posted Mar 24, 2011 05:49 by Manfred Jahn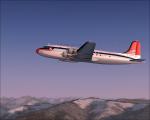 2.82Mb (257 downloads)
FS9 Northwest Orient textures for the JBK DC-4-1009 V.3 by Jens Kristensen. These textures represent Northwest's final livery for the DC-4 about 1958. Textures by Gary Harper.
Posted Mar 22, 2011 21:29 by Gary Harper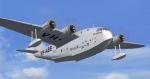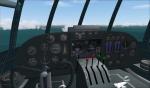 13.47Mb (3887 downloads)
FS2004 Short Empire flying boat ver 3.0. These famous aircraft formed the backbone of the Imperial Airways, it's sucessor BOAC. and its partners Qantas Empire Airways and TEAL from the mid 1930s and through World War Two. Three variants in six color schemes included. Improved version 3 model with more accurate cockpit. For FS2004, an FSX version is available separately. By Jens B. Kristensen
Posted Mar 22, 2011 03:44 by Jens B. Kristensen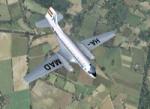 4.37Mb (285 downloads)
Ilyushin Il-14P Malev Hungarian Airlines - Textures only for FS2004 Jens B. Kristensen Ilyushin IL-14P
Posted Mar 17, 2011 15:48 by T.Feri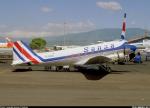 3.67Mb (520 downloads)
DC-3 Lacsa and Sansa textures only for the default DC3.
Posted Mar 15, 2011 10:30 by Daniel Umana - Alberto Thomas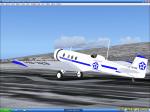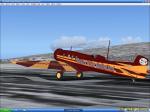 3.39Mb (390 downloads)
Textures only. Four repaints of the Tim Conrad Monomail - three BFU and one League of Nations. Repaints by Garry J. Smith, BFU logo by Peter M. Ridge.
Posted Mar 11, 2011 10:44 by Ed Moore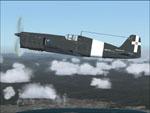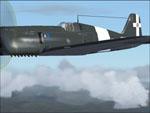 9.30Mb (1039 downloads)
FS2004 Sai Ambrosini S403 "Dardo"(Dart) Differed from the S.207 in having a new wing profile, redesigned tail surfaces, a redesigned rear fuselage, a fully retractable tailwheel, 20mm wing cannons. First flight in Jan 1943 but with the war at end, only the prototype was built. Model, textures, panel by F.Giuli. Gauges different authors
Posted Mar 11, 2011 06:58 by FRANCESCO GIULI