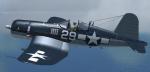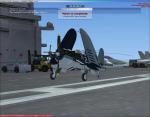 1.84Mb (1754 downloads)
FS2004/FSX FG-1D Goodyear, VF-17 "French Army Chance Vought F4U-7 Corsair" textures for the Alpha Bleu F4U Corsair. Note: Original model is the FG-1D, with a 3-blade propeller and other differences, not this one. Requires original model of the FS2004 ALPHA BLEU CIEL French Chance Vought F4U-7 Corsair and update (or the FSX version): -TESTED AND WORKS IN FSX-
Posted Jun 22, 2013 20:03 by Enrique Medal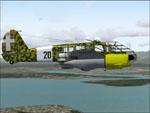 8.87Mb (2175 downloads)
FS2004-Caproni ca313 The prototype first flew on 22 December 1939 Develop of the Caproni Ca.311 the design was similar to the Ca.311 with the inline engines IF Delta RC 35 inverted V-12s, they had a smaller frontal profile than the Piaggio radial engines they replaced. Due to the lower aerodynamic drag, the Ca.313 was capable of more speed for the same power.Model,texture, vccockpit, panel F.Giuli.Gauges other authors
Posted Jun 21, 2013 09:45 by FRANCESCO GIULI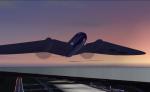 16.76Mb (1534 downloads)
The Driessen Flying Wing was the winning contender in a late 1939 competition for a possible K.L.M.long range passenger/mail aircraft. The aircraft had three 870hp Jumo 205 with three-bladed, metal propellers. Dimensions: Length: 1.5 m, Wingspan: 34 m, Height: 3.70 m Due to WWII, this design never reached the hardware stadium.
Posted Jun 16, 2013 02:00 by Andreas Becker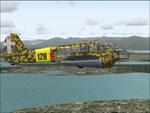 10.22Mb (906 downloads)
FS2004-Caproni CA 311 Develop of the Ca 310,this model was in service with the 128degree Sq.,61degree Gr.Osservazione Aera of the Corpo di Spedizione Italiano in Russia (C.S.I.R.)Zaprozhe, Russia, November 1941. This particular design incorporated the Ca.310's retractable main undercarriage, and had a heavily-glazed nose. Model,texture, vc cockpit and panel by F.Giuli. Gauges by other authors
Posted Jun 14, 2013 04:48 by FRANCESCO GIULI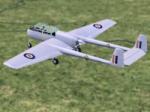 19.41Mb (1110 downloads)
FS2004 Heston JC.6. An AOP prototype built for A.M. Specification A.2/45 it lost out to the Auster AOP.6 Only one flying aircraft was made. The First flight was in August 1947. v1 By Edward Cook
Posted Jun 10, 2013 05:57 by uploader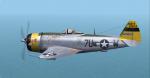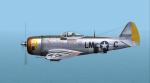 7.51Mb (991 downloads)
Seven bare metal textures for the CFS2/FS2004/FSX versions of the Alphasim P-47D Thunderbolt.
Posted Jun 7, 2013 02:04 by Morton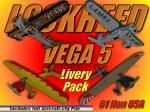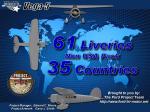 57.92Mb (321 downloads)
FS2004 default Lockheed Vega Texture Pack - Lockheed Vega 5 Non USA Liveries. This is yet another exciting pack of FREE textures brought to you by the Ford Tri-Motor Project Team. 61 Vega 5 liveries representing over 35 countries throughout the world. Excluding the USA. The zip file contains 61 texture sets and a very comprehensive aircraft.cfg which details the history of each livery that has been created. For those that want to fly the Microsoft default Vega 5 in some exotic places throughout the world. Coming Soon - Lockheed Vega 5 - USA ONLY Package - another 61 authentic liveries pack. Many more Vega 5 Liveries and other FREE stuff available from http://www.ford-tri-motor.net
Posted May 30, 2013 20:52 by Edwards C. Moore and Garry J. Smith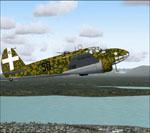 7.36Mb (826 downloads)
FS2004-Caproni Ca310 Libeccio(south west wind) Developed from the Ca309, the Ca 310 was structurally similar to the earlier machine, but had retractable landing gear and powered by two 470-hp Piaggio P.VII C.35 radial engines.The prototype flown for the first time on 20 February"1937 and the main production was delivered to the Regia Aeronautica. Model,texture,vccockpit and panel by F.Giuli.Gauges by other authors
Posted May 27, 2013 02:35 by FRANCESCO GIULI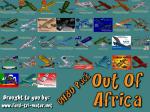 33.31Mb (828 downloads)
de Havilland DH80a Out of Africa Pack. This pack contains the Milton Shupe DH80 aircraft (with consent) and 35 liveries/repaints which cover the many regions of the vast continent of Africa during the 1930/40's era. The DH80 was extensively used throughout the region with some aircraft serving several different organisations and/or individuals. The Milton Shupe DH80 aircraft is an outstanding rendition of this historical aircraft and the liveries within the Pack highlight the dynamic range of liveries she wore in both a fictional and historical sense. The liveries in this pack are just a small fraction of the many other liveries created for this aircraft which are available at the Ford Tri-Motor Project site - http://www.ford-tri-motor.net. Everything is available for Free and for your FS2004 flying pleasure.
Posted May 14, 2013 18:08 by Garry J. Smith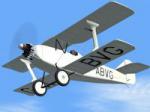 5.09Mb (885 downloads)
FS2004 Miles M.1 Satyr. Built for Miles' personal use in exhibition flying. It was his last biplane design. First flight was in August 1932. It crashed on takeoff in Aug 1989. It was sold on to The Hospitals Air Pagent. It was written off in September 1936. v1 By Edward Cook.
Posted May 1, 2013 23:12 by uploader