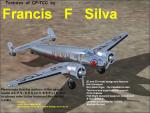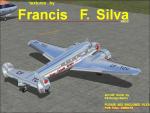 9.54Mb (2677 downloads)
Name of project: "Postcard from Canada"rnAn L-Electra L-10 - ID CF-TCC (cn 1116) Operated by Air rnCanada in the title of TCA. Built in Burbank in 1938, this a/c was rescued in the US and brought back to Canada where she was given a total rebuild prior to Expo 86 in Vancouver. Displayed in the WCAM.
Posted Oct 15, 2008 18:44 by Francis F Silva of RSDG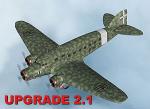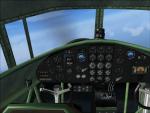 14.25Mb (2671 downloads)
This is the 2.1 upgrade package for the Savoia Marchetti S.73. You need to have already installed the "S73_v20.zip". Main changes are: 1) New gauges, more realistic than previous. 2) Some details of exteriors and V.C. controls are revised on all SM73 variants. 3) A bug with FSX fixed. 4) Sounds retouched 5) A new livery of the Regia Aeronautica added.
Posted Oct 9, 2008 17:38 by Stefano Meneghini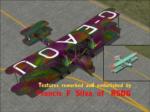 10.29Mb (839 downloads)
The idea behind these two textures is simple.Those of you who, like me, like Microsoft's Amy Vickers but are tired of the original (and boring) paint jobs, can now continue to enjoy the aircraft but fly nicer looking paint jobs. Why not replace the original aircraft with these two. You will be flying the Amy in its original form, same unchanged dynamics. Only the exterior has been altered. Francis F. Silva of RSDG (Rooks Silva Design Group)
Posted Oct 7, 2008 20:14 by Francis F Silva of RSDG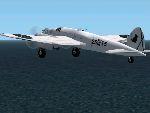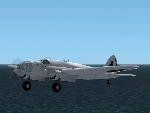 4.81Mb (7089 downloads)
FS2002/2004 Heinkel 111B2-Spanish Civil War First flight 30 october 1936 Four or five seat medium bomber, torpedo bomber, glider tug and missile launcher . 57 He111B2 served with the Legion Condor supporting Franco in the Spanish Civil War. Vcockpit fully moving and lighted Model, Texture, Panel,Vcockpit by F. Giuli Gauges by H. Keitel;sound by Pegasus
Posted Oct 7, 2008 11:06 by FRANCESCO GIULI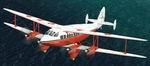 3.28Mb (21370 downloads)
FS2002/FS2004 DE Havilland DH.86 Express. This was a four engined development of the D.H.84 Dragon, developed in 1933 to meet an order by the Australian QANTAS for an airliner to fly the Singapore to Australia route. A number were operated by various military services. A total of 62 were built. The DH 86 had a busy career until eight were impressed into RAAF service from late 1939. Three kind of paint examples(IMPERIAL AIRWAYS / Qantas Airlines / for Military) are included. by Kazunori Ito.
Posted Oct 4, 2008 10:06 by Kazunori Ito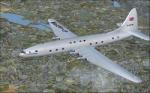 8.05Mb (4522 downloads)
FSX and FS2004 Bristol Brabazon 1. This huge and good-looking aircraft was planned as a transatlantic airliner for BOAC. It was powered by eight Bristol Centaurus radial engines, and flew for the first time in 1949. The Brabazon never entered production. By Jens B. Kristensen
Posted Oct 2, 2008 04:17 by Jens B. Kristensen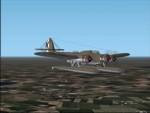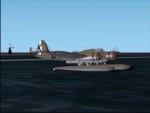 2.41Mb (2217 downloads)
FS2002/FS2004 Cant Z.506B Seaplane. The first modern Italian airliner, entered in service in 1935.All the civilian aircraft acquired by Regia Aeronautica, were used in communication and SAR roles during the Spanish Civil War1936-39 and WWII. Model, Texture and Panel by F. Giuli Gauges by Ickie Berleim , Max Taccoli and Pierino Primavesi
Posted Sep 24, 2008 11:25 by FRANCESCO GIULI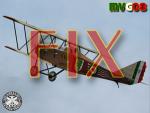 7.07Mb (2464 downloads)
This 'FIX' corrects the wheels animation and the prop rotation, I'm sorry for the inconvenient. The archive contains revised mdls and cfg file. Requires the previous installation of the original plane (sva5_v01.zip). By Manuele Villa, September 2008. Installation instructions included.
Posted Sep 16, 2008 02:46 by Manuele Villa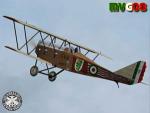 41.36Mb (4384 downloads)
FS2004 (works in FSX too) Ansaldo S.V.A.-5 (V.01) One of the faster airplane of WWI thanks to an innovative design, the S.V.A. was the first airplane conceived and built entirely in Italy. The initials "S.V.A." stand for the names of Savoia and Verduzio, the two engineers that designed it, and of Ansaldo, the firm that built over 2000 of them starting from 1917. The Ansaldo S.V.A. was an entire family of Italian reconnaissance biplane aircraft of World War I and the decade after. Originally conceived as a fighter, the S.V.A. was found inadequate for that role. Nevertheless, its impressive speed, range and operational ceiling made it an excellent reconnaissance aircraft and even light bomber. 5 Different Hi-Res GMax models (5 different versions, three S.V.A.-5 and two S.V.A.-9), features the usual moving parts, such as all flight controls. Five different liveries (three WWI and two post-war). VC and 2D Panel. Models, panels and paints by Manuele Villa, Flight dynamics, Handling notes and tutorials by FSAviator.
Posted Sep 14, 2008 03:41 by Manuele Villa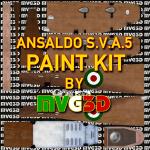 34.32Mb (1138 downloads)
This paintkit is for use with Ansaldo S.V.A. aircraft by Manuele Villa. The paint kit is in layered PhotoShop format (*.psd). You can use this paint kit to create your own liveries, real or fictional as you like. . Created by Manuele Villa, September 2008.
Posted Sep 12, 2008 04:55 by Manuele Villa